Smoothie Starter Bundle
Easily work superfoods into your everyday
Blend
Stir
Get your blender ready! You'll be whipping up delicious, nutritious smoothies in no time. Navitas Organics' Smoothie Starter Bundle includes fool-proof smoothie essentials like our Vanilla & Greens Essential Blend, plus your choice of a Daily Superfood Boost. Ready to get creative? Dive into your own custom smoothies with Cacao Powder and Maca Powder, two of our absolute favorite superfood must-haves.
Save 20% when you purchase a bundle vs. individual items
Free Standard Shipping on all bundles
Makes a great gift for yourself or that smoothie fanatic in your life!
New to smoothies or looking for the best smoothie add-ins? We've got you covered! Our Smoothie Starter Bundle includes the highest quality superfood powders for you to build a delicious and nutritious foundation for any smoothie.

With this bundle you'll get one each of:
- 
Vanilla & Greens Essential Blend
8.4oz bag
- 
Cacao Powder
8oz bag
- 
Maca Gelatinized Powder
8oz bag
- Daily Superfood Boost 4.2oz cannister: choose from
Beauty
,
Detox
,
Immunity
,
Focus
 or
Wellness
.
Vanilla & Greens Essential Blend is the ultimate base for any smoothie, providing 12g plant-based protein, 14 superfoods, 4 greens and probiotics in every scoop. Add in Cacao Powder for a rich chocolate flavor and malty Maca Powder to help energize and keep your body in balance. To top it off, choose one of five functional Daily Boosts to support Beauty, Detox, Immunity, Focus or Wellness, making this bundle truly work for your personal needs.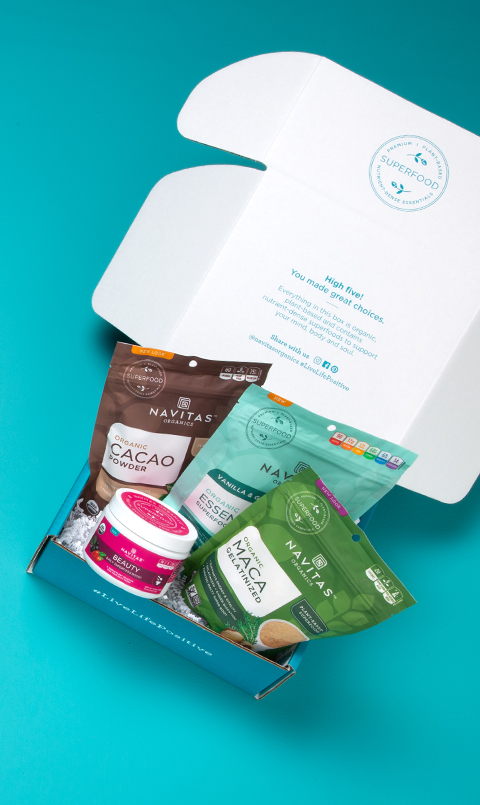 {"id":1608631877703,"title":"Smoothie Starter Bundle","handle":"smoothie-starter-bundle","description":"\u003cp\u003eNew to smoothies or looking for the best smoothie add-ins? We've got you covered! Our Smoothie Starter Bundle includes the highest quality superfood powders for you to build a delicious and nutritious foundation for any smoothie. \u003cbr\u003e\u003cbr\u003eWith this bundle you'll get one each of:\u003c\/p\u003e\n\u003cp\u003e \u003c\/p\u003e\n- \u003cspan style=\"text-decoration: underline;\"\u003e\u003ca href=\"https:\/\/navitasorganics.com\/products\/vanilla-greens-essential-blend\" title=\"Vanilla \u0026amp; Greens Essential Blend\"\u003eVanilla \u0026amp; Greens Essential Blend\u003c\/a\u003e\u003c\/span\u003e 8.4oz bag\u003cbr\u003e- \u003cspan style=\"text-decoration: underline;\"\u003e\u003ca href=\"https:\/\/navitasorganics.com\/products\/cacao-powder\" title=\"Cacao Powder\"\u003eCacao Powder\u003c\/a\u003e\u003c\/span\u003e 8oz bag\u003cbr\u003e- \u003cspan style=\"text-decoration: underline;\"\u003e\u003ca href=\"https:\/\/navitasorganics.com\/products\/maca-powder-gelatinized\" title=\"Maca Gelatinized Powder\"\u003eMaca Gelatinized Powder\u003c\/a\u003e\u003c\/span\u003e 8oz bag\u003cbr\u003e- Daily Superfood Boost 4.2oz cannister: choose from \u003cspan style=\"text-decoration-line: underline;\"\u003e\u003ca href=\"https:\/\/navitasorganics.com\/products\/daily-superfood-beauty-boost\" title=\"Daily Beauty Boost\"\u003eBeauty\u003c\/a\u003e\u003c\/span\u003e, \u003cspan style=\"text-decoration-line: underline;\"\u003e\u003ca href=\"https:\/\/navitasorganics.com\/products\/daily-superfood-detox-boost\" title=\"Daily Detox Boost\"\u003eDetox\u003c\/a\u003e\u003c\/span\u003e, \u003cspan style=\"text-decoration-line: underline;\"\u003e\u003ca href=\"https:\/\/navitasorganics.com\/products\/daily-superfood-immunity-boost\" title=\"Daily Immunity Boost\"\u003eImmunity\u003c\/a\u003e\u003c\/span\u003e, \u003cspan style=\"text-decoration-line: underline;\"\u003e\u003ca href=\"https:\/\/navitasorganics.com\/products\/daily-superfood-focus-boost\" title=\"Daily Focus Boost\"\u003eFocus\u003c\/a\u003e\u003c\/span\u003e or \u003cspan style=\"text-decoration-line: underline;\"\u003e\u003ca href=\"https:\/\/navitasorganics.com\/products\/daily-superfood-wellness-boost\" title=\"Daily Wellness Boost\"\u003eWellness\u003c\/a\u003e\u003c\/span\u003e.\u003cbr\u003e\n\u003cul\u003e\n\u003cul\u003e\u003c\/ul\u003e\n\u003c\/ul\u003e\n\u003cp\u003e \u003c\/p\u003e\n\u003cp\u003eVanilla \u0026amp; Greens Essential Blend is the ultimate base for any smoothie, providing 12g plant-based protein, 14 superfoods, 4 greens and probiotics in every scoop. Add in Cacao Powder for a rich chocolate flavor and malty Maca Powder to help energize and keep your body in balance. To top it off, choose one of five functional Daily Boosts to support Beauty, Detox, Immunity, Focus or Wellness, making this bundle truly work for your personal needs.\u003c\/p\u003e","published_at":"2019-02-21T14:59:44-08:00","created_at":"2019-01-28T11:37:45-08:00","vendor":"Navitas","type":"Bundles","tags":["how-to-use::blend","how-to-use::stir","Plant Based\/Vegan","product-benefits::plant","product-icon::bcorp","product-icon::fairtrade","product-icon::glutenfree","product-icon::kosher","product-icon::nongmo","product-icon::organic","prop65"],"price":6157,"price_min":6157,"price_max":6157,"available":true,"price_varies":false,"compare_at_price":7696,"compare_at_price_min":7696,"compare_at_price_max":7696,"compare_at_price_varies":false,"variants":[{"id":16008916860999,"title":"Smoothie Starter Bundle With Beauty Boost","option1":"Smoothie Starter Bundle With Beauty Boost","option2":null,"option3":null,"sku":"WOB571","requires_shipping":true,"taxable":false,"featured_image":{"id":4666603667527,"product_id":1608631877703,"position":1,"created_at":"2019-02-07T11:17:49-08:00","updated_at":"2019-02-20T17:24:12-08:00","alt":null,"width":780,"height":633,"src":"https:\/\/cdn.shopify.com\/s\/files\/1\/0012\/0605\/9079\/products\/Navitas-smoothie-starter-kit-Beauty.jpg?v=1550712252","variant_ids":[16008916860999]},"available":true,"name":"Smoothie Starter Bundle - Smoothie Starter Bundle With Beauty Boost","public_title":"Smoothie Starter Bundle With Beauty Boost","options":["Smoothie Starter Bundle With Beauty Boost"],"price":6157,"weight":0,"compare_at_price":7696,"inventory_management":"shopify","barcode":""},{"id":16008916893767,"title":"Smoothie Starter Bundle With Detox Boost","option1":"Smoothie Starter Bundle With Detox Boost","option2":null,"option3":null,"sku":"WOB572","requires_shipping":true,"taxable":false,"featured_image":{"id":4666603700295,"product_id":1608631877703,"position":2,"created_at":"2019-02-07T11:17:50-08:00","updated_at":"2019-02-20T17:25:26-08:00","alt":null,"width":780,"height":633,"src":"https:\/\/cdn.shopify.com\/s\/files\/1\/0012\/0605\/9079\/products\/Navitas-smoothie-starter-kit-Detox.jpg?v=1550712326","variant_ids":[16008916893767]},"available":true,"name":"Smoothie Starter Bundle - Smoothie Starter Bundle With Detox Boost","public_title":"Smoothie Starter Bundle With Detox Boost","options":["Smoothie Starter Bundle With Detox Boost"],"price":6157,"weight":0,"compare_at_price":7696,"inventory_management":"shopify","barcode":"811961020958"},{"id":16008916926535,"title":"Smoothie Starter Bundle With Immunity Boost","option1":"Smoothie Starter Bundle With Immunity Boost","option2":null,"option3":null,"sku":"WOB573","requires_shipping":true,"taxable":false,"featured_image":{"id":4666603765831,"product_id":1608631877703,"position":3,"created_at":"2019-02-07T11:17:52-08:00","updated_at":"2019-02-20T17:26:25-08:00","alt":null,"width":780,"height":633,"src":"https:\/\/cdn.shopify.com\/s\/files\/1\/0012\/0605\/9079\/products\/Navitas-smoothie-starter-kit-Immunity.jpg?v=1550712385","variant_ids":[16008916926535]},"available":true,"name":"Smoothie Starter Bundle - Smoothie Starter Bundle With Immunity Boost","public_title":"Smoothie Starter Bundle With Immunity Boost","options":["Smoothie Starter Bundle With Immunity Boost"],"price":6157,"weight":0,"compare_at_price":7696,"inventory_management":"shopify","barcode":""},{"id":16008916959303,"title":"Smoothie Starter Bundle With Focus Boost","option1":"Smoothie Starter Bundle With Focus Boost","option2":null,"option3":null,"sku":"WOB574","requires_shipping":true,"taxable":false,"featured_image":{"id":4666603733063,"product_id":1608631877703,"position":4,"created_at":"2019-02-07T11:17:51-08:00","updated_at":"2019-02-20T17:27:30-08:00","alt":null,"width":780,"height":633,"src":"https:\/\/cdn.shopify.com\/s\/files\/1\/0012\/0605\/9079\/products\/Navitas-smoothie-starter-kit-Focus.jpg?v=1550712450","variant_ids":[16008916959303]},"available":true,"name":"Smoothie Starter Bundle - Smoothie Starter Bundle With Focus Boost","public_title":"Smoothie Starter Bundle With Focus Boost","options":["Smoothie Starter Bundle With Focus Boost"],"price":6157,"weight":0,"compare_at_price":7696,"inventory_management":"shopify","barcode":""},{"id":16008916992071,"title":"Smoothie Starter Bundle With Wellness Boost","option1":"Smoothie Starter Bundle With Wellness Boost","option2":null,"option3":null,"sku":"WOB575","requires_shipping":true,"taxable":false,"featured_image":{"id":4666603569223,"product_id":1608631877703,"position":5,"created_at":"2019-02-07T11:17:48-08:00","updated_at":"2019-02-20T17:28:37-08:00","alt":null,"width":780,"height":633,"src":"https:\/\/cdn.shopify.com\/s\/files\/1\/0012\/0605\/9079\/products\/Navitas-smoothie_starter_kit-Wellness.jpg?v=1550712517","variant_ids":[16008916992071]},"available":true,"name":"Smoothie Starter Bundle - Smoothie Starter Bundle With Wellness Boost","public_title":"Smoothie Starter Bundle With Wellness Boost","options":["Smoothie Starter Bundle With Wellness Boost"],"price":6157,"weight":0,"compare_at_price":7696,"inventory_management":"shopify","barcode":""}],"images":["\/\/cdn.shopify.com\/s\/files\/1\/0012\/0605\/9079\/products\/Navitas-smoothie-starter-kit-Beauty.jpg?v=1550712252","\/\/cdn.shopify.com\/s\/files\/1\/0012\/0605\/9079\/products\/Navitas-smoothie-starter-kit-Detox.jpg?v=1550712326","\/\/cdn.shopify.com\/s\/files\/1\/0012\/0605\/9079\/products\/Navitas-smoothie-starter-kit-Immunity.jpg?v=1550712385","\/\/cdn.shopify.com\/s\/files\/1\/0012\/0605\/9079\/products\/Navitas-smoothie-starter-kit-Focus.jpg?v=1550712450","\/\/cdn.shopify.com\/s\/files\/1\/0012\/0605\/9079\/products\/Navitas-smoothie_starter_kit-Wellness.jpg?v=1550712517","\/\/cdn.shopify.com\/s\/files\/1\/0012\/0605\/9079\/products\/2017-essential-vanilla-greens-fop-3d_580ec92c-110d-4716-90e5-e15822abba8e.png?v=1549926456","\/\/cdn.shopify.com\/s\/files\/1\/0012\/0605\/9079\/products\/58016xv4_p65_vanilla_greens_blend_8oz_3d_back_cf778abc-1aa9-4ccb-b4cb-777e5dcc91e8.png?v=1549926468","\/\/cdn.shopify.com\/s\/files\/1\/0012\/0605\/9079\/products\/2017-cacao-powder-8oz-3d-fop_1_c175489a-6bb2-4ca1-b38d-d3d04cea53cb.png?v=1549926482","\/\/cdn.shopify.com\/s\/files\/1\/0012\/0605\/9079\/products\/19003xftv3_p65_cacao_powder_8oz-3d-bop_8ee6cfb7-18e5-472c-b76e-06f4026989f1.png?v=1549926495","\/\/cdn.shopify.com\/s\/files\/1\/0012\/0605\/9079\/products\/2017-maca-raw-powder-8oz-3d-fop_6_2_113ad8d5-3a7f-4522-a4eb-733bf0b37c7a.png?v=1549926503","\/\/cdn.shopify.com\/s\/files\/1\/0012\/0605\/9079\/products\/11003xv4_maca_raw_powder_8oz-3d-back_1_88add05a-5d6c-49c3-9f93-60f9e7e600dc.png?v=1549926513","\/\/cdn.shopify.com\/s\/files\/1\/0012\/0605\/9079\/products\/Daily-Boost-Beauty-400x400_7bd18ef8-0811-4624-951b-cc2c57c31ff1.png?v=1549926529","\/\/cdn.shopify.com\/s\/files\/1\/0012\/0605\/9079\/products\/boost_beauty_sidea_78e79793-de38-4ee0-a323-315450553bd0.jpg?v=1549926542","\/\/cdn.shopify.com\/s\/files\/1\/0012\/0605\/9079\/products\/Daily-Boost-Detox-400x400_a4fa2617-8362-410e-b13e-e6b00938fbc6.png?v=1549926552","\/\/cdn.shopify.com\/s\/files\/1\/0012\/0605\/9079\/products\/57002xv3_detox_boost_label_7.10.18_nut_2f120f65-02c7-43d6-88c6-25e6a0715131.jpg?v=1549926562","\/\/cdn.shopify.com\/s\/files\/1\/0012\/0605\/9079\/products\/Daily-Boost-Focus-400x400_db28cb9e-336b-4e0d-827a-ebc90f81ee95.png?v=1549926574","\/\/cdn.shopify.com\/s\/files\/1\/0012\/0605\/9079\/products\/57004xv3_focus_boost_label_7.9.18_nut_5fb716f1-0568-499c-9632-1232ade1818c.jpg?v=1549926584","\/\/cdn.shopify.com\/s\/files\/1\/0012\/0605\/9079\/products\/Daily-Boost-Immunity-400x400_5617aef7-28e9-4cc3-8cea-b148c23d5bc7.png?v=1549926592","\/\/cdn.shopify.com\/s\/files\/1\/0012\/0605\/9079\/products\/Immunity_Boost_Panel_-_cropped.jpg?v=1549926602","\/\/cdn.shopify.com\/s\/files\/1\/0012\/0605\/9079\/products\/Daily-Boost-Wellness-400x400_1f11381f-7b3a-44c6-8d3d-770f57dbaead.png?v=1549926615","\/\/cdn.shopify.com\/s\/files\/1\/0012\/0605\/9079\/products\/57005xv3_wellness_boost_label_7.10.18_nut_2490eedc-5aab-4d43-8d11-11da4bededec.jpg?v=1549926626"],"featured_image":"\/\/cdn.shopify.com\/s\/files\/1\/0012\/0605\/9079\/products\/Navitas-smoothie-starter-kit-Beauty.jpg?v=1550712252","options":["Choose Your Boost"],"content":"\u003cp\u003eNew to smoothies or looking for the best smoothie add-ins? We've got you covered! Our Smoothie Starter Bundle includes the highest quality superfood powders for you to build a delicious and nutritious foundation for any smoothie. \u003cbr\u003e\u003cbr\u003eWith this bundle you'll get one each of:\u003c\/p\u003e\n\u003cp\u003e \u003c\/p\u003e\n- \u003cspan style=\"text-decoration: underline;\"\u003e\u003ca href=\"https:\/\/navitasorganics.com\/products\/vanilla-greens-essential-blend\" title=\"Vanilla \u0026amp; Greens Essential Blend\"\u003eVanilla \u0026amp; Greens Essential Blend\u003c\/a\u003e\u003c\/span\u003e 8.4oz bag\u003cbr\u003e- \u003cspan style=\"text-decoration: underline;\"\u003e\u003ca href=\"https:\/\/navitasorganics.com\/products\/cacao-powder\" title=\"Cacao Powder\"\u003eCacao Powder\u003c\/a\u003e\u003c\/span\u003e 8oz bag\u003cbr\u003e- \u003cspan style=\"text-decoration: underline;\"\u003e\u003ca href=\"https:\/\/navitasorganics.com\/products\/maca-powder-gelatinized\" title=\"Maca Gelatinized Powder\"\u003eMaca Gelatinized Powder\u003c\/a\u003e\u003c\/span\u003e 8oz bag\u003cbr\u003e- Daily Superfood Boost 4.2oz cannister: choose from \u003cspan style=\"text-decoration-line: underline;\"\u003e\u003ca href=\"https:\/\/navitasorganics.com\/products\/daily-superfood-beauty-boost\" title=\"Daily Beauty Boost\"\u003eBeauty\u003c\/a\u003e\u003c\/span\u003e, \u003cspan style=\"text-decoration-line: underline;\"\u003e\u003ca href=\"https:\/\/navitasorganics.com\/products\/daily-superfood-detox-boost\" title=\"Daily Detox Boost\"\u003eDetox\u003c\/a\u003e\u003c\/span\u003e, \u003cspan style=\"text-decoration-line: underline;\"\u003e\u003ca href=\"https:\/\/navitasorganics.com\/products\/daily-superfood-immunity-boost\" title=\"Daily Immunity Boost\"\u003eImmunity\u003c\/a\u003e\u003c\/span\u003e, \u003cspan style=\"text-decoration-line: underline;\"\u003e\u003ca href=\"https:\/\/navitasorganics.com\/products\/daily-superfood-focus-boost\" title=\"Daily Focus Boost\"\u003eFocus\u003c\/a\u003e\u003c\/span\u003e or \u003cspan style=\"text-decoration-line: underline;\"\u003e\u003ca href=\"https:\/\/navitasorganics.com\/products\/daily-superfood-wellness-boost\" title=\"Daily Wellness Boost\"\u003eWellness\u003c\/a\u003e\u003c\/span\u003e.\u003cbr\u003e\n\u003cul\u003e\n\u003cul\u003e\u003c\/ul\u003e\n\u003c\/ul\u003e\n\u003cp\u003e \u003c\/p\u003e\n\u003cp\u003eVanilla \u0026amp; Greens Essential Blend is the ultimate base for any smoothie, providing 12g plant-based protein, 14 superfoods, 4 greens and probiotics in every scoop. Add in Cacao Powder for a rich chocolate flavor and malty Maca Powder to help energize and keep your body in balance. To top it off, choose one of five functional Daily Boosts to support Beauty, Detox, Immunity, Focus or Wellness, making this bundle truly work for your personal needs.\u003c\/p\u003e"}