ORGANIC
Superfood+ Sea Veggie Blend
Navitas Organics Superfood+ Sea Veggie Blend brings oceanic nutrition to your everyday routine! Containing three varieties of seaweed, this powerful powder is bursting with marine minerals and umami flavor. It's a perfect addition to smoothies, sauces, soups & more.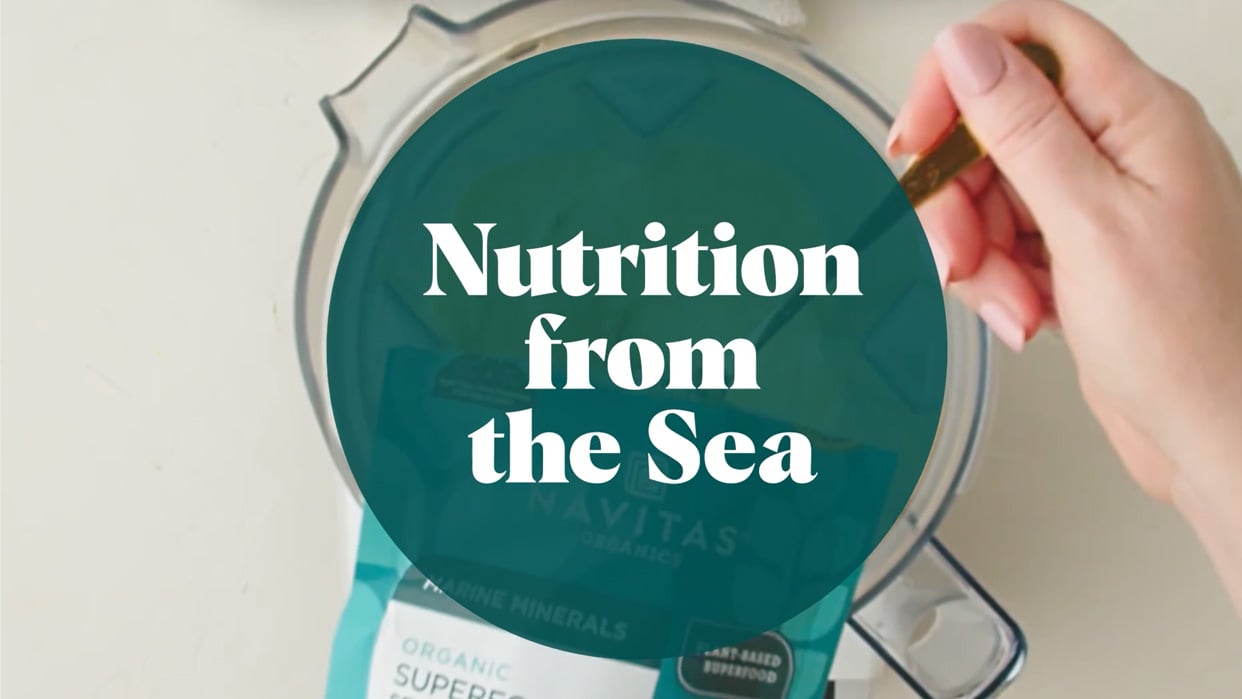 Click to play the video

GOOD THINGS COME IN THREE (INGREDIENTS)
A simple, clean mix of organic rockweed, sugar kelp and skinny kelp powders, Navitas Organics Superfood+ Sea Veggie Blend is rich in marine minerals that support your best health.
100% organic rockweed + sugar kelp + skinny kelp
Dense source of minerals & micronutrients
Grown regeneratively in the North Atlantic
100% pure seaweed powders
No added sugar, fillers or fortified ingredients
See FAQs
Nutrition Facts
Serving Size 1 tsp (2g)
Serving Size About 60
Amount per Serving: 5 Calories
% DV
Total Fat
0g
0%
Saturated Fat
0g
0%
Trans Fat
0mg
Cholesterol
0%
0mg
Sodium
60mg
3%
Total Carbs
1g
0%
Dietary Fiber
0g
1%
Total Sugar
0g
Includes Added Sugar
0g
0%
Protein
0g
Vitamin D
0mcg
0%
Calcium
38mg
2%
Iron
1mg
6%
Potassium
62mg
2%
Ingredients
Kelp Powder (Ascophyllum nodosum*, Saccharina latissima*, S. latissima f. angustissima*).
*Organic ingredient.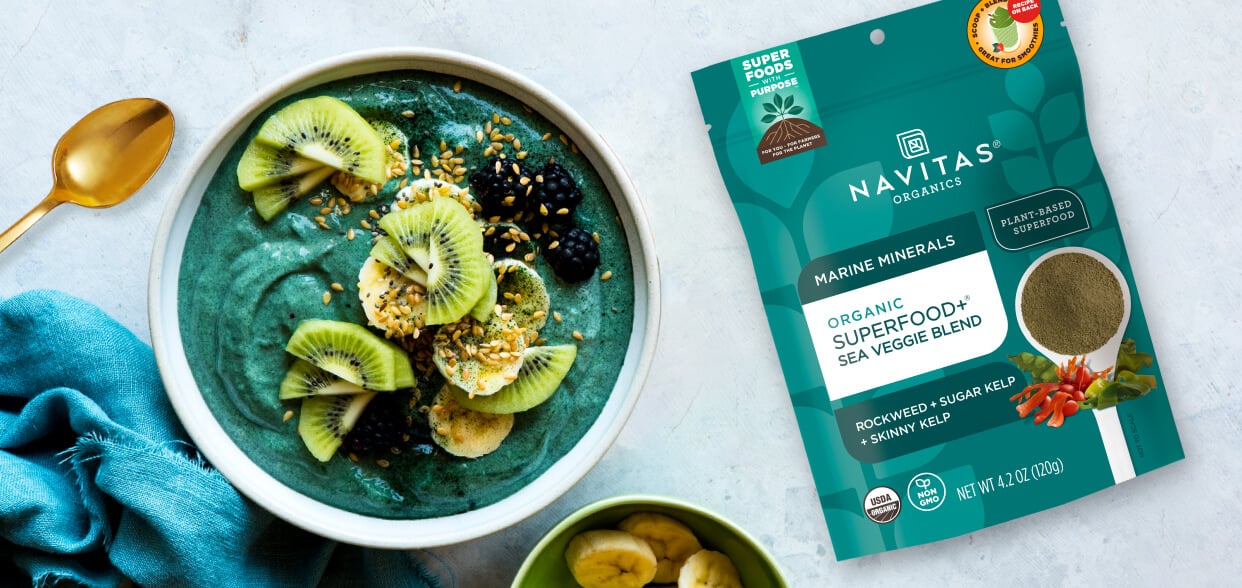 How to Use
With an earthy, salty flavor, Navitas Organics Superfood+ Sea Veggie Blend is especially delicious when paired with tropical smoothie flavors like mango & pineapple, or added to savory soups, sauces & more!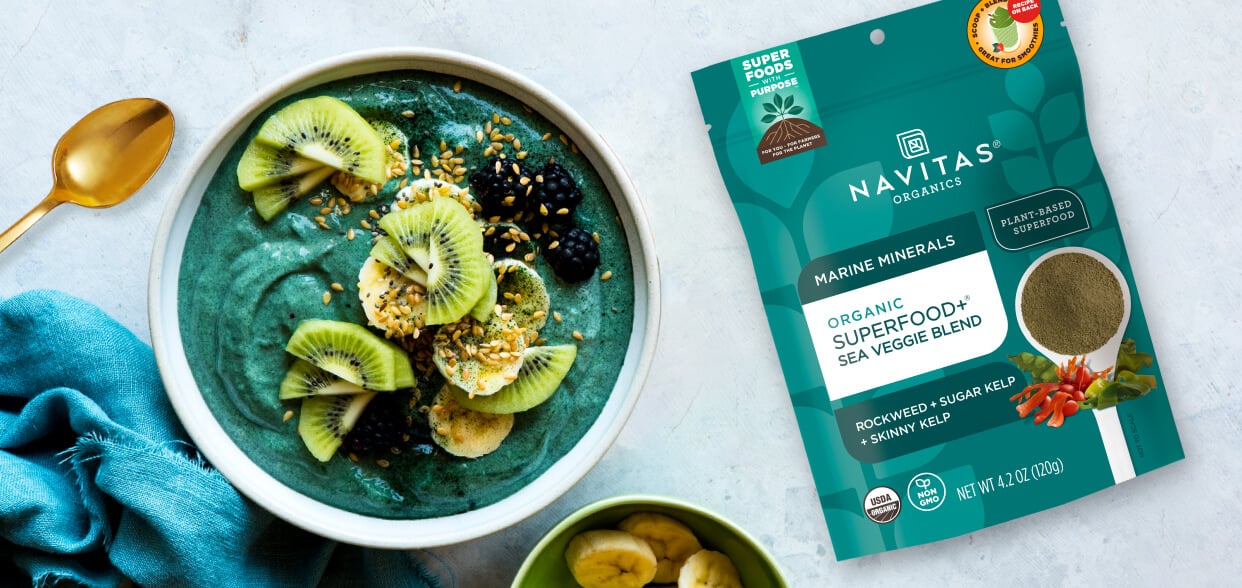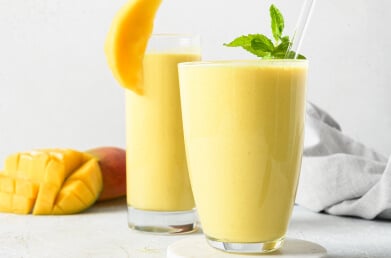 TRY IT IN
Smoothies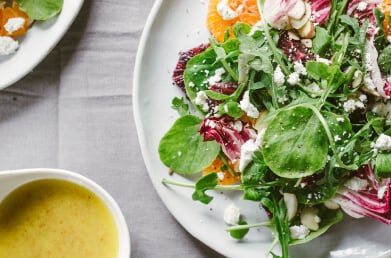 TRY IT IN
Sauces, Dips & Dressings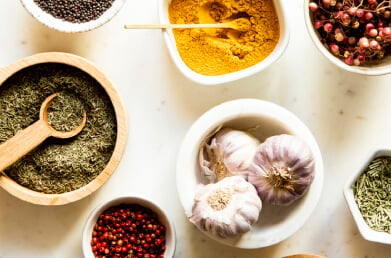 TRY IT IN
Spice Blends
Featured Review
"My favorite go-to for extra minerals in my diet! I love the flavor it adds to my salad dressings."
– Monica P.
Superfood+ Sea Veggie Blend FAQs
Seaweed powder is made by dehydrating and milling freshly harvested coastal seaweeds. Our Superfood+ Sea Veggie Blend features three certified organic varieties of seaweed—rockweed, skinny kelp and sugar kelp—farmed sustainably in the pristine waters of the North Atlantic Ocean. Each variety of seaweed brings abundant minerals to the table. Rockweed (Ascophyllum nodosum) is a brown seaweed that is packed with iodine, potassium, calcium, magnesium, iron, zinc, manganese and copper. Plus, it also contains ample amounts of trace minerals like boron, selenium, molybdenum and vanadium. Sugar kelp (Saccharina latissima) is rich in iodine, calcium, potassium, magnesium and iron. This kelp contains smallers amounts of trace minerals such as manganese, copper and zinc. Skinny kelp (S. latissima f. angustissima) grows only in the cold waters of coastal Maine! It is rich in iodine, calcium, potassium, magnesium and iron.
How can I use the Sea Veggie Blend?
Seaweed powders can be added to smoothies, soups, sauces, spice blends and other various dishes to enhance their flavor and nutrition. It's been an important nutritious staple ingredient in Asian diets for centuries, especially in Korean cuisines, where it's used extensively in traditional recipes. Apart from its nutritional benefits, it's valued for its unique taste and versatility. But seaweed isn't just for eating! You can also use it in bath teas or homemade beauty products for skin and hair. It's loaded with a wide variety of vitamins and minerals, supporting both hydration and powerful detoxifying benefits.
How much of each ingredient is in the Sea Veggie Blend?
Sorry, the exact ratio of ingredients within our blends is a proprietary recipe. We crafted these ratios with care to increase their nutritional function, maximize their value and minimize the hassle in your morning smoothie routine. The ingredients listed on the back of the bag underneath the nutrition panel will always show the ingredients in descending order of quantity (from most to least).
What does the Sea Veggie Blend taste like?
Nutrition from the sea is powerfully flavored! Our Sea Veggie blend has an earthy, slightly briny, and umami-rich ocean flavor that can be tucked into a fruity smoothie (we love it paired with tropical flavors like mango and pineapple) or used to enrich a savory dip or sauce. We also love it in spice blends—if you've ever sprinkled seaweed salt on your meal, you know just what we mean!
What is the iodine content in the Sea Veggie Blend?
Kelp is the one of the best sources of natural iodine in the diet, a mineral necessary for healthy thyroid function. When kelp is dehydrated and powdered, the iodine volume is essentially concentrated, making it an even more powerful source of this mineral. Iodine can be safely consumed in a wide range of intakes; the RDA is 150mcg, but some cultures consume up to 3000mcg each day! Our Sea Veggie Blend contains 1980mcg per 2g serving. If you have a thyroid condition, have questions about this intake level, or are looking for a natural replacement for an iodine supplement, we recommend talking to your health practitioner.
Does your packing facility handle allergens?
Yes, all of our superfoods are packaged in a facility that also handles common allergens. Our co-packers follow Good Manufacturing Practices, are HACCP certified, and thoroughly sanitize all equipment between every product run with organic, food-grade cleaners. All of our products are inherently gluten-free and are tested to ensure less than 20 parts per million of gluten, in compliance with FDA labeling regulations. We do not use soy, corn, or dairy derivatives in any of our products. Depending on the flavor, our Power Snacks may contain tree nuts and/or peanuts; see ingredient panels for more details.
Do you offer free shipping?
Yes! If your order is shipping within the contiguous U.S. and your product total is $49 or more, after any discounts are applied, a free ground shipping option will be available for you to select at checkout. If your order is below $49, a flat rate of $8.95 will apply for orders shipping within the contiguous U.S. For shipments to Alaska, Hawaii, Puerto Rico and U.S. Territories, please see our
shipping terms and conditions
.
Can I order your products outside of the US?
Sorry, no! At this point, we only ship directly within the U.S. Our products can be shipped internationally via
iHerb