ORGANIC
Mulberries
Navitas Organics Mulberries are an everyday superfood staple! These dried berries are sweet, chewy and nutrient-dense. Snack on them, bake with them, mix them in everywhere!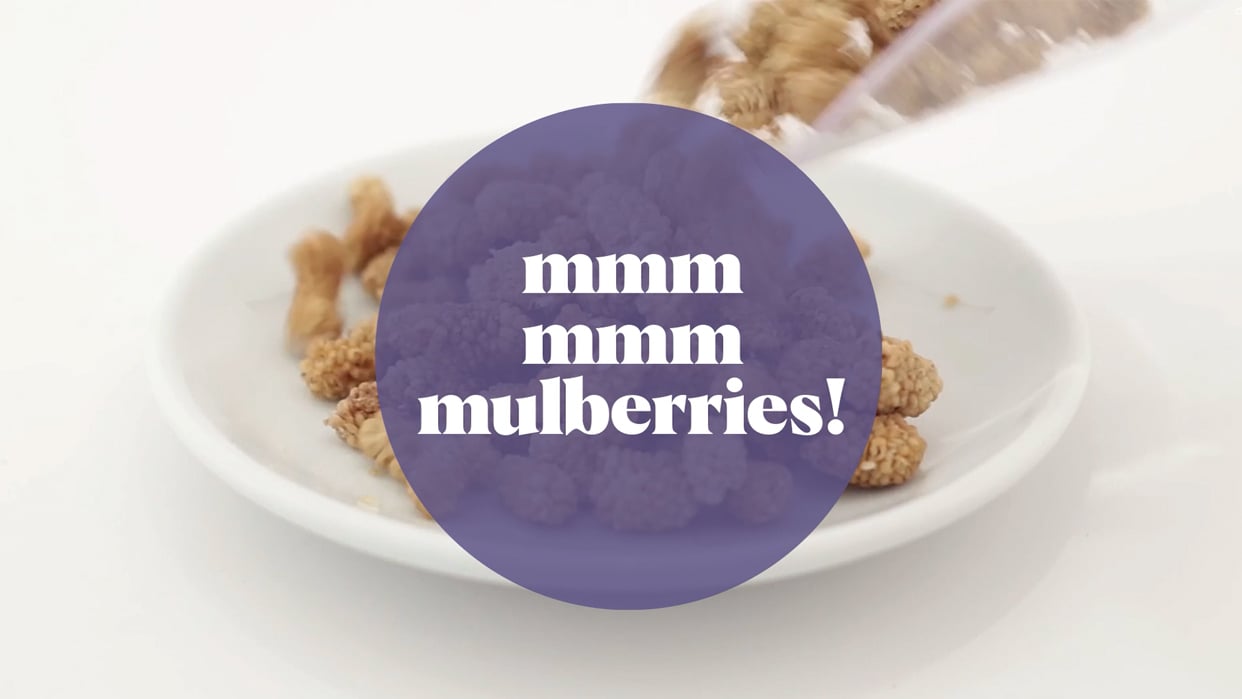 Click to play the video

SWEET, CHEWY PERFECTION
Navitas Organics Mulberries are gently dehydrated at low temperatures for a nutritious, satisfying superberry experience.
100% organic dried white mulberries
Ancient superberry cultivated by civilizations around the world
Low temperature dried
Good source of dietary fiber, calcium, iron & potassium
Contains no added sugar, sulfites or preservatives
See FAQs
Nutrition Facts
Serving Size 3 tbsp (30g)
Serving Size About 8
Amount per Serving: 110 calories
% DV
Total Fat
1g
1%
Saturated Fat
0g
0%
Trans Fat
0g
Cholesterol
0mg
0%
Sodium
0mg
0%
Total Carbs
25g
9%
Dietary Fiber
2g
7%
Total Sugar
21g
Includes Added Sugar
0g
0%
Protein
1g
Vitamin D
0mcg
0%
Calcium
103mg
8%
Iron
1mg
6%
Potassium
281mg
6%
Ingredients
Certified organic mulberries (Morus alba).
How to Use
Deliciously sweet & chewy, Navitas Organics Mulberries are a fantastic addition to breakfast cereals, trail mix and baked goods…if you don't snack your way to the bottom of the bag first.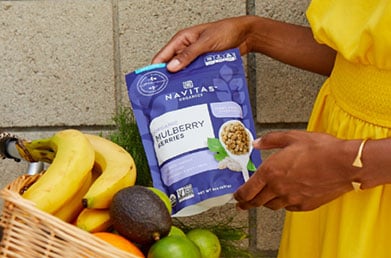 TRY IT IN
Snacking & Trail Mix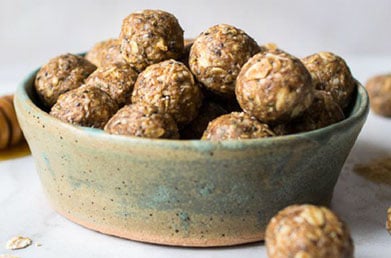 TRY IT IN
Baking & Raw Treats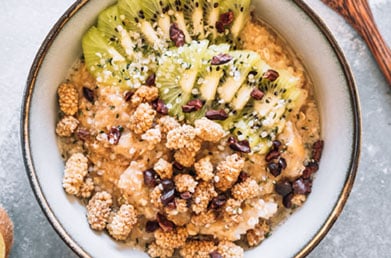 TRY IT IN
Yogurt & Oatmeal
Featured Review
"Chewy and mildly sweet, these are the perfect snack for curbing sugar cravings."
– Sharif N.
What does a mulberry taste like?
Mulberries are a relative of a fig, and "fig-like" is often how their flavor is described. While some mulberry fruit varieties are red-purple and taste more like a tart blackberry, our mulberries are the white Turkish variety, prized for their maple-like sweetness, lack of astringency and high levels of antioxidants, including resveratrol. Not only are dried mulberries a great source of antioxidants, they also provide protein and essential minerals, making them a nutrient-dense alternative to raisins.
What's the difference between white, red, and black mulberries?
While they share a name and many physical characteristics, the white, red, and black mulberry are worlds apart—literally: the white mulberry is native to East Asia; the red mulberry native to the eastern US; and the black mulberry to the Middle East. All three are from the Morus genus and produce oblong, clustered berries that are high in vitamin C, iron, calcium, fiber and a variety of antioxidants. The white mulberry has a long history of cultivation for both its berries and its leaves, which were used to feed silkworms and livestock. In Traditional Chinese Medicine (TCM), the mulberry tree is an extremely diverse plant, with the mulberry fruit, bark, and leaves serving their own unique therapeutic uses and health benefits.
Why is there a warning label on my mulberries?
Some of our superfoods fall under CA's Prop 65 labeling requirements. This is due to trace amounts of heavy metals that are naturally occurring in the organic soils in which our superfoods grow. Please note that Prop 65 is a right-to-know law, and not a determination of a product's safety. For more information, please see our Help Center articles about Prop 65 here.
Does your packing facility handle allergens?
Yes, all of our superfoods are packaged in a facility that also handles common allergens. Our co-packers follow Good Manufacturing Practices, are HACCP certified, and thoroughly sanitize all equipment between every product run with organic, food-grade cleaners. All of our products are inherently gluten-free and are tested to ensure less than 20 parts per million of gluten, in compliance with FDA labeling regulations. We do not use soy, corn, or dairy derivatives in any of our products. Depending on the flavor, our Power Snacks may contain tree nuts and/or peanuts; see ingredient panels for more details.
Do you offer free shipping?
Yes! If your order is shipping within the contiguous U.S. and your product total is $49 or more, after any discounts are applied, a free ground shipping option will be available for you to select at checkout. If your order is below $49, a flat rate of $8.95 will apply for orders shipping within the contiguous U.S. For shipments to Alaska, Hawaii, Puerto Rico and U.S. Territories, please see our
shipping terms and conditions
.
Can I order your products outside of the US?
Sorry, no! At this point, we only ship directly within the U.S. Our products can be shipped internationally via
iHerb