ORGANIC
Goji Berries
An ancient superfood, Goji Berries have been used for over 2,000 years to promote longevity—thanks to their abundant antioxidants. Whether you're snacking, baking or breakfast-ing, enjoy these chewy, sweet-savory berries as your everyday dried fruit!
Click to play the video

GOJI BERRY GOODNESS
Through organic cultivation and minimal processing methods, Navitas Organics Goji Berries retain this staple superfood's ancient health benefits.
100% organic goji berries
Used in Traditional Chinese Medicine for over 2,000 years to support longevity
Unsulfured & low temperature dried
Fantastic source of the antioxidant vitamin A (one serving = 140% DV)
Good source of dietary fiber and essential minerals
Super nutritious swap for traditional dried fruit
No added sugar
See FAQs
Nutrition Facts
Serving Size 3 tbsp (30 g)
Serving Size 3 tbsp (30 g)
Serving Size 3 tbsp (30 g)
Servings per Container about 4
Servings per Container about 8
Servings per Container about 15
Amount per Serving: 110 Calories
Amount per Serving: 110 Calories
Amount per Serving: 110 Calories
% DV
Total Fat
Saturated Fat
Trans Fat
Cholesterol
0%
Sodium
Total Carbs
Dietary Fiber
Total Sugar
Includes Added Sugar
Protein
Vitamin D
Calcium
Iron
Potassium
Vitamin A
Ingredients
Certified organic goji berries (Lycium barbarum).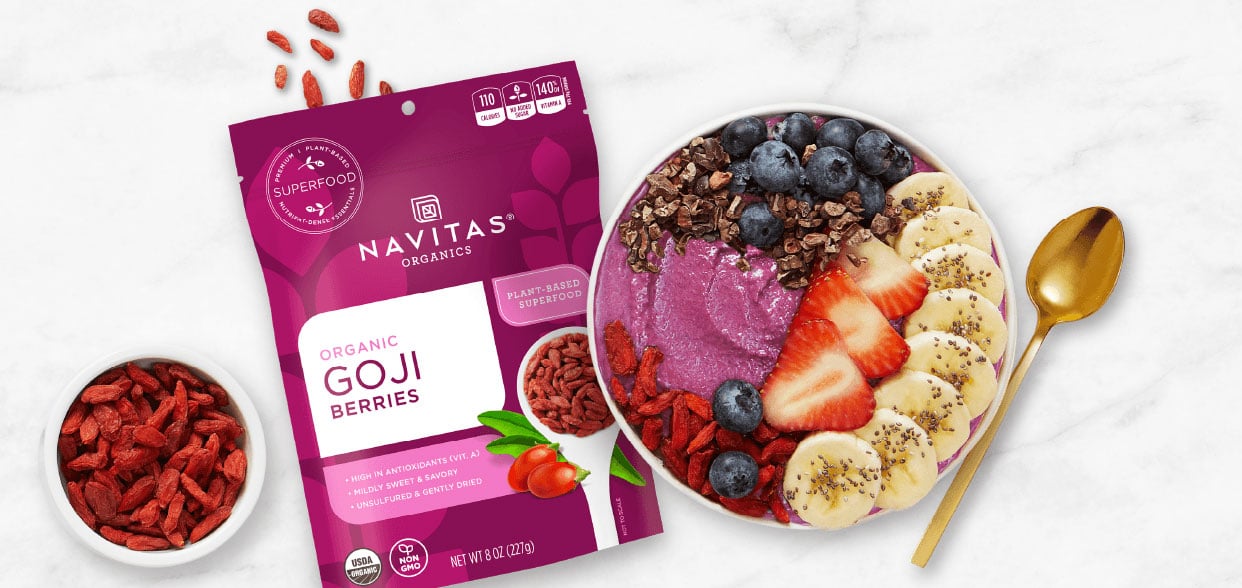 How to Use
With a chewy texture and unique savory-sweet taste, Navitas Organics Goji Berries are an easy superfood swap for everyday dried fruit. Enjoy them as a snack or added to oatmeal, baked goods & more!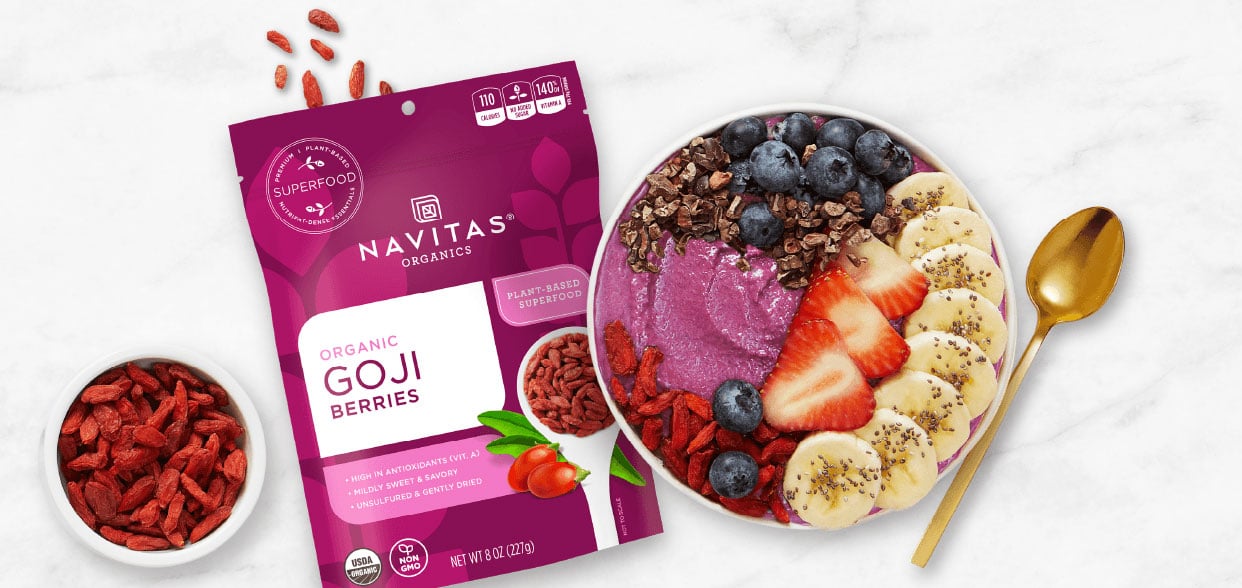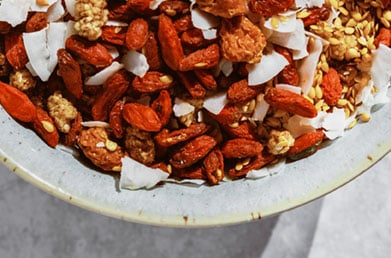 TRY IT IN
Snacking & Trail Mix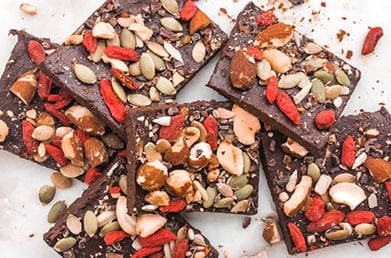 TRY IT IN
Baking & Desserts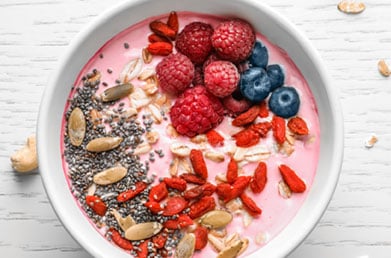 TRY IT IN
Yogurt & Oatmeal
Our Sourcing Sets us Apart
Our organic Goji Berries are sourced from the Tibetan plateau where farmers work in a remote, high altitude environment. Goji farming in this area has provided vital economic benefit to local communities and aims to counter desertification through soil enrichment practices and the promotion of sustainable biodiversity.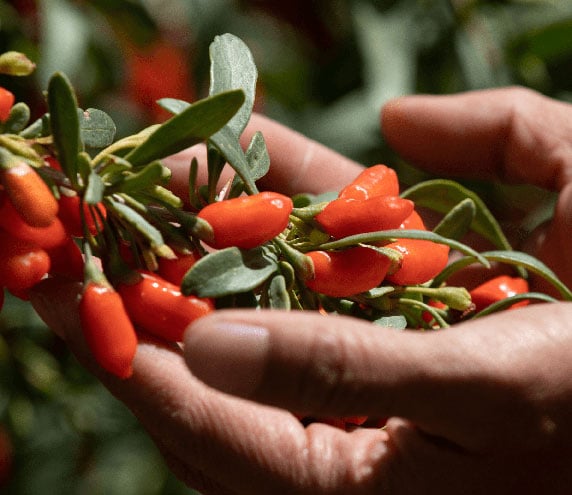 Featured Review
"Versatile and delicious! Perfect yogurt and overnight oat addition. I am always on the go and sometimes it's tough to keep fresh berries around, so these are perfect!"
– Allison B.
What do goji berries taste like?
Goji berries have a unique, sweet-tart flavor, similar to a sour cherry. They can be used in both sweet or savory preparations; traditionally they were used in chicken soup! We love them paired with cacao, other berries, tree nuts and seeds. Check out our favorite goji berry recipes here.
Why do your Goji Berries come from China?
Whenever possible, we source our superfoods from their country of origin. This helps us obtain the highest nutrient quality and support the cultures that have propagated them sustainably over time. Goji berries are native to the Himalayan region, which is where ours are grown on certified organic farms. We do additional testing when the goji berries are received at our US facility to ensure they are every bit as clean as we expect.
What are the health benefits of Goji Berries?
In Traditional Chinese Medicine, goji berry, also known as "wolfberry" is considered as one of the best anti-aging herbs. According to TCM practice, the major health benefits of wolfberry are its ability to cleanse the liver and kidney, and improve eye function. It is traditionally used in soups, hot pots, and herbal teas. Although the benefits of wolfberry are highly acknowledged in TCM, scientific evidence regarding its potential benefits remain unclear.
Despite this, goji berries are known to be a good source of healthy antioxidants and vitamins. Goji berries contain high levels of vitamins A and C. Vitamins A and C are essential for building immunity against illnesses. Goji berries also contain carotenoids, a beneficial antioxidant that can support your immune system.
Why is there a warning label on my Goji Berries?
Some of our superfoods fall under CA's Prop 65 labeling requirements. This is due to trace amounts of heavy metals that are naturally occurring in the organic soils in which our superfoods grow. Please note that Prop 65 is a right-to-know law, and not a determination of a product's safety. For more information, please see our Help Center articles about Prop 65 here.
Does your packing facility handle allergens?
Yes, all of our superfoods are packaged in a facility that also handles common allergens. Our co-packers follow Good Manufacturing Practices, are HACCP certified, and thoroughly sanitize all equipment between every product run with organic, food-grade cleaners. All of our products are inherently gluten-free and are tested to ensure less than 20 parts per million of gluten, in compliance with FDA labeling regulations. We do not use soy, corn, or dairy derivatives in any of our products. Depending on the flavor, our Power Snacks may contain tree nuts and/or peanuts; see ingredient panels for more details.
Do you offer free shipping?
Yes! If your order is shipping within the contiguous U.S. and your product total is $49 or more, after any discounts are applied, a free ground shipping option will be available for you to select at checkout. If your order is below $49, a flat rate of $8.95 will apply for orders shipping within the contiguous U.S. For shipments to Alaska, Hawaii, Puerto Rico and U.S. Territories, please see our
shipping terms and conditions
.
Can I order your products outside of the US?
Sorry, no! At this point, we only ship directly within the U.S. Our products can be shipped internationally via
iHerb