ORGANIC
Elderberry Powder
Navitas Organics Elderberry Powder is made from whole organic elderberries with no added ingredients. This ancient immune booster has a tart, earthy taste that's easy to enjoy in teas, tinctures, smoothies, and wellness tonics.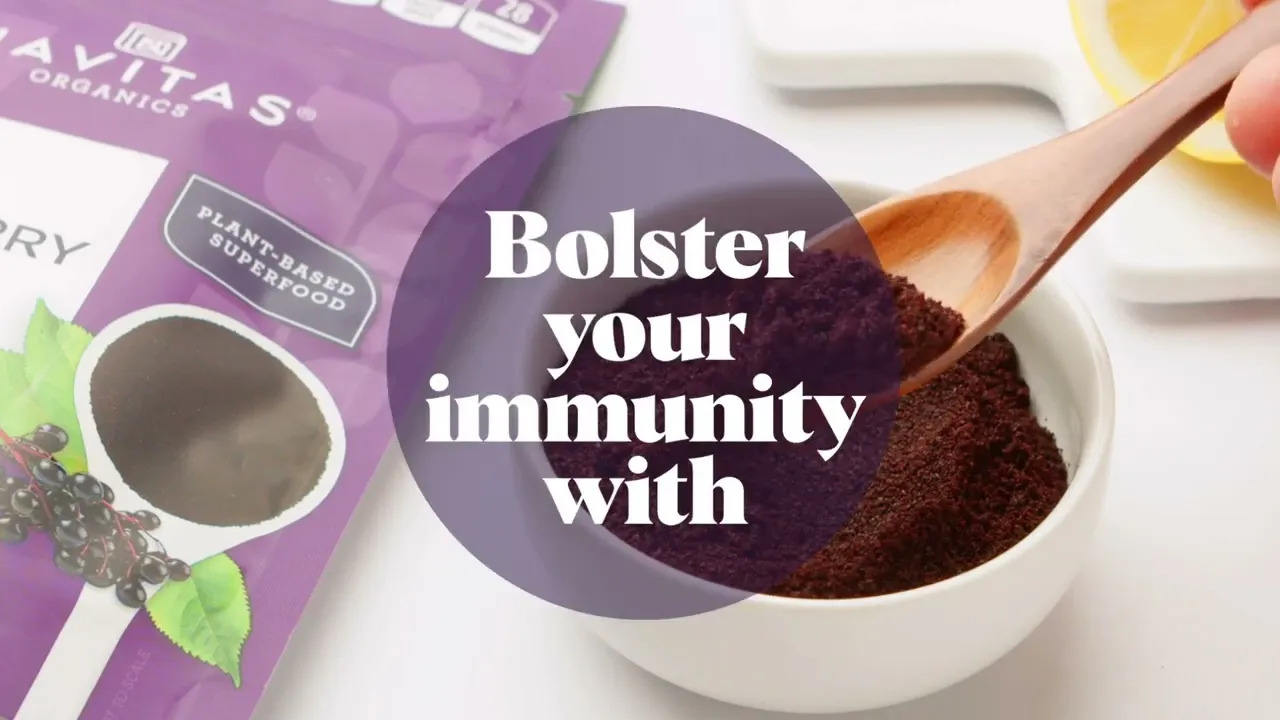 Click to play the video

ANCIENT REMEDY AT THE READY
Navitas Organics Elderberry Powder is made from pasteurized and freeze-dried whole organic elderberries.
100% organic whole berry powder
Contains all benefical parts of the elderberry for holistic immune support
Used as a traditional medicinal food to support immune health for centuries
Heat treated for digestibility
No added sugar or fillers
See FAQs
Nutrition Facts
Serving Size 1 tsp (3g)
Serving Size about 28
Amount per Serving: 10 calories
% DV
Total Fat
0g
0%
Saturated Fat
0g
0%
Trans Fat
0g
Cholesterol
0mg
0%
Sodium
0mg
0%
Total Carbs
3g
1%
Dietary Fiber
1g
4%
Total Sugar
2g
Includes Added Sugar
0g
0%
Protein
0g
Vitamin D
0mcg
0%
Calcium
5mg
0%
Iron
0mg
0%
Potassium
39mg
0%
Ingredients
Certified organic elderberry powder (Sambucus nigra).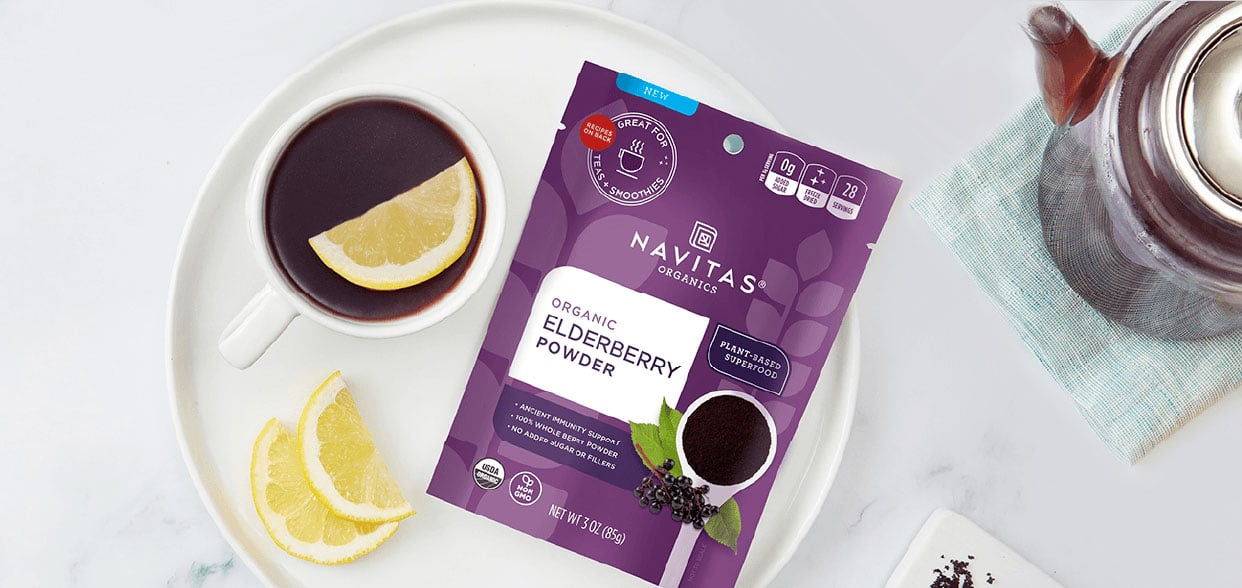 How to Use
With a slightly tart and earthy berry taste, enjoy Navitas Organics Elderberry Powder in tea, juices, smoothies, homemade syrups, tonics and more!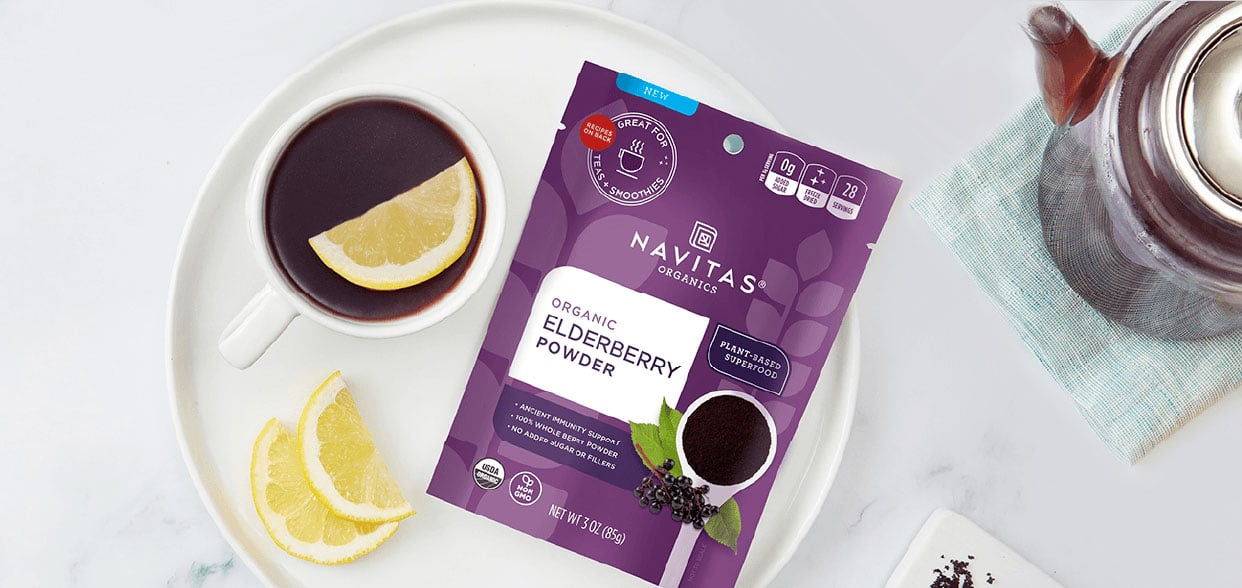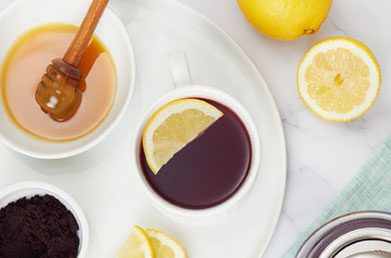 TRY IT IN
Tea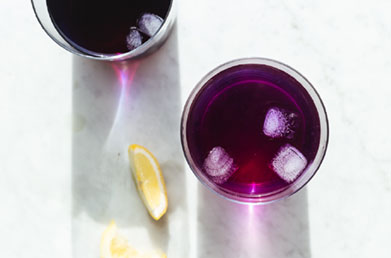 TRY IT IN
Wellness Shots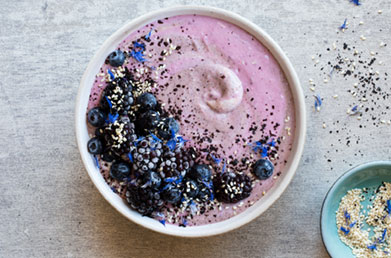 TRY IT IN
Smoothies
Featured Review
"Not only is the elderberry powder good for you, it tastes delicious mixed in smoothies, tea or even just plain water! And the pretty color doesn't hurt either!"
– Larissa P.
Is your Elderberry Powder raw?
No. We pasteurize and freeze dry our organic elderberries before packaging them up as your immune system's best friend! Pasteurization is essential because raw elderberries contain toxins that can cause serious digestive distress. Happily, these toxic compounds are neutralized by heat.
Is it safe to take Elderberry Powder every day?
All of our superfoods are considered safe for every use by all health states and ages in their recommended serving sizes. Because they are whole-food products and not extracts, isolates or concentrations, they are generally well tolerated. If you have any specific questions regarding elderberry intake, we recommend talking to your health practitioner.
When properly prepared by cooking or pasteurization, elderberries' toxic compounds are neutralized. This dark purple berry has been enjoyed for centuries in pies, jams, baked goods, sauces and more. However, a small number of individuals remain sensitive to certain compounds in whole elderberries despite proper preparation and may experience digestive discomfort or nausea after consumption. If you've never tried whole elderberries before (not to be confused with syrups, gummies, or tinctures, which are made from elderberry juice or extract), we recommend starting with a smaller serving size.
What are the health benefits of elderberry powder?
Elderberries are one of nature's best foods for immune support, thanks to their high levels of antioxidants, like anthocyanins, and plenty of flavonoids. These anti-inflammatory nutrients can help reduce damage from oxidative stress and support overall wellbeing—critical in mounting an effective immune response. Because of their powerful antioxidant properties, it's no surprise that elderberries are widely used as a dietary supplement to help relieve cold and flu symptoms.
Does your packing facility handle allergens?
Yes, all of our superfoods are packaged in a facility that also handles common allergens. Our co-packers follow Good Manufacturing Practices, are HACCP certified, and thoroughly sanitize all equipment between every product run with organic, food-grade cleaners. All of our products are inherently gluten-free and are tested to ensure less than 20 parts per million of gluten, in compliance with FDA labeling regulations. We do not use soy, corn, or dairy derivatives in any of our products. Depending on the flavor, our Power Snacks may contain tree nuts and/or peanuts; see ingredient panels for more details.
Do you offer free shipping?
Yes! If your order is shipping within the contiguous U.S. and your product total is $49 or more, after any discounts are applied, a free ground shipping option will be available for you to select at checkout. If your order is below $49, a flat rate of $8.95 will apply for orders shipping within the contiguous U.S. For shipments to Alaska, Hawaii, Puerto Rico and U.S. Territories, please see our
shipping terms and conditions
.
Can I order your products outside of the US?
Sorry, no! At this point, we only ship directly within the U.S. Our products can be shipped internationally via
iHerb