ORGANIC
Chickpea Flour
Navitas Organics Chickpea Flour is your gluten-free upgrade! Add fiber, protein and mineral nutrition to your everyday cooking and baking. From cookies to veggie burgers to crepes, this superfood flour has got you covered.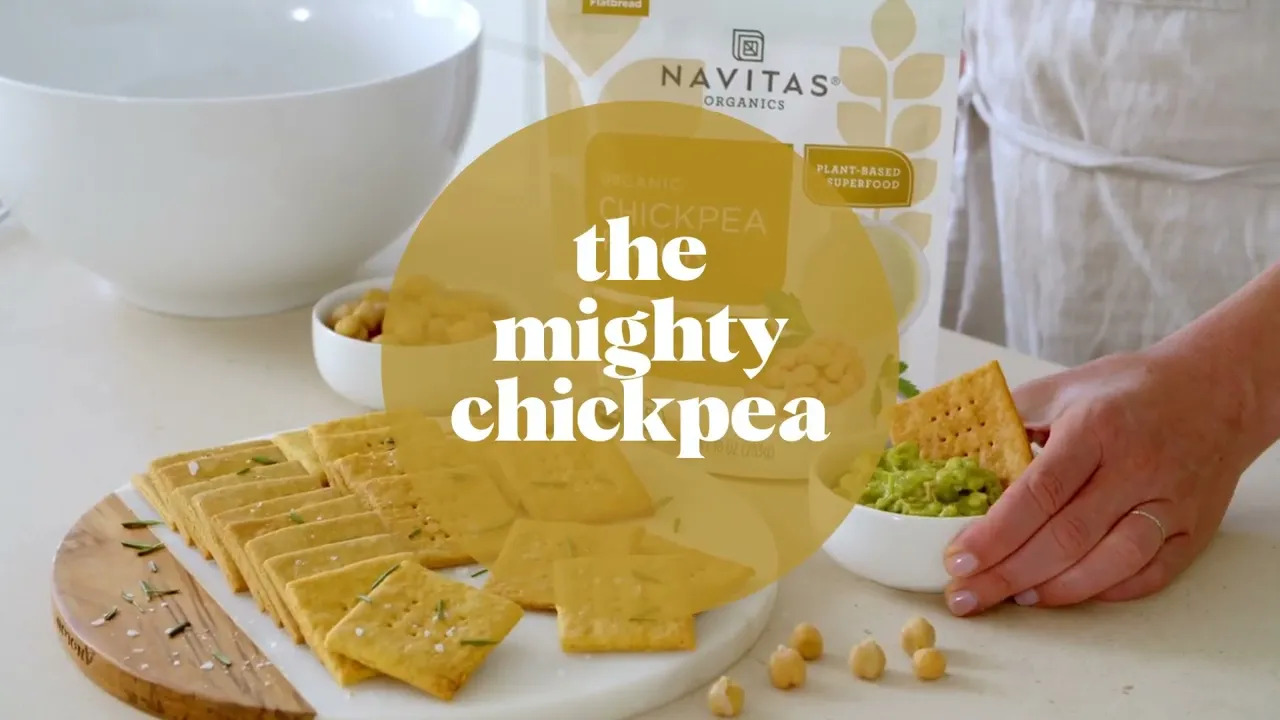 Click to play the video

NUTRITIOUS LEGUME FLOUR WITH A RICH CULINARY HISTORY
Sweet and nutty, Navitas Organics Chickpea Flour is a nutritious gluten-free flour that's great for everyday cooking and baking.
100% organic chickpea flour
USA-grown & finely milled
Also known as garbanzo bean flour, gram flour, & besan
Fiber-rich & gluten-free
Good source of plant-based protein
See FAQs
Nutrition Facts
Serving Size 1.5 tbsp (15g)
Serving Size about 19
Amount per Serving: 60 calories
% DV
Total Fat
1g
1%
Saturated Fat
0g
0%
Trans Fat
0g
Cholesterol
0mg
0%
Sodium
0mg
0%
Total Carbs
9g
3%
Dietary Fiber
3g
11%
Total Sugar
3g
Includes Added Sugar
0g
0%
Protein
3g
Vitamin D
0mcg
0%
Calcium
20mg
2%
Iron
1mg
6%
Potassium
127mg
2%
Ingredients
Certified organic chickpea flour (Cicer arietinum).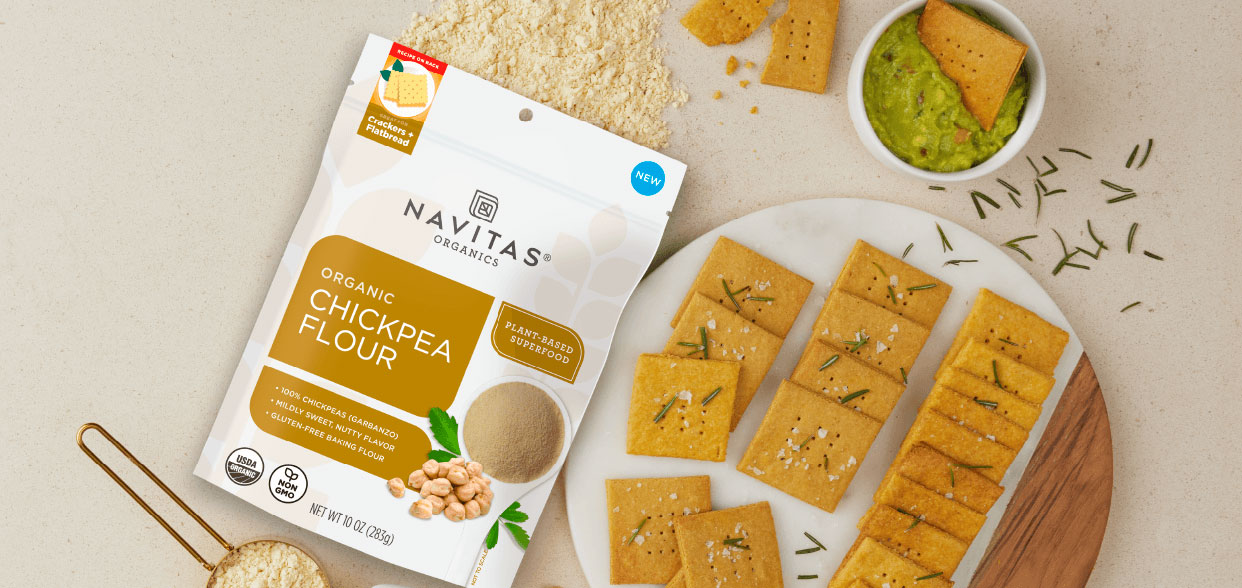 How to Use
Chickpea flour has been a staple ingredient in Indian and South Asian cooking for centuries. Easily use Navitas Organics Chickpea Flour in a variety of everyday, gluten-free cooking & baking recipes.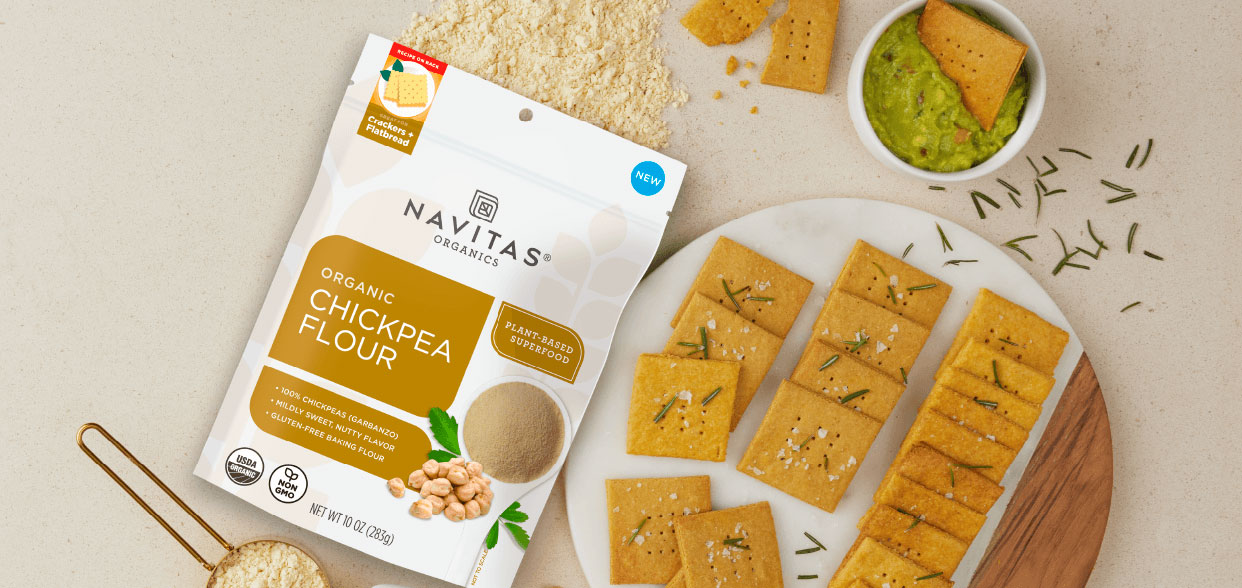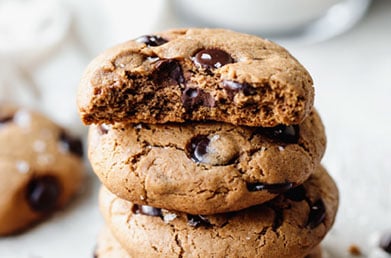 TRY IT IN
Gluten-Free Baking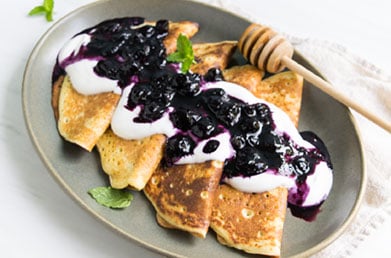 TRY IT IN
Socca & Crepes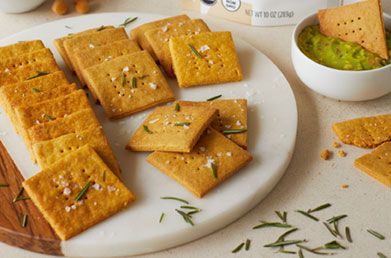 TRY IT IN
Crackers
Our Sourcing Sets us Apart
Navitas Organics Chickpea Flour is made from premium quality chickpeas, grown in the USA with organic farming methods. Chickpeas are one of the few crops that can pull nitrogen from the air and restore it to the soil, contributing to biodiversity and making it accessible to other plants.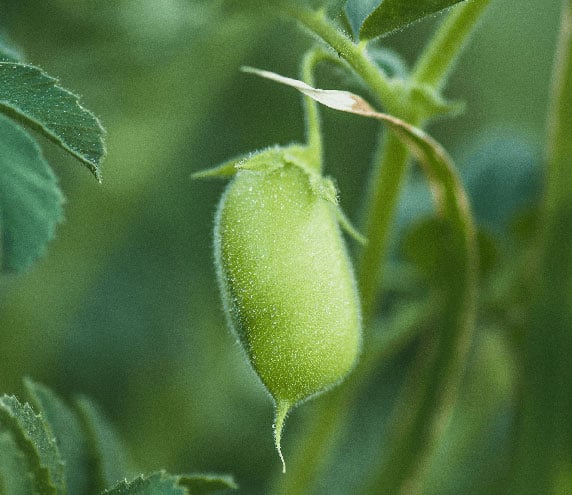 Featured Review
"Great product and taste!"
– Jodi M.
Our Chickpea Flour is made by dehydrating and milling fresh, US grown chickpeas into a fine powder. It can be used for classic chickpea recipes like socca, or in adapted recipes to make cookies, crackers, crepes and more! Unlike most regular baking flours, this product is low in starch and high in fiber and minerals.
Can I substitute Chickpea Flour for regular flour in a baking recipe?
This product cannot be used as a 1:1 replacement for regular baking flour, but that doesn't mean you can't enjoy it in many of your favorite recipes. By swapping up to one third of the regular flour called for with our Chickpea Flour, you can reduce the starch content while increasing the fiber and nutrition within. Alternately, you enjoy our Chickpea Flour in some of our favorite adapted recipes here.
Can I use Chickpea Flour in a smoothie?
No, we do not recommend using our Chickpea Flour in a smoothie. This product is designed to be used in baking recipes and is not recommended for raw consumption.
Does your packing facility handle allergens?
Yes, all of our superfoods are packaged in a facility that also handles common allergens. Our co-packers follow Good Manufacturing Practices, are HACCP certified, and thoroughly sanitize all equipment between every product run with organic, food-grade cleaners. All of our products are inherently gluten-free and are tested to ensure less than 20 parts per million of gluten, in compliance with FDA labeling regulations. We do not use soy, corn, or dairy derivatives in any of our products. Depending on the flavor, our Power Snacks may contain tree nuts and/or peanuts; see ingredient panels for more details.
Do you offer free shipping?
Yes! If your order is shipping within the contiguous U.S. and your product total is $49 or more, after any discounts are applied, a free ground shipping option will be available for you to select at checkout. If your order is below $49, a flat rate of $8.95 will apply for orders shipping within the contiguous U.S. For shipments to Alaska, Hawaii, Puerto Rico and U.S. Territories, please see our
shipping terms and conditions
.
Can I order your products outside of the US?
Sorry, no! At this point, we only ship directly within the U.S. Our products can be shipped internationally via
iHerb