Cacao Latte
Deliciously simple
Lift your spirits with a nourishing remake of your beloved latte. Our Cacao Latte superfood drink contains a blend of cacao with MCT oil in one powder mix. This convenient cacao drink is a great alternative to coffee, cafe mocha, or hot chocolate to boost your day.
The power of healthy fats: 2g MCTs – medium-chain triglycerides – from coconut are easily digested by the body for energy and fuel.
Mayan food of the gods: rich in antioxidants and essential minerals, cacao has been enjoyed throughout the centuries to nourish both body and mind.
Ingredients to feel good about: keto and paleo-friendly, USDA organic, vegan and dairy free.
Benefits
Sip your way to wellness with the delicious combination of nutrient-dense cacao, MCT-rich coconut powder and a touch of coconut sugar for a warm and creamy plant-based pick-me-up. 
Deliciously simple: just mix one packet with 8oz hot water, milk or milk alternative
Ingredients: Coconut oil powder* (MCT oil*, acacia fiber*, tapioca maltodextrin*, citric acid), coconut palm sugar*, cacao powder*, maca powder*, guar gum*, natural flavor*, sea salt, cinnamon*, monk fruit extract*. *Organic ingredient
ALLERGENS: Contains tree nuts (coconut) 
Storage Information: Refrigeration not required. Store in a cool, dark, dry place
Serving Suggestion: Mix with 8oz hot water, milk or milk alternative. Stir. Sip. Enjoy.
Certified Organic | Gluten-Free | Dairy-Free | Keto | Paleo | 2g MCT | Vegan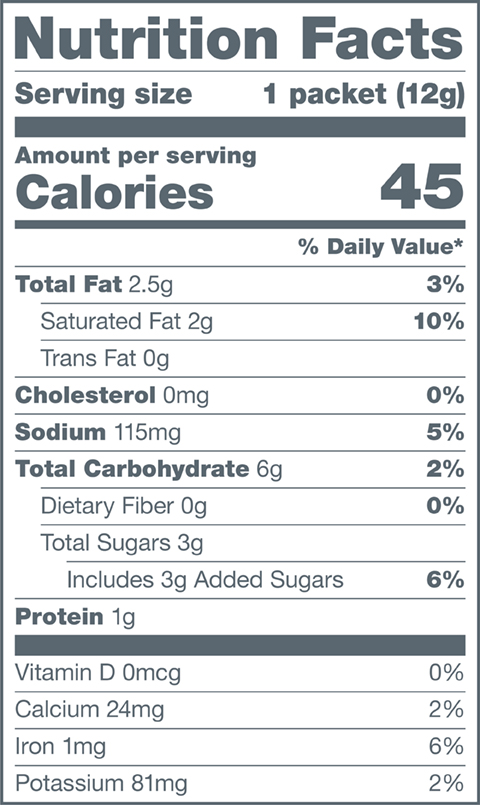 {"id":1628587655239,"title":"Cacao Latte","handle":"cacao-latte","description":"\u003cp\u003e\u003cstrong\u003eBenefits\u003c\/strong\u003e\u003c\/p\u003e\n\u003cp\u003eSip your way to wellness with the delicious combination of nutrient-dense cacao, MCT-rich coconut powder and a touch of coconut sugar for a warm and creamy plant-based pick-me-up. \u003c\/p\u003e\n\u003cp\u003eDeliciously simple: just mix one packet with 8oz hot water, milk or milk alternative\u003c\/p\u003e\n\u003cp\u003e\u003cstrong\u003eIngredients:\u003c\/strong\u003e Coconut oil powder* (MCT oil*, acacia fiber*, tapioca maltodextrin*, citric acid), coconut palm sugar*, cacao powder*, maca powder*, guar gum*, natural flavor*, sea salt, cinnamon*, monk fruit extract*. *Organic ingredient\u003c\/p\u003e\n\u003cp\u003e\u003cstrong\u003eALLERGENS: \u003c\/strong\u003eContains tree nuts (coconut)\u003cstrong\u003e \u003c\/strong\u003e\u003c\/p\u003e\n\u003cp\u003e\u003cstrong\u003eStorage Information: \u003c\/strong\u003eRefrigeration not required. Store in a cool, dark, dry place\u003c\/p\u003e\n\u003cp\u003e\u003cstrong\u003eServing Suggestion:\u003c\/strong\u003e \u003cspan\u003eMix with 8oz hot water, milk or milk alternative. Stir. Sip. Enjoy.\u003c\/span\u003e\u003c\/p\u003e\n\u003cp\u003e\u003cstrong\u003eCertified Organic | Gluten-Free | Dairy-Free | Keto | Paleo | 2g MCT | Vegan\u003c\/strong\u003e\u003c\/p\u003e","published_at":"2019-03-01T09:46:22-08:00","created_at":"2019-02-15T10:31:01-08:00","vendor":"Navitas","type":"Latte","tags":["Keto Friendly","Paleo Friendly","Plant Based\/Vegan","product-icon::bcorp","product-icon::dairyfree","product-icon::nongmo","product-icon::organic"],"price":1999,"price_min":1999,"price_max":1999,"available":true,"price_varies":false,"compare_at_price":1999,"compare_at_price_min":1999,"compare_at_price_max":1999,"compare_at_price_varies":false,"variants":[{"id":16128189005895,"title":"0.42 oz 10\/pack","option1":"0.42 oz 10\/pack","option2":null,"option3":null,"sku":"LAT001","requires_shipping":true,"taxable":false,"featured_image":null,"available":true,"name":"Cacao Latte - 0.42 oz 10\/pack","public_title":"0.42 oz 10\/pack","options":["0.42 oz 10\/pack"],"price":1999,"weight":113,"compare_at_price":1999,"inventory_management":"shopify","barcode":""}],"images":["\/\/cdn.shopify.com\/s\/files\/1\/0012\/0605\/9079\/products\/Latte-Cacao-US-Caddy-LAT001-Cv1-R5-LT-3D-780x633_shortshadow.png?v=1589301686","\/\/cdn.shopify.com\/s\/files\/1\/0012\/0605\/9079\/products\/Latte-Cacao-Caddy-LAT001-Cv1-R5-BK-3D-780x633.png?v=1589301686","\/\/cdn.shopify.com\/s\/files\/1\/0012\/0605\/9079\/products\/Latte_infographic_Cacao_IG_resized_for_site.jpg?v=1589301686","\/\/cdn.shopify.com\/s\/files\/1\/0012\/0605\/9079\/products\/Navitas-Organics-Cacao-Latte-Mug-Cozy-Hygge.jpg?v=1589301686","\/\/cdn.shopify.com\/s\/files\/1\/0012\/0605\/9079\/products\/Latte-Cacao-Sachet-LAT001-Fv1-3D-780x633.jpg?v=1589301686","\/\/cdn.shopify.com\/s\/files\/1\/0012\/0605\/9079\/products\/Latte-Cacao-Sachet-LAT001-Fv1-R8-BK-3D-780x633.png?v=1589301686"],"featured_image":"\/\/cdn.shopify.com\/s\/files\/1\/0012\/0605\/9079\/products\/Latte-Cacao-US-Caddy-LAT001-Cv1-R5-LT-3D-780x633_shortshadow.png?v=1589301686","options":["Size"],"media":[{"alt":"Navitas Organics Cacao Latte Mix Box of 10 Packets","id":1048759369799,"position":1,"preview_image":{"aspect_ratio":0.812,"height":780,"width":633,"src":"https:\/\/cdn.shopify.com\/s\/files\/1\/0012\/0605\/9079\/products\/Latte-Cacao-US-Caddy-LAT001-Cv1-R5-LT-3D-780x633_shortshadow.png?v=1569125533"},"aspect_ratio":0.812,"height":780,"media_type":"image","src":"https:\/\/cdn.shopify.com\/s\/files\/1\/0012\/0605\/9079\/products\/Latte-Cacao-US-Caddy-LAT001-Cv1-R5-LT-3D-780x633_shortshadow.png?v=1569125533","width":633},{"alt":"Navitas Organics Cacao Latte Mix Caddy Nutrition \u0026 Ingredients","id":6729702309959,"position":2,"preview_image":{"aspect_ratio":0.812,"height":780,"width":633,"src":"https:\/\/cdn.shopify.com\/s\/files\/1\/0012\/0605\/9079\/products\/Latte-Cacao-Caddy-LAT001-Cv1-R5-BK-3D-780x633.png?v=1589301628"},"aspect_ratio":0.812,"height":780,"media_type":"image","src":"https:\/\/cdn.shopify.com\/s\/files\/1\/0012\/0605\/9079\/products\/Latte-Cacao-Caddy-LAT001-Cv1-R5-BK-3D-780x633.png?v=1589301628","width":633},{"alt":null,"id":1204179435591,"position":3,"preview_image":{"aspect_ratio":1.0,"height":780,"width":780,"src":"https:\/\/cdn.shopify.com\/s\/files\/1\/0012\/0605\/9079\/products\/Latte_infographic_Cacao_IG_resized_for_site.jpg?v=1569175969"},"aspect_ratio":1.0,"height":780,"media_type":"image","src":"https:\/\/cdn.shopify.com\/s\/files\/1\/0012\/0605\/9079\/products\/Latte_infographic_Cacao_IG_resized_for_site.jpg?v=1569175969","width":780},{"alt":null,"id":1048743870535,"position":4,"preview_image":{"aspect_ratio":1.064,"height":733,"width":780,"src":"https:\/\/cdn.shopify.com\/s\/files\/1\/0012\/0605\/9079\/products\/Navitas-Organics-Cacao-Latte-Mug-Cozy-Hygge.jpg?v=1569125530"},"aspect_ratio":1.064,"height":733,"media_type":"image","src":"https:\/\/cdn.shopify.com\/s\/files\/1\/0012\/0605\/9079\/products\/Navitas-Organics-Cacao-Latte-Mug-Cozy-Hygge.jpg?v=1569125530","width":780},{"alt":"Navitas Organics Cacao Latte Mix Packet","id":931015622727,"position":5,"preview_image":{"aspect_ratio":0.812,"height":780,"width":633,"src":"https:\/\/cdn.shopify.com\/s\/files\/1\/0012\/0605\/9079\/products\/Latte-Cacao-Sachet-LAT001-Fv1-3D-780x633.jpg?v=1569100049"},"aspect_ratio":0.812,"height":780,"media_type":"image","src":"https:\/\/cdn.shopify.com\/s\/files\/1\/0012\/0605\/9079\/products\/Latte-Cacao-Sachet-LAT001-Fv1-3D-780x633.jpg?v=1569100049","width":633},{"alt":"Navitas Organics Cacao Latte Mix Packet Nutrition \u0026 Ingredients","id":6729706668103,"position":6,"preview_image":{"aspect_ratio":0.812,"height":780,"width":633,"src":"https:\/\/cdn.shopify.com\/s\/files\/1\/0012\/0605\/9079\/products\/Latte-Cacao-Sachet-LAT001-Fv1-R8-BK-3D-780x633.png?v=1589301671"},"aspect_ratio":0.812,"height":780,"media_type":"image","src":"https:\/\/cdn.shopify.com\/s\/files\/1\/0012\/0605\/9079\/products\/Latte-Cacao-Sachet-LAT001-Fv1-R8-BK-3D-780x633.png?v=1589301671","width":633}],"content":"\u003cp\u003e\u003cstrong\u003eBenefits\u003c\/strong\u003e\u003c\/p\u003e\n\u003cp\u003eSip your way to wellness with the delicious combination of nutrient-dense cacao, MCT-rich coconut powder and a touch of coconut sugar for a warm and creamy plant-based pick-me-up. \u003c\/p\u003e\n\u003cp\u003eDeliciously simple: just mix one packet with 8oz hot water, milk or milk alternative\u003c\/p\u003e\n\u003cp\u003e\u003cstrong\u003eIngredients:\u003c\/strong\u003e Coconut oil powder* (MCT oil*, acacia fiber*, tapioca maltodextrin*, citric acid), coconut palm sugar*, cacao powder*, maca powder*, guar gum*, natural flavor*, sea salt, cinnamon*, monk fruit extract*. *Organic ingredient\u003c\/p\u003e\n\u003cp\u003e\u003cstrong\u003eALLERGENS: \u003c\/strong\u003eContains tree nuts (coconut)\u003cstrong\u003e \u003c\/strong\u003e\u003c\/p\u003e\n\u003cp\u003e\u003cstrong\u003eStorage Information: \u003c\/strong\u003eRefrigeration not required. Store in a cool, dark, dry place\u003c\/p\u003e\n\u003cp\u003e\u003cstrong\u003eServing Suggestion:\u003c\/strong\u003e \u003cspan\u003eMix with 8oz hot water, milk or milk alternative. Stir. Sip. Enjoy.\u003c\/span\u003e\u003c\/p\u003e\n\u003cp\u003e\u003cstrong\u003eCertified Organic | Gluten-Free | Dairy-Free | Keto | Paleo | 2g MCT | Vegan\u003c\/strong\u003e\u003c\/p\u003e"}