ORGANIC | FAIR TRADE
Cacao Butter
Decadent, creamy and cocoa-scented, Navitas Organics Cacao Butter is a superfood staple. This plant-based fat is an essential ingredient in homemade chocolate, a luscious addition to hot cocoa and baking, and melts at body temperature—perfect for DIY skincare!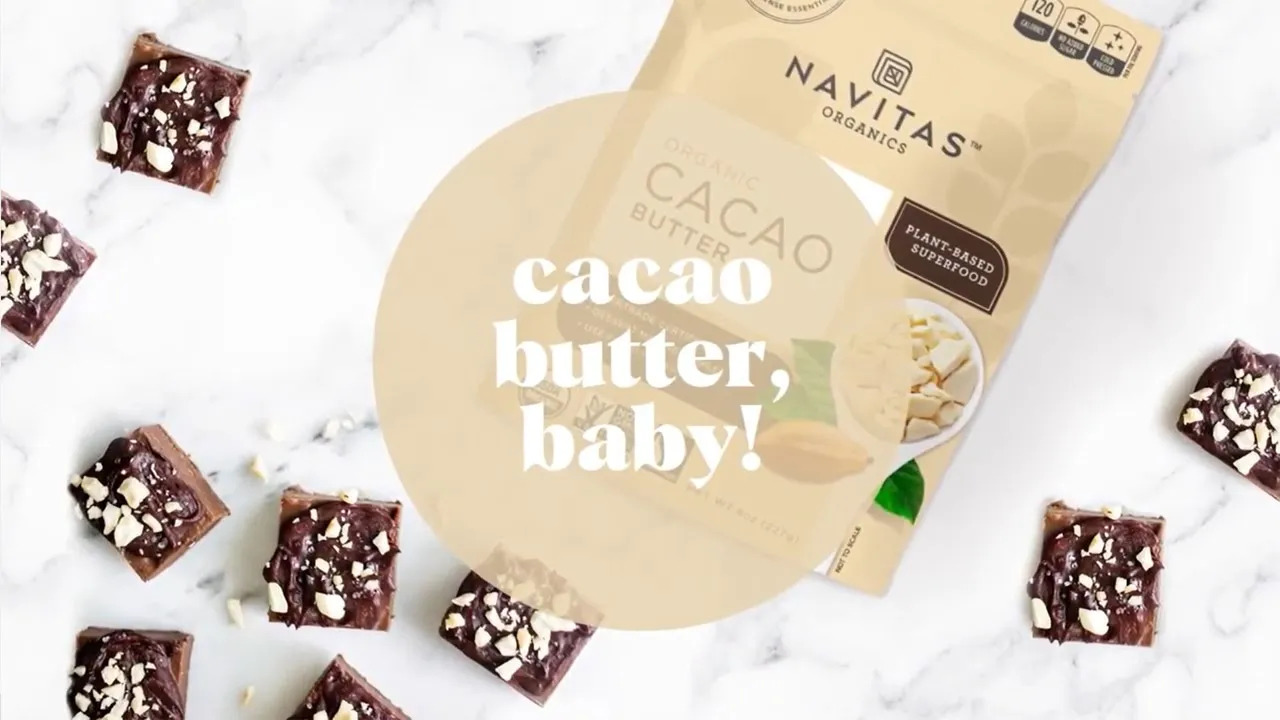 Click to play the video

CACAO NOURISHMENT INSIDE & OUT
Navitas Organics Cacao Butter is Fairtrade certified and sourced from single origin, organic cacao beans.
100% organic cacao butter
Cold-pressed & unrefined plant-based fat
Contains antioxidants and fat-soluble vitamins
Great for vegan, keto and Paleo diets
See FAQs
Nutrition Facts
Serving Size 6 wafers (13g)
Serving Size 1 tbsp (13g)
Servings per Container about 17
Servings per Container about 17
Amount per Serving: 120 calories
Amount per Serving: 120 calories
% DV
Total Fat
Saturated Fat
Trans Fat
Cholesterol
0%
Sodium
Total Carbs
Dietary Fiber
Total Sugar
Includes Added Sugar
Protein
Vitamin D
Calcium
Iron
Potassium
Ingredients
Certified organic cacao butter (Theobroma cacao).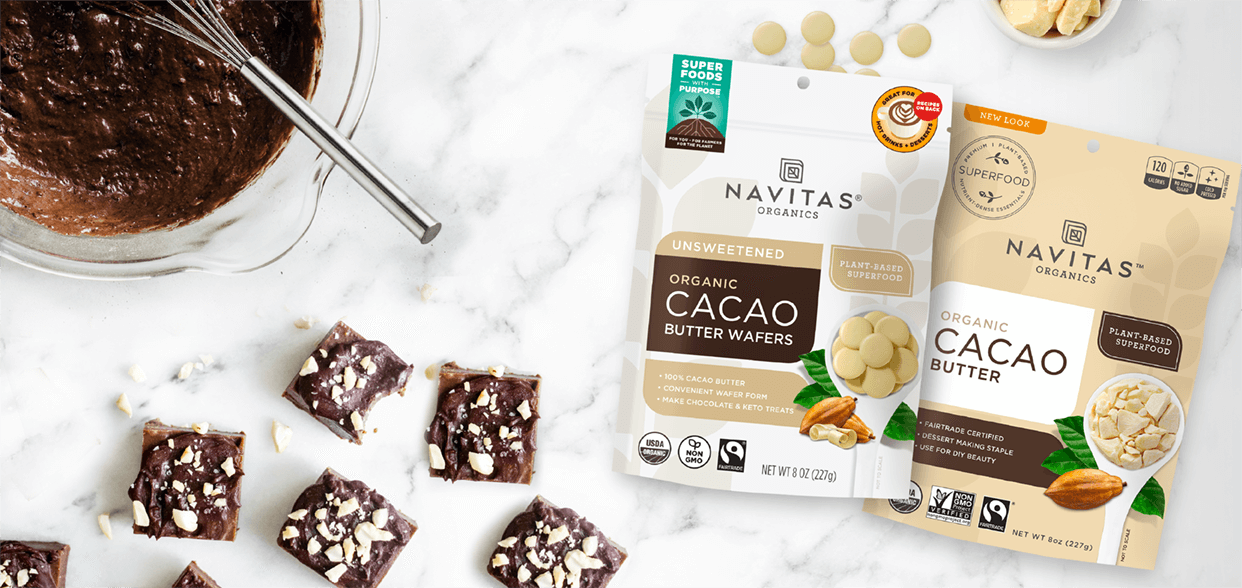 How to Use
A chocolate making essential, use Navitas Organics Cacao Butter for superfood chocolate, baked goods, DIY skincare & more.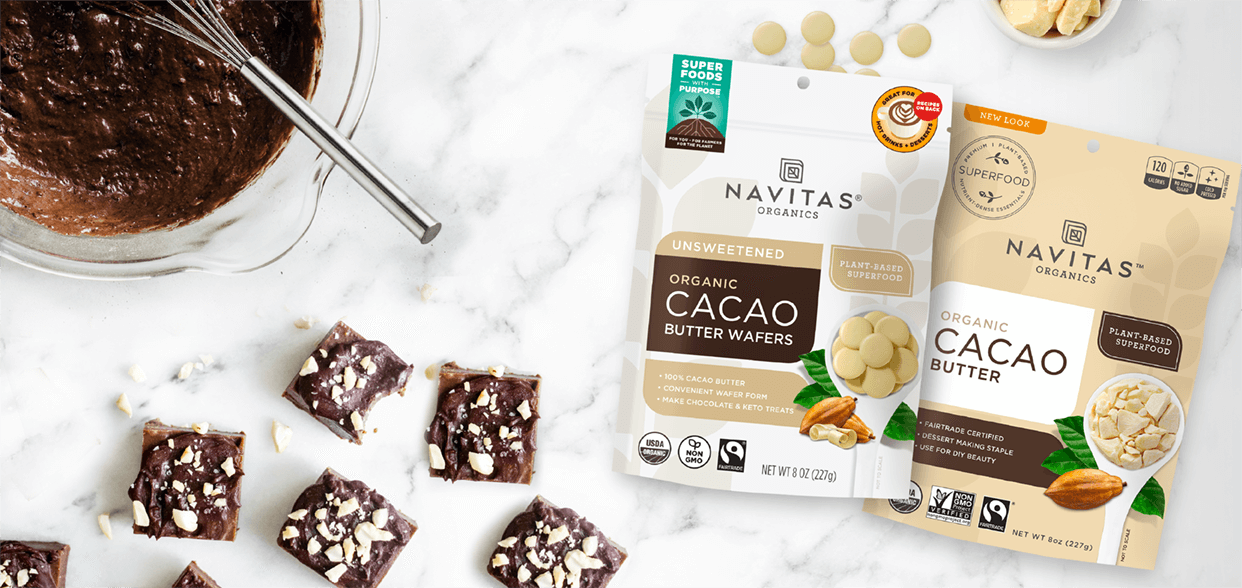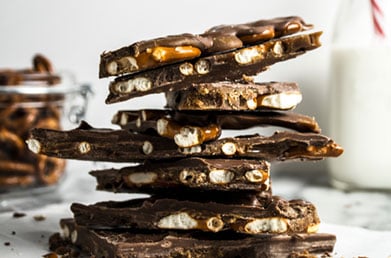 TRY IT IN
Homemade Chocolate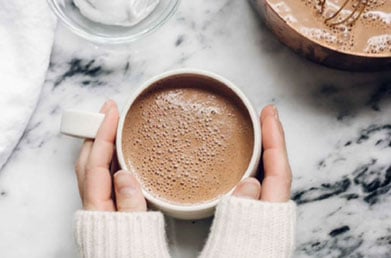 TRY IT IN
Hot Cocoa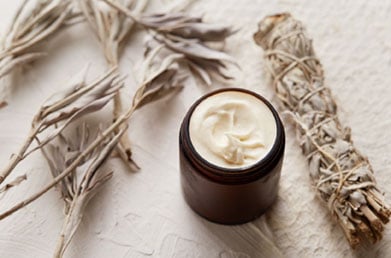 TRY IT IN
DIY Skincare
Our Sourcing Sets us Apart
Our Cacao Butter comes from organic, Fairtrade certified cacao beans. Safe and equitable working conditions and fair wages for the farmers are ensured throughout the growing and harvesting process.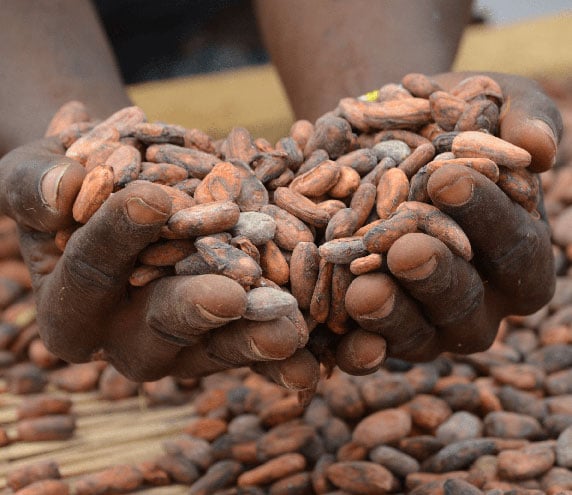 Featured Review
"I've been using the cacao butter in my Keto coffee for a couple weeks now and really like the flavor and mouth feel it gives. I just couldn't do butter in my coffee so this is a great alternative. Melts quickly and doesn't need to be frothed like butter. Even my husband likes it. I tried a different brand to start but the flavor of the Navitas brand is much better. I bought 6 bags to start and will need more soon!"
– Sandra S.
The cacao bean is loaded with heart-healthy fats! When the bean is ground and cold-pressed under pressure, the fats separate from the solids, producing two separate end products: cacao butter and cacao powder. The cacao butter is solid at room temperature, mildly chocolate-scented, and delicious in baked goods, skin care products, chocolate making and more. For more inspiration, visit our favorite recipes here.
Is there caffeine in your Cacao Butter Wafers?
No, cacao butter is naturally free of caffeine. During the cold-pressing process when the fats are separated from the solids, many nutrient compounds—including caffeine—are entrapped within the cacao bean fiber and removed from the butter. In addition to the heart-healthy fats that make up cacao butter, this product contains fat-soluble vitamins E and K, and bountiful antioxidants. However, our other cacao products do contain caffeine; cacao powder contains 6.6mg of caffeine per teaspoon and cacao nibs contains 4.6mg of caffeine per teaspoon.
Should I choose Cacao Butter chunks or wafers?
There's no right or wrong answer! However, one type might better suit your needs. Our chunky Cacao Butter comes varying sized pieces and is easy to chop and weigh for any recipe needs. The larger sized pieces are both fashionable and functional—stash one in the bathroom to rub directly onto your skin for single-ingredient moisturizing! Our Cacao Butter Wafers come in a uniform size and weight for the most convenient recipe use. They're also perfect for adding to your high-fat hot beverages—you can easily melt either form into warm milk or a plant-based alternative, mix in cacao powder and sweetener, and create a luxurious, delightful chocolately drink!
Can Cacao Butter be used as a substitute for shea butter in cosmetics?
Yes! Whether making a body cream or lip balm, cacao butter can replace shea butter in almost all recipes. Both contain fatty acids and antioxidants that nourish and moisturize your skin. The main difference is the distinct chocolate aroma that cacao butter imparts, and the slightly firmer texture it has when cooled.
Why can't I order this product in the summer?
We are unable to ship any products that have a high cacao butter content in the summer because they are at risk of melting during transit. While it doesn't actually harm the product, it changes the form that the product arrives in and may impact usage options. We recommend purchasing this item from brick and mortar stores only during the summer months. For our store locator, please click here.
What is the shelf life of Cacao Butter?
When stored in a cool, dark place and properly sealed, our Cacao Butter has an 18-month shelf life from the time of manufacturing. The 'best before' stamp can be found on the back of the bag, and we recommend enjoying your Cacao Butter before then. If you haven't, but your product still smells normal (chocolatey!) and looks normal (no discoloration), you may consume it at your discretion. However, we cannot guarantee flavor, freshness, or nutritional potency after this point.
Why isn't this product available as a subscription item?
Due to this product's heat sensitivity, we are unable to ship it during the summer months. Unfortunately, this disqualifies it from subscription orders year round. Sorry for the inconvenience!
Does your packing facility handle allergens?
Yes, all of our superfoods are packaged in a facility that also handles common allergens. Our co-packers follow Good Manufacturing Practices, are HACCP certified, and thoroughly sanitize all equipment between every product run with organic, food-grade cleaners. All of our products are inherently gluten-free and are tested to ensure less than 20 parts per million of gluten, in compliance with FDA labeling regulations. We do not use soy, corn, or dairy derivatives in any of our products. Depending on the flavor, our Power Snacks may contain tree nuts and/or peanuts; see ingredient panels for more details.
Do you offer free shipping?
Yes! If your order is shipping within the contiguous U.S. and your product total is $49 or more, after any discounts are applied, a free ground shipping option will be available for you to select at checkout. If your order is below $49, a flat rate of $8.95 will apply for orders shipping within the contiguous U.S. For shipments to Alaska, Hawaii, Puerto Rico and U.S. Territories, please see our
shipping terms and conditions
.
Can I order your products outside of the US?
Sorry, no! At this point, we only ship directly within the U.S. Our products can be shipped internationally via
iHerb