ORGANIC
Wheatgrass Powder
Get your daily cleansing greens in a concentrated and easy-to-digest form with Navitas Organics Wheatgrass Juice Powder. Loaded with chlorophyll and powerful phytochemicals, mix this smooth, grassy superfood powder straight into water for an at-home wheatgrass shot, or add to smoothies if you're a little less hardcore. No judgment here. Cheers!
CLEANSING WHEATGRASS, JUICER NOT REQUIRED
Made from freeze-dried wheatgrass juice, Navitas Organics Wheatgrass Juice Powder contains concentrated nutrients and none of the grassy cellulose fiber that our bodies can't digest.
100% organic wheatgrass juice powder
Concentrated powder from young wheatgrass blades; only 1/4 teaspoon per serving
50% chlorophyll by weight
Supports energy & detoxification
See FAQs
Nutrition Facts
Serving Size 1/4 tsp (0.5g)
Serving Size About 56
Amount per Serving: 0 Calories
% DV
Total Fat
0 Calories
0g
Saturated Fat
0%
0g
Trans Fat
0%
Cholesterol
0g
0mg
Sodium
0%
0mg
Total Carbs
0%
0g
Dietary Fiber
0g
0%
Total Sugar
0g
Includes Added Sugar
0g
0%
Protein
0g
Vitamin D
0mcg
0%
Calcium
2mg
0%
Iron
0mg
0%
Potassium
20mg
0%
Ingredients
Certified organic wheatgrass juice powder (Triticum aestivum).
How to Use
Navitas Organics Wheatgrass Juice Powder has a smooth, grassy taste that is easy to drink mixed into water. For a fancier approach, use it to boost the nutrition in smoothies, pestos & more!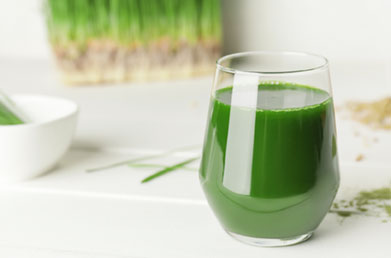 TRY IT IN
Water!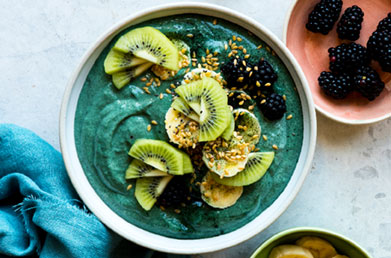 TRY IT IN
Smoothies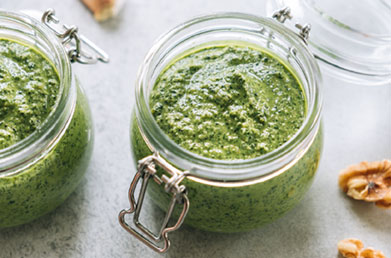 TRY IT IN
Yogurt & Dips
Featured Review
"Delicious! Love this wheatgrass powder from Navitas! It's just the right pick up in the morning, straight with water, or blended into my smoothie!"
– Allison M.
Can I use Wheatgrass Powder to make a wheatgrass shot?
Yes, our juiced Wheatgrass Powder is a great substitute for fresh-pressed wheatgrass that's convenient to use and travel-friendly. Just add one ¼ tsp. to 2 oz. of cold water, shake-shake-shake, and drink up! We love it with a pinch of freshly grated ginger and a squeeze of lemon. And at just $0.41 per serving, this daily wheatgrass habit won't break the bank.
Why is your Wheatgrass Powder so expensive?!
While many wheatgrass powders are made from whole grass blades—including the indigestible grass fibers and root material—ours is made by harvesting just the young shoots. We juice these shoots and freeze-dry the liquid into a highly concentrated and powerfully nutritious greens powder that's a full 50% chlorophyll by weight! With nutrition this potent, a serving size is just ¼ tsp., meaning each bag will provide you with about 56 servings at $0.41 each.
What are the health benefits of wheatgrass?
Wheatgrass juice powder is known for its nutrient-dense composition and has been linked to various health benefits. Wheatgrass is packed with essential elements, including chlorophyll, vitamins, trace minerals, and other nutrients. A few of the known health benefits of consuming wheatgrass juice powder regularly include improving digestion, supporting energy levels, and reducing inflammation. Our convenient, powdered wheatgrass juice is an excellent source of your daily value nutrients, making it the perfect addition to a healthy diet.
Is Wheatgrass Powder gluten-free?
Yes! Gluten, the protein found in wheat that many people are sensitive to, is found in the developed seed heads of the mature wheat stalk. Wheatgrass powder, on the other hand, is made from the young wheatgrass shoots, well before the seed heads develop. There is no gluten present in wheatgrass at this stage.
Does your packing facility handle allergens?
Yes, all of our superfoods are packaged in a facility that also handles common allergens. With the exception of cashews, our products do not share the same manufacturing lines as these allergens. However, we are unable to offer an allergen-free guarantee due to the shared facility. All of our products are inherently gluten-free and are tested to ensure less than 20 parts per million of gluten, in compliance with FDA labeling regulations.
Do you offer free shipping?
Yes! If your order is shipping within the contiguous U.S. and your product total is $49 or more, after any discounts are applied, a free ground shipping option will be available for you to select at checkout. If your order is below $49, a flat rate of $8.95 will apply for orders shipping within the contiguous U.S. For shipments to Alaska, Hawaii, Puerto Rico and U.S. Territories, please see our
shipping terms and conditions
.
Can I order your products outside of the US?
Sorry, no! At this point, we only ship directly within the U.S. Our products can be shipped internationally via
iHerb