ORGANIC
Goji Powder
Our berry-sweet and slightly savory Goji Berry Powder is packed with antioxidant vitamin A and blends perfectly into smoothies, yogurt, vinaigrettes, dessert batters and more!
GOJI BERRY GOODNESS
Made from the juice of fresh goji berries, Navitas Organics Goji Powder is a super convenient way to boost your antioxidant intake.
100% organic goji berry juice powder
Goji: used in ancient Chinese medicine for over 2,000 years to support longevity
Freeze-dried
Excellent source of antioxidants (vitamin A)
No added sugar or fillers
See FAQs
Nutrition Facts
Serving Size 1 tbsp (9g)
Servings per Container about 12
Servings per Container about 25
Amount per Serving: 35 calories
% DV
Total Fat
0g
0%
Saturated Fat
0g
0%
Trans Fat
0G
Cholesterol
0mg
0%
Sodium
5mg
0%
Total Carbs
8g
3%
Dietary Fiber
0g
0%
Total Sugar
2g
Includes Added Sugar
0g
0%
Protein
0g
Vitamin D
0mcg
0%
Calcium
2mg
0%
Iron
0mg
0%
Potassium
174mg
4%
Vitamin A
160mcg
20%
Ingredients
Certified organic goji berry powder (Lycium barbarum).
How to Use
Tasting similar to cherries and cranberries, Navitas Organics Goji Powder is an easy superfood boost for smoothies, oatmeal, yogurt & more.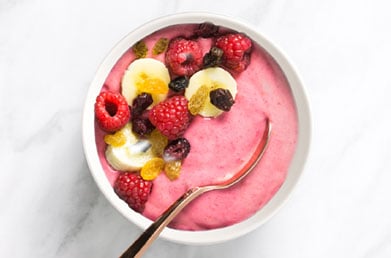 TRY IT IN
Smoothies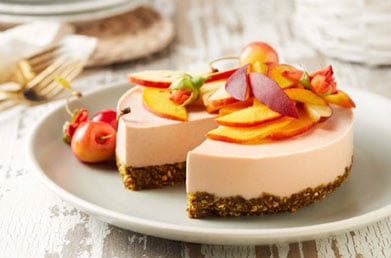 TRY IT IN
Baking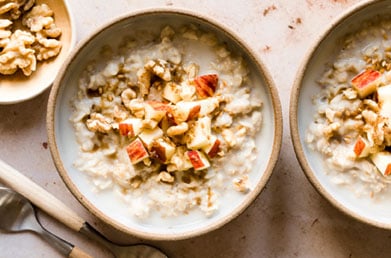 TRY IT IN
Yogurt & Oatmeal
Our Sourcing Sets us Apart
Our organic Goji Berries are sourced from the Tibetan plateau where farmers work in a remote, high altitude environment. Goji farming in this area has provided vital economic benefit to local communities and aims to counter desertification through soil enrichment practices and the promotion of sustainable biodiversity.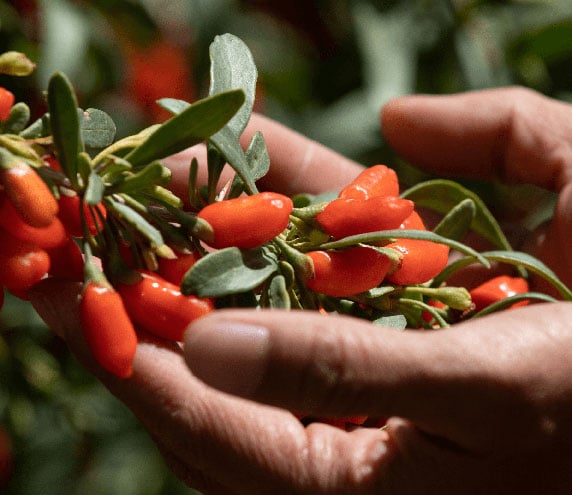 Featured Review
"Love it! The Goji powder mixes well in smoothies without adding a different flavor. Goji berries are a powerful antioxidant!"
– Arlys S.
How is your Goji Powder made?
Our Goji Powder is made by juicing fresh, organic goji berries and freeze-drying the juice. The result is a fine, water-soluble powder packed with antioxidants, vitamins, and delicious goji flavor!
What's the difference between Goji Berries and Goji Berry Powder?
Our Goji Powder is made by freeze-drying fresh, organic goji berry juice, while our Goji Berries are whole, dehydrated berries. Which one is best for you depends on how you'd like to incorporate goji berry nutrition into your day. Snacking right out of the bag? Whole berries are for you! Blended into juices, smoothies or sauces? Try out the powder!
Does your packing facility handle allergens?
Yes, all of our superfoods are packaged in a facility that also handles common allergens. Our co-packers follow Good Manufacturing Practices, are HACCP certified, and thoroughly sanitize all equipment between every product run with organic, food-grade cleaners. All of our products are inherently gluten-free and are tested to ensure less than 20 parts per million of gluten, in compliance with FDA labeling regulations. We do not use soy, corn, or dairy derivatives in any of our products. Depending on the flavor, our Power Snacks may contain tree nuts and/or peanuts; see ingredient panels for more details.
Do you offer free shipping?
Yes! If your order is shipping within the contiguous U.S. and your product total is $49 or more, after any discounts are applied, a free ground shipping option will be available for you to select at checkout. If your order is below $49, a flat rate of $8.95 will apply for orders shipping within the contiguous U.S. For shipments to Alaska, Hawaii, Puerto Rico and U.S. Territories, please see our
shipping terms and conditions
.
Can I order your products outside of the US?
Sorry, no! At this point, we only ship directly within the U.S. Our products can be shipped internationally via
iHerb