ORGANIC
Maca Powder
Navitas Organics Maca Powder is your superfood source for resiliency, energy and system balance. A Peruvian adaptogen with a malty, caramel flavor, it's a delicious addition to smoothies, hot cocoa, lattes, and a variety of baked goods.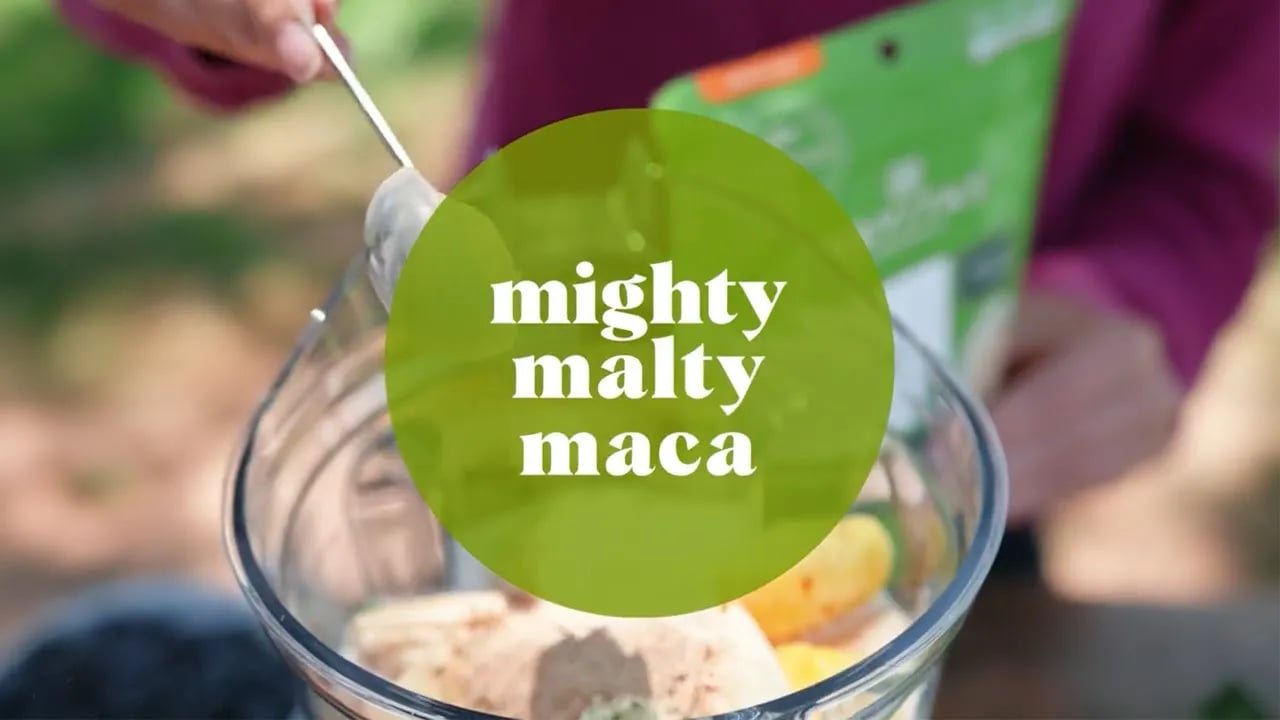 Click to play the video

ANCIENT ENERGY FOR MODERN LIFE
Our OG superfood that started it all, Navitas Organics Maca Powder is grown in the Peruvian Andes mountain range with traditional methods—always has been, always will be.
100% organic maca root powder
Helps bolster energy & balance the body's stress response
Ancient Peruvian adaptogen
Adaptogen: medicinal plant that supports the encodrine system to foster internal balance
USDA certified organic
See FAQs
Nutrition Facts
Serving Size 1 tsp (5g)
Servings per Container About 23
Servings per Container About 45
Servings per Container About 91
Amount per Serving: 20 calories
% DV
Total Fat
0g
0%
Saturated Fat
0g
0%
Trans Fat
0g
Cholesterol
0mg
0%
Sodium
0mg
0%
Total Carbs
4g
1%
Dietary Fiber
1g
3%
Total Sugar
2g
Protein
1g
Vitamin D
0mcg
0%
Calcium
13mg
2%
Iron
0mg
0%
Potassium
82mg
2%
Ingredients
Certified organic maca (Lepidium meyenii, Walpers).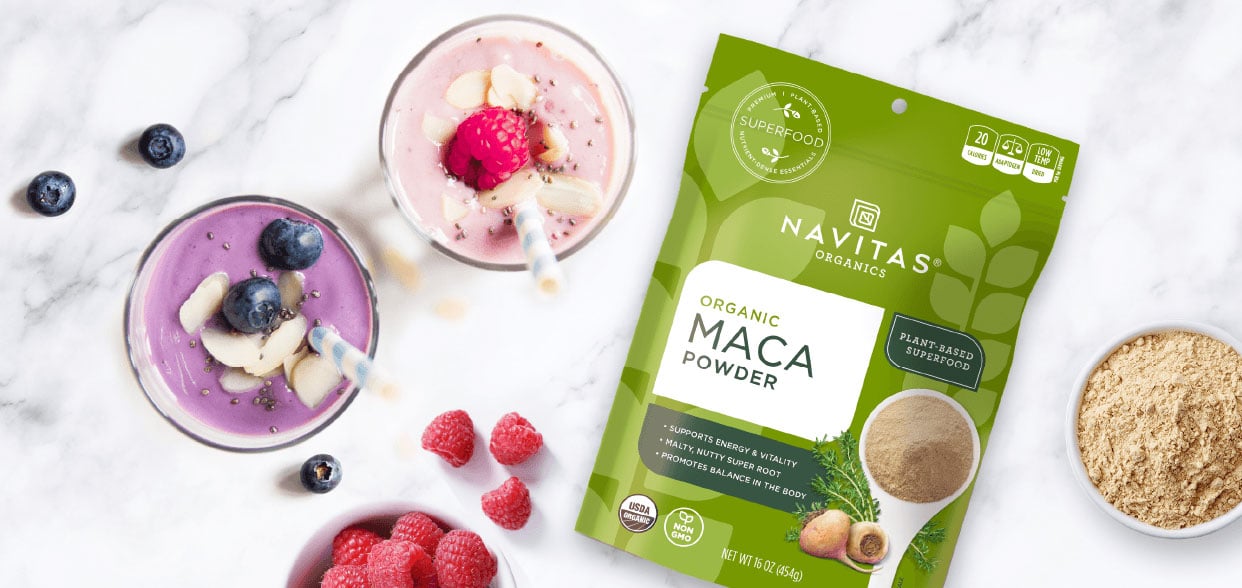 How to Use
Navitas Organics Maca Powder has a sweet, malty taste with hints of butterscotch—easy to add to everyday staples & treats. It pairs especially well with cacao!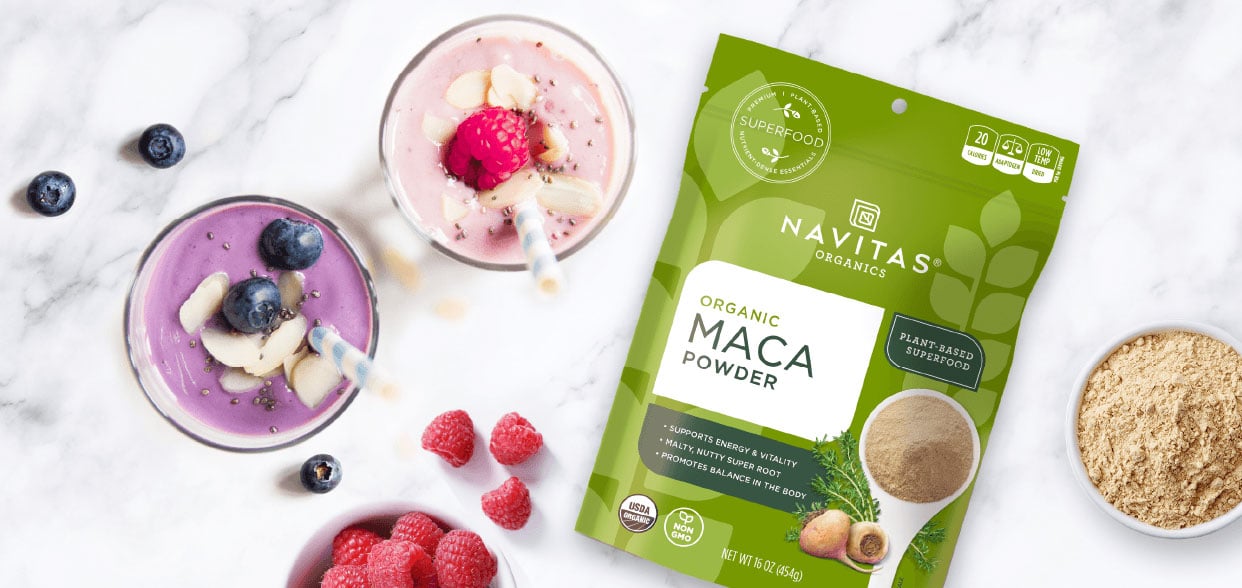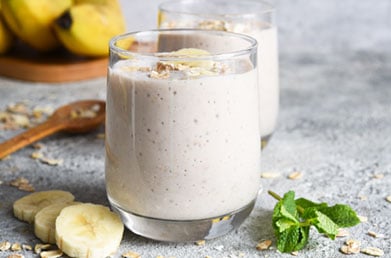 TRY IT IN
Smoothies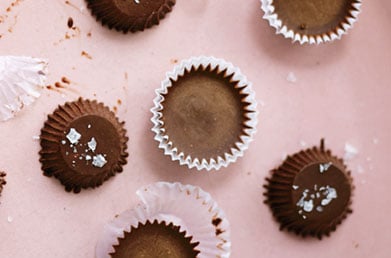 TRY IT IN
Baking & Desserts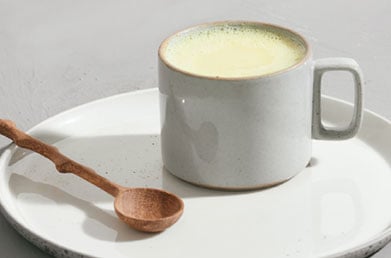 TRY IT IN
Hot Cocoa & Lattes
Our Sourcing Sets us Apart
All of our maca is grown in its native region, high in the Peruvian Andes. In 2010, we provided a critical no interest loan to help our growers build a processing facility in their local town of Concepcion, which allowed them to scale operations and exports and support their Andean community.
Featured Review
"I have been using maca for the past 8 years and I absolutely LOVE it! It tastes great and gives me the hormonal balance and energy that I need to face each day. It makes my smoothie taste good and helps give my brain a boost."
– Carly C.
What's the difference between gelatinized maca and regular maca?
Gelatinization is a processing step that uses water and heat to alter the starch molecules within a food, making it easier to digest and absorb. Maca, a root vegetable, is naturally high in starch. While many people enjoy our regular Maca Powder as-is, other find that our Gelatinized Maca Powder is gentler on their digestive tract and more effective in their bodies.
What does maca taste like?
Malty, earthy—even a little bit like caramel! Maca's sweet, root flavors are delicious when paired with creamy ingredients like almond, coconut, vanilla, chocolate and banana, making it a favorite for lattes, baked goods, creamy smoothies and more. See our favorite recipes here
Does maca give you energy?
Yes, but not in the same way that a stimulant—like caffeine—does. Maca is an adaptogen, which means it boosts overall health by supporting the endocrine system. This system is responsible for the hormones that regulate and balance our energy levels, stress resiliency, and more. When consumed regularly, adaptogenic foods like maca support healthy energy levels throughout the day without the crash that stimulants can cause.
Is your maca pure Peruvian maca?
Yes, all of our maca is grown traditionally and sustainably in its native region, high in the Peruvian Andes. There, the harsh climate and mineral-rich soils create the perfect conditions for maca root to develop its adaptogenic properties!
Why is there a warning label on my maca?
Some of our superfoods fall under CA's Prop 65 labeling requirements. This is due to trace amounts of heavy metals that are naturally occurring in the organic soils in which our superfoods grow. Please note that Prop 65 is a right-to-know law, and not a determination of a product's safety. For more information, please see our Help Center articles about Prop 65 here.
What color maca do you source?
Maca root comes in three different colors—yellow maca, red maca and black maca—each of which is said to have its own unique properties and health benefits. Our organic Maca Powder contains all three colors as they naturally occur at each harvest in one bag for the best of all worlds! Yellow maca is the most abundant of the three and considered the most versatile for everyday use. It's credited with supporting and maintaining overall balanced health and wellbeing. Red maca contains the highest levels of antioxidants of all three colors and is thought to be especially supportive of hormone balance for both men and women. Black maca is the most rare and was traditionally considered sacred, often consumed by those battling acute health conditions. It's credited with increasing energy and vitality.
Does your packing facility handle allergens?
Yes, all of our superfoods are packaged in a facility that also handles common allergens. Our co-packers follow Good Manufacturing Practices, are HACCP certified, and thoroughly sanitize all equipment between every product run with organic, food-grade cleaners. All of our products are inherently gluten-free and are tested to ensure less than 20 parts per million of gluten, in compliance with FDA labeling regulations. We do not use soy, corn, or dairy derivatives in any of our products. Depending on the flavor, our Power Snacks may contain tree nuts and/or peanuts; see ingredient panels for more details.
Do you offer free shipping?
Yes! If your order is shipping within the contiguous U.S. and your product total is $49 or more, after any discounts are applied, a free ground shipping option will be available for you to select at checkout. If your order is below $49, a flat rate of $8.95 will apply for orders shipping within the contiguous U.S. For shipments to Alaska, Hawaii, Puerto Rico and U.S. Territories, please see our
shipping terms and conditions
.
Can I order your products outside of the US?
Sorry, no! At this point, we only ship directly within the U.S. Our products can be shipped internationally via
iHerb