ORGANIC
Hemp Seeds
Navitas Organics Hemp Seeds are one of our most popular superfood staples—and for good reason! A rare plant-based source of complete protein and omega-3s, these creamy, nutty seeds are the perfect nutritional boost for any sweet or savory dish.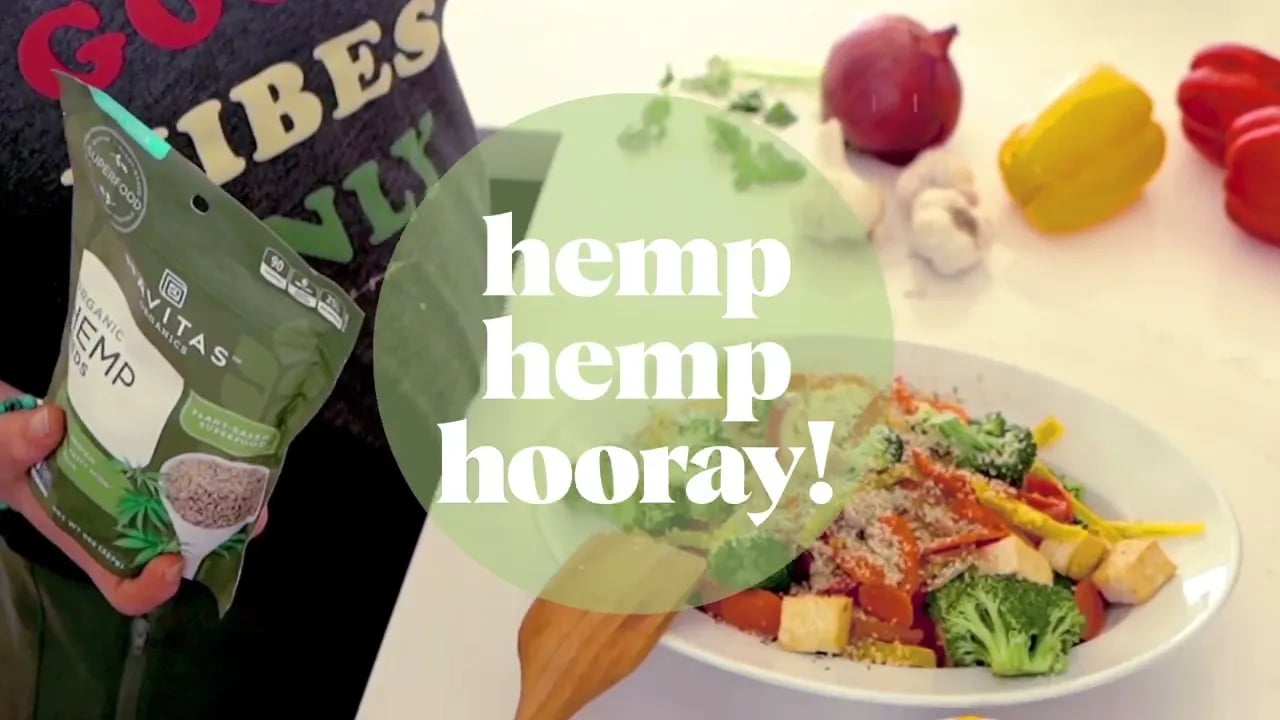 Click to play the video

RECOMMENDED USE: EVERYWHERE, ALWAYS
The "add it to anything!" superfood with an impressive nutritional profile, Navitas Organics Hemp Seeds are organic, gently hulled, and definitely fit your macros.
100% organic hemp seeds, a.k.a. hemp hearts
Gently hulled
Plant-based complete protein, containing all 9 essential amino acids
Balanced omegas, 3-6-9
Excellent source of magnesium, iron, & potassium
0g net carbs; great for keto, Paleo, & low carb diets
See FAQs
Nutrition Facts
Serving Size 3 tbsp (30g)
Serving Size About 8
Amount per Serving: 180 Calories
% DV
Total Fat
15g
19%
Saturated Fat
1.5g
7%
Trans Fat
0g
Cholesterol
0mg
0%
Sodium
0mg
0%
Total Carbs
3g
1%
Dietary Fiber
1g
5%
Total Sugar
1g
Includes Added Sugar
0g
0%
Protein
9g
Vitamin D
0mcg
0%
Calcium
26mg
2%
Iron
4mg
20%
Potassium
333mg
8%
Magnesium
209mg
50%
Ingredients
Certified organic hemp seeds (C. sativa).
Contains 2514mg of omega-3 fatty acids per serving.
Contains 8074mg of omega-6 fatty acids per serving.
How to Use
With a soft, creamy texture and mildly nutty flavor, Navitas Organics Hemp Seeds are an excellent addition to sweet and savory dishes alike.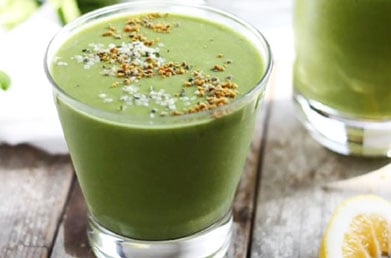 TRY IT IN
Smoothies & Bowls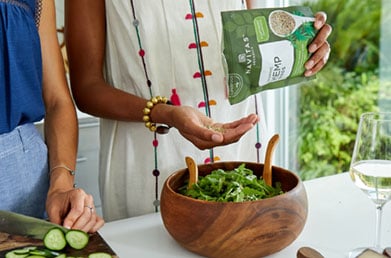 TRY IT IN
Soups & Salads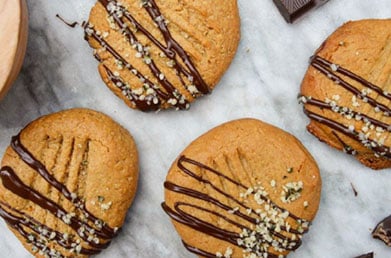 TRY IT IN
Baking
Featured Review
"Yum! you can't beat the quality of Navitas brand. I love using these hemp seeds in my oatmeal, smoothies and they are my go to ingredient when making a vegan ranch! So creamy, delicious and taste's wonderful!"
– Lindsay S.
What's the difference between Hemp Powder and ground Hemp Seeds?
Our Hemp Powder is made by gently milling and cold-pressing organic hemp seeds. This removes some of the oil content and results in a powder that is high in protein, fiber and minerals. Which is better? That depends on your dietary goals and how you plan to use your hemp! The omega-rich seeds are great for sprinkling onto yogurt, oatmeal and salads, or for blending into creamy dressings. The powder is a convenient, high-protein ingredient for smoothies, smoothie bowls, energy bites and baked goods.
What's the difference between Hemp Hearts and Hemp Seeds?
Hemp seeds are directly extracted from the hemp plant. They have a hard, nut-like outer shell and a soft inside, which is known as the hemp heart. We use a low-temperature process to hull our hemp seeds, resulting in the tender organic hemp hearts that fill our bags. While the crunchy hulls are edible, the hulled hemp seeds are more versatile, and can be easily sprinkled on salad, ground into nut butter, or whizzed into a delicious hemp seed milk to pour onto cereal or blended into smoothies.
Is Hemp Powder a complete protein?
Yes! Unlike most plant sources of protein, hemp seeds provide all nine essential amino acids. This makes hemp a complete protein—all the more reason to love this delicious super seed! Our organic hemp hearts are also a great source of healthy fats, with zero trans fat per serving.
Is there THC or CBD in Hemp Powder?
No, our hemp powder does not contain THC or CBD. These compounds are primarily found in the flowers, leaves, and stems of cannabis plants. While extremely low levels of THC or CBD can occur in some types of hemp seeds, ours are propagated for the lowest levels possible. All of our hemp must be tested by third party, independent labs before arriving at our facility in the US, and they always return non-detectable THC & CBD results.
Does your packing facility handle allergens?
Yes, all of our superfoods are packaged in a facility that also handles common allergens. Our co-packers follow Good Manufacturing Practices, are HACCP certified, and thoroughly sanitize all equipment between every product run with organic, food-grade cleaners. All of our products are inherently gluten-free and are tested to ensure less than 20 parts per million of gluten, in compliance with FDA labeling regulations. We do not use soy, corn, or dairy derivatives in any of our products. Depending on the flavor, our Power Snacks may contain tree nuts and/or peanuts; see ingredient panels for more details.
Do you offer free shipping?
Yes! If your order is shipping within the contiguous U.S. and your product total is $49 or more, after any discounts are applied, a free ground shipping option will be available for you to select at checkout. If your order is below $49, a flat rate of $8.95 will apply for orders shipping within the contiguous U.S. For shipments to Alaska, Hawaii, Puerto Rico and U.S. Territories, please see our
shipping terms and conditions
.
Can I order your products outside of the US?
Sorry, no! At this point, we only ship directly within the U.S. Our products can be shipped internationally via
iHerb