ORGANIC
Chia Seeds
Navitas Organics Chia Seeds are your ticket to maximum omega-3s! You can add these tiny protein- and fiber-packed seeds to oatmeal, smoothies, yogurt, and countless recipes for a nutritious boost.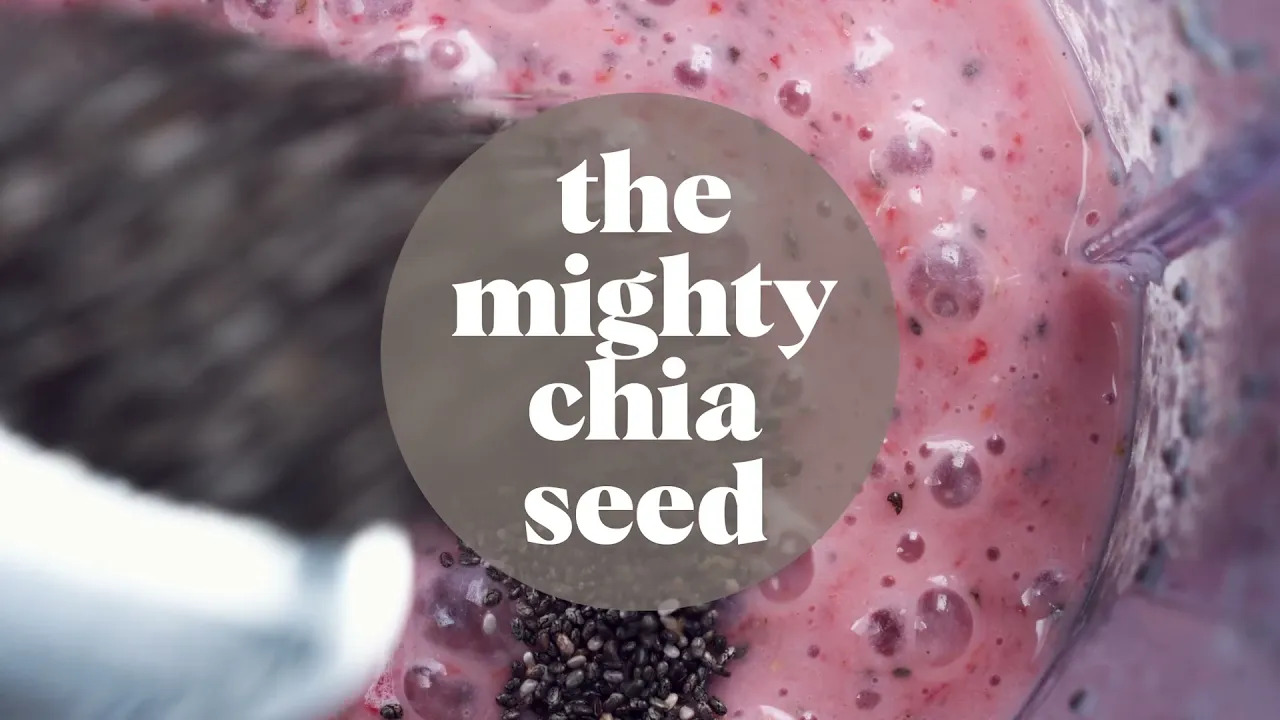 Click to play the video

50 SHADES OF GREAT
Small yet mighty, our organic chia seeds are one of the most nutritionally well-rounded superfoods around.
100% organic chia seeds
Great source of plant-based omega-3s
Provides dietary fiber, protein & minerals
Supports cleansing & detoxifying
Absorbs 10x its weight in liquid when soaked
Neutral flavor & versatile use
See FAQs
Nutrition Facts
Serving Size 2.5 tbsp (30 g)
Servings per Container about 8
Servings per Container about 15
Amount per Serving: 160 calories
% DV
Total Fat
10g
13%
Saturated Fat
1g
5%
Trans Fat
0g
Cholesterol
0mg
0%
Sodium
0mg
0%
Total Carbs
11g
4%
Dietary Fiber
9g
30%
Total Sugar
0g
Includes Added Sugar
0g
0%
Protein
5g
Vitamin D
0mcg
0%
Calcium
167mg
15%
Iron
2mg
10%
Potassium
216mg
4%
Magnesium
89mg
20%
Ingredients
Certified organic chia seed (Salvia hispanica).
Contains 5910mg of omega-3 fatty acids per serving.
How to Use
Tiny and virtually tasteless, Navitas Organics Chia Seeds have a poppyseed-like crunch. Sprinkle them onto your favorite recipes or soak them in liquid for easy chia pudding!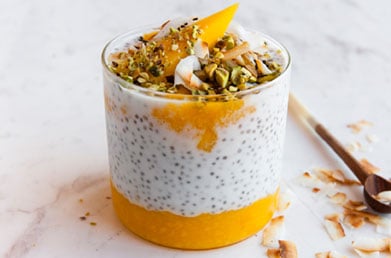 TRY IT IN
Chia Pudding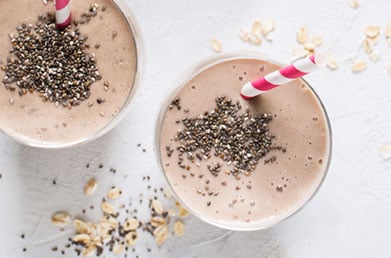 TRY IT IN
Smoothies & Bowls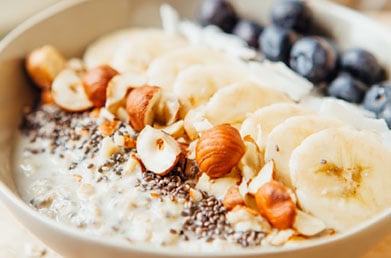 TRY IT IN
Yogurt & Oatmeal
Featured Review
"I use these chia seeds in yogurt bowls with berries or smoothies for an extra boost of health. Love sprinkling a few in wherever I can!"
– Tara P.
What are chia seeds and where do they come from?
Chia seeds are tiny, oval-shaped seeds that come from the Salvia hispanica plant, which is native to Mexico and Central America. They have been consumed for centuries and were a staple in the diets of the Aztecs and Mayans.
What do chia seeds taste like?
Mild-flavored and miniscule, chia seeds are almost more of a texture than a flavor; their glossy shells add a slight pop to smoothies, bowls, oatmeal, salads and more! If we had to give them a flavor profile, we'd describe it as a mild nutty flavor with just a touch of earthiness.
What are the nutritional benefits of Chia seeds?
Chia seeds are packed with nutritional value, including omega-3 fatty acids, fiber, protein, antioxidants, vitamins, and minerals. They are particularly known for their high omega-3 content, which is essential for heart and brain health.
Is it okay to eat chia seeds everyday?
Absolutely! Incorporating them into your daily routine can provide a consistent source of these nutrients, supporting your overall health and well-being. However, it's essential to consume chia seeds in moderation, as part of a balanced diet. Due to their high fiber content, excessive consumption without adequate water intake may lead to digestive discomfort. Start with a reasonable portion size, such as one to two tablespoons per day, and adjust as needed to suit your individual preferences and dietary requirements.
Chia seeds contain a thin exterior hull that is hydrophilic, meaning it binds with water. When soaked in liquid, chia seeds' hulls expand and form a gelatinous substance. This natural gel adds structure to baked goods, making these tiny seeds a perfect vegan egg substitute! To make a chia egg, simply mix 1 tablespoon of chia seeds with 3 tablespoons of water, stir, and set aside for 10-15 minutes for the water to absorb.
How much omega 3 is in your Chia Seeds?
Each 2 Tbsp. serving of our Chia Powder contains a whopping 2254mg of omega-3 fatty acids!
Are your Chia Seeds pasteurized or irradiated?
Our chia seeds are certified organic and are never pasteurized or irradiated (fun fact: irradiation is illegal with organic foods). We use third party, independent labs to test every batch of our superfoods for bacteria, yeast, and other pathogens, and are absolutely confident in their quality and safety.
Does your packing facility handle allergens?
Yes, all of our superfoods are packaged in a facility that also handles common allergens. Our co-packers follow Good Manufacturing Practices, are HACCP certified, and thoroughly sanitize all equipment between every product run with organic, food-grade cleaners. All of our products are inherently gluten-free and are tested to ensure less than 20 parts per million of gluten, in compliance with FDA labeling regulations. We do not use soy, corn, or dairy derivatives in any of our products. Depending on the flavor, our Power Snacks may contain tree nuts and/or peanuts; see ingredient panels for more details.
Do you offer free shipping?
Yes! If your order is shipping within the contiguous U.S. and your product total is $49 or more, after any discounts are applied, a free ground shipping option will be available for you to select at checkout. If your order is below $49, a flat rate of $8.95 will apply for orders shipping within the contiguous U.S. For shipments to Alaska, Hawaii, Puerto Rico and U.S. Territories, please see our
shipping terms and conditions
.
Can I order your products outside of the US?
Sorry, no! At this point, we only ship directly within the U.S. Our products can be shipped internationally via
iHerb