ORGANIC
Turmeric Powder
Navitas Organics Turmeric Powder is organically cultivated and ethically sourced. This renowned inflammation buster offers a robust peppery and earthy flavor and endlessly is versatile—great in golden milk lattes, savory curry and rice dishes, tropical smoothies, soups, veggies dishes…you get the idea.
AYURVEDIC SUPERFOOD STAPLE
Navitas Organics Turmeric Powder is specifically sourced for high curcumin—the revered compound in turmeric that gives it its anti-inflammatory properties.
100% organic turmeric powder
Used as a healing spice in Traditional Chinese and Ayruvedic Medicine for centuries
Contains curcumin, a unique plant compound known to reduce inflammation
Pair with black pepper to support optimal absorption
See FAQs
Nutrition Facts
Serving Size 2 tsp (5g)
Serving Size About 45
Amount per Serving: 20 Calories
% DV
Total Fat
0g
1%
Saturated Fat
0g
1%
Trans Fat
0g
Cholesterol
0mg
0%
Sodium
0mg
0%
Total Carbs
3g
1%
Dietary Fiber
1g
4%
Total Sugar
0g
Includes Added Sugar
0g
0%
Protein
0g
Vitamin D
0mcg
0%
Calcium
9mg
0%
Iron
2mg
10%
Potassium
104mg
2%
Ingredients
Certified organic turmeric powder (Curcuma longa).
How to Use
An essential ingredient in recipes ranging from sweet golden milk to savory curries, Navitas Organics Turmeric Powder is a true superfood pantry staple!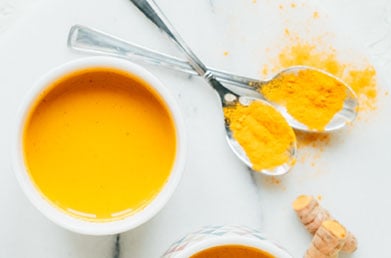 TRY IT IN
Golden Milk Lattes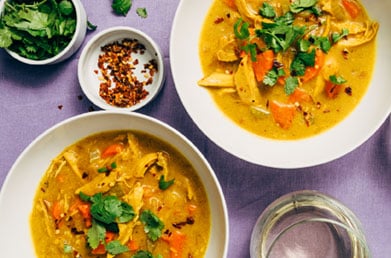 TRY IT IN
Soups & Curries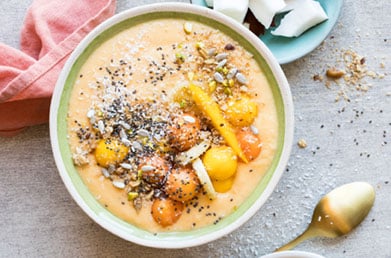 TRY IT IN
Smoothies & Bowls
Featured Review
"This turmeric powder is the best that I ever tried. It's so rich that you will need only a dash for your Golden milk. Rich and smooth texture that we are all looking for. Best purchase ever."
– Mary H.
Where is your turmeric grown?
We proudly source our turmeric from India, one of the oldest growing regions for this flavorful and medicinal root. It is grown organically, without the use of any chemical pesticides, herbicides, or fertilizers. After harvest, the turmeric root is dehydrated and gently milled into a highly nutritious and potently orange powder. Unlike some turmeric powders, ours never includes dying agents to brighten its color.
What is Turmeric Powder good for?
Turmeric contains a special compound called curcumin that is renowned for its ability to fight inflammation in the body. Curcumin's anti-inflammatory properties contribute to the primary health benefit of turmeric, making this powerhouse superfood a great addition to your daily routine. Our USDA certified organic turmeric root powder is naturally high in this nutrient, measuring at about 6% curcumin by volume. This means that each 5g serving provides 300mg of curcumin.
What is the history of turmeric?
Turmeric root, or curcuma longa, is a perennial in the ginger family that is native to India and Southeast Asia, thriving on the high humidity and warm temperature of the tropics. For over 2,500 years, it has been integrated into many cultures' traditions, food, and traditional medicine.
Turmeric root powder has been a key spice in many Middle Eastern and Asian dishes. It is most commonly recognized in Indian cuisine, where it is often added to curry, rice dishes and other related recipes.
Outside of cooking, turmeric is also used as a natural dye. It produces a vibrant color, described as warm yellow, on natural fabrics and can even be used to dye easter eggs!
What the difference between turmeric powder and curcumin supplements?
Turmeric powder contains curcumin, a unique, bioactive compound known for health benefits like its ability to reduce inflammation. Curcumin supplements are concentrated extracts of curcuminoids found in the turmeric plant. Our organic turmeric powder is an easy and delicious way to reap the benefits of curcumin in whole food form.
Why is there a warning label on my Turmeric Powder?
Some of our superfoods fall under CA's Prop 65 labeling requirements. This is due to trace amounts of heavy metals that are naturally occurring in the organic soils in which our superfoods grow. Please note that Prop 65 is a right-to-know law, and not a determination of a product's safety. For more information, please see our Help Center articles about Prop 65 here.
Does your packing facility handle allergens?
Yes, all of our superfoods are packaged in a facility that also handles common allergens. Our co-packers follow Good Manufacturing Practices, are HACCP certified, and thoroughly sanitize all equipment between every product run with organic, food-grade cleaners. All of our products are inherently gluten-free and are tested to ensure less than 20 parts per million of gluten, in compliance with FDA labeling regulations. We do not use soy, corn, or dairy derivatives in any of our products. Depending on the flavor, our Power Snacks may contain tree nuts and/or peanuts; see ingredient panels for more details.
Do you offer free shipping?
Yes! If your order is shipping within the contiguous U.S. and your product total is $49 or more, after any discounts are applied, a free ground shipping option will be available for you to select at checkout. If your order is below $49, a flat rate of $8.95 will apply for orders shipping within the contiguous U.S. For shipments to Alaska, Hawaii, Puerto Rico and U.S. Territories, please see our
shipping terms and conditions
.
Can I order your products outside of the US?
Sorry, no! At this point, we only ship directly within the U.S. Our products can be shipped internationally via
iHerb