ORGANIC
Pomegranate Powder
Navitas Organics Pomegranate Powder is a sweet, easy way to get all of pomegranate's antioxidants with none of the hard work! Add a spoonful of this 100% pomegranate juice powder to your smoothies, yogurt or oatmeal for an everyday superfood boost.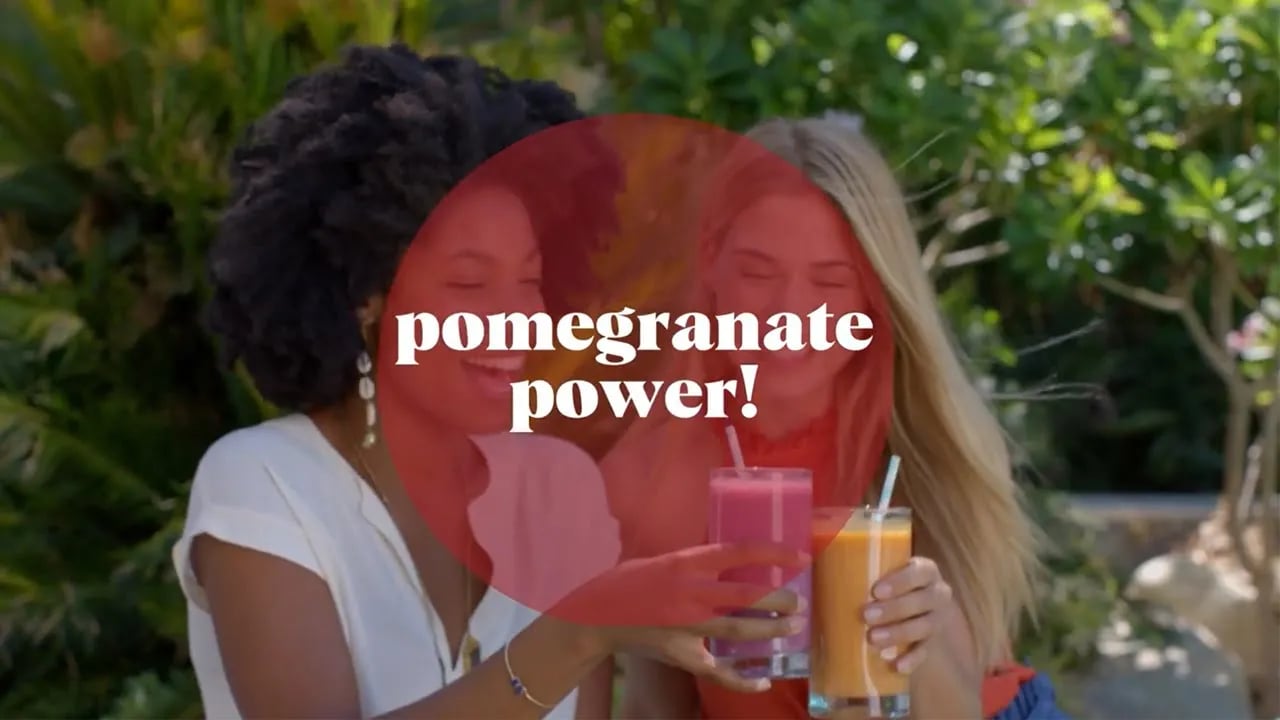 Click to play the video

POMEGRANATE MADE EASY
Navitas Organics Pomegranate Powder provides antioxidant nutrition with a light, sweet flavor.
100% certified organic pomegranate juice powder
Freeze-dried, cold-pressed pomegranate juice
Contains antioxidants
Naturally sweet & mildly tart flavor
No added sugar
See FAQs
Nutrition Facts
Serving Size 2 tsp (5g)
Serving Size About 45
Amount per Serving: 20 Calories
% DV
Total Fat
0g
0%
Saturated Fat
0g
0%
Trans Fat
0g
Cholesterol
0mg
0%
Sodium
0mg
0%
Total Carbs
5g
2%
Dietary Fiber
0g
0%
Total Sugar
1g
Includes Added Sugar
0g
0%
Protein
0g
Vitamin D
0mcg
0%
Calcium
2mg
0%
Iron
0mg
0%
Potassium
18mg
0%
Ingredients
Certified organic pomegranate powder (Punica granatum).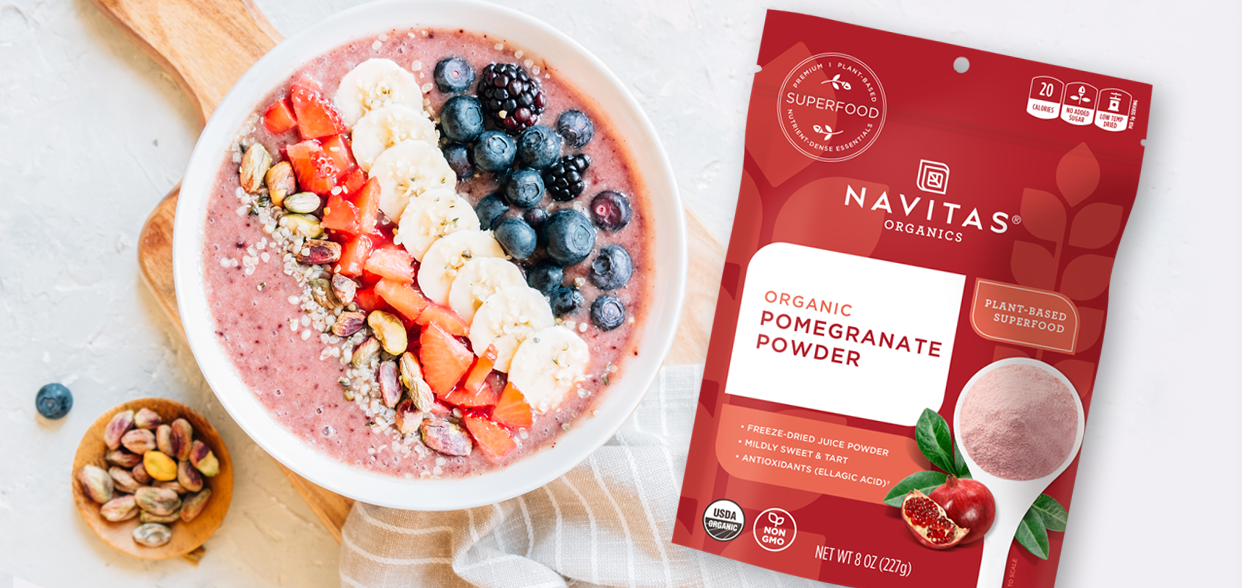 How to Use
Mildly sweet & tart, Navitas Organics Pomegranate Powder is an easy superfood boost for smoothies, oatmeal, yogurt & more.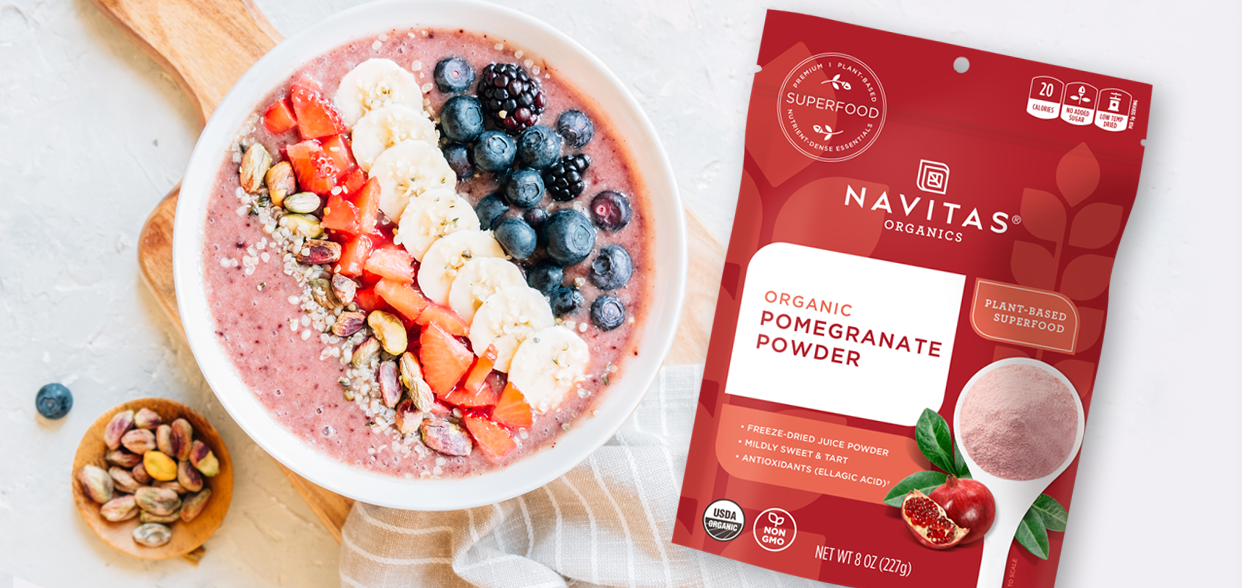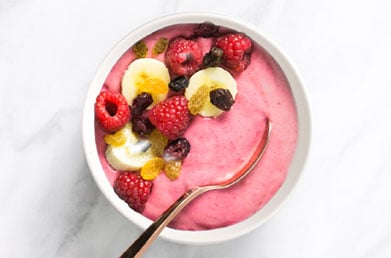 TRY IT IN
Smoothies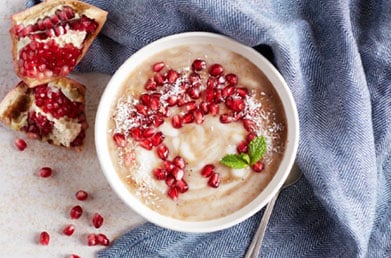 TRY IT IN
Yogurt & Oatmeal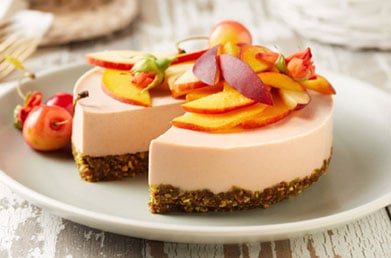 TRY IT IN
Desserts
Featured Review
"With pomegranates slowly moving out of season, I wanted to keep the benefits in my diet without buying juice and this powder absolutely delivers. The powder is superfine and mixes beautifully. I haven't tried it yet on yogurt, but I think a sprinkling of the powder and a few pecans would make a great dessert!"
– P.T.
What are the health benefits of Pomegranate Juice Powder?
Pomegranate juice powder has a powerful antioxidant content that includes ellagic acid and various polyphenols. These protective compounds help reduce inflammation and promote overall well-being. Certain pomegranate extracts have also been linked to heart health, like anthocyanins and anthoxanthins. Our juice powder is a convenient way to obtain quicker absorption of these nutrients in delicious, easy to use form!
Does Pomegranate Powder contain the pomegranate pith and peel?
No, our Pomegranate Powder does not contain the fruit's pith and peel. It is made from the juice of the aril, or seed outgrowth, and maximizes the vitamin- and antioxidant-rich goodness of fresh, certified organic pomegranates, with 2.15mg of ellagic acid in each serving.
How is your Pomegranate Powder made?
First, we juice the ruby-red arils (seed coverings) of fresh, organic pomegranates. Then, we freeze-dry the juice into a fine, light-pink powder. This powder is soluble in water and juice, delicious in smoothies and yogurt, and adds a fruity flavor and brightness to salad dressings and desserts.
Can you use this powder to make pomegranate juice?
Yes, although it might not look like the pomegranate juice you're used to! Most store bought pomegranate juices are highly concentrated and sometimes mixed with other fruit juices, resulting in their dark red color and strong, sweet-tart flavor. Our powder creates a refreshing fruit juice that's lighter in color and flavor. To reconstitute our pomegranate powder into juice, we recommend a 1:5 ratio of powder to water. Shake-shake-shake, and enjoy! For more of our pomegranate favorites, see our recipes here.
Does your packing facility handle allergens?
Yes, all of our superfoods are packaged in a facility that also handles common allergens. Our co-packers follow Good Manufacturing Practices, are HACCP certified, and thoroughly sanitize all equipment between every product run with organic, food-grade cleaners. All of our products are inherently gluten-free and are tested to ensure less than 20 parts per million of gluten, in compliance with FDA labeling regulations. We do not use soy, corn, or dairy derivatives in any of our products. Depending on the flavor, our Power Snacks may contain tree nuts and/or peanuts; see ingredient panels for more details.
Do you offer free shipping?
Yes! If your order is shipping within the contiguous U.S. and your product total is $49 or more, after any discounts are applied, a free ground shipping option will be available for you to select at checkout. If your order is below $49, a flat rate of $8.95 will apply for orders shipping within the contiguous U.S. For shipments to Alaska, Hawaii, Puerto Rico and U.S. Territories, please see our
shipping terms and conditions
.
Can I order your products outside of the US?
Sorry, no! At this point, we only ship directly within the U.S. Our products can be shipped internationally via
iHerb