ORGANIC | FAIR TRADE
Cacao Butter
Decadent, creamy and cocoa-scented, Navitas Organics Cacao Butter is a superfood staple. This plant-based fat is an essential ingredient in homemade chocolate, a luscious addition to hot cocoa and baking, and melts at body temperature – perfect for DIY skincare!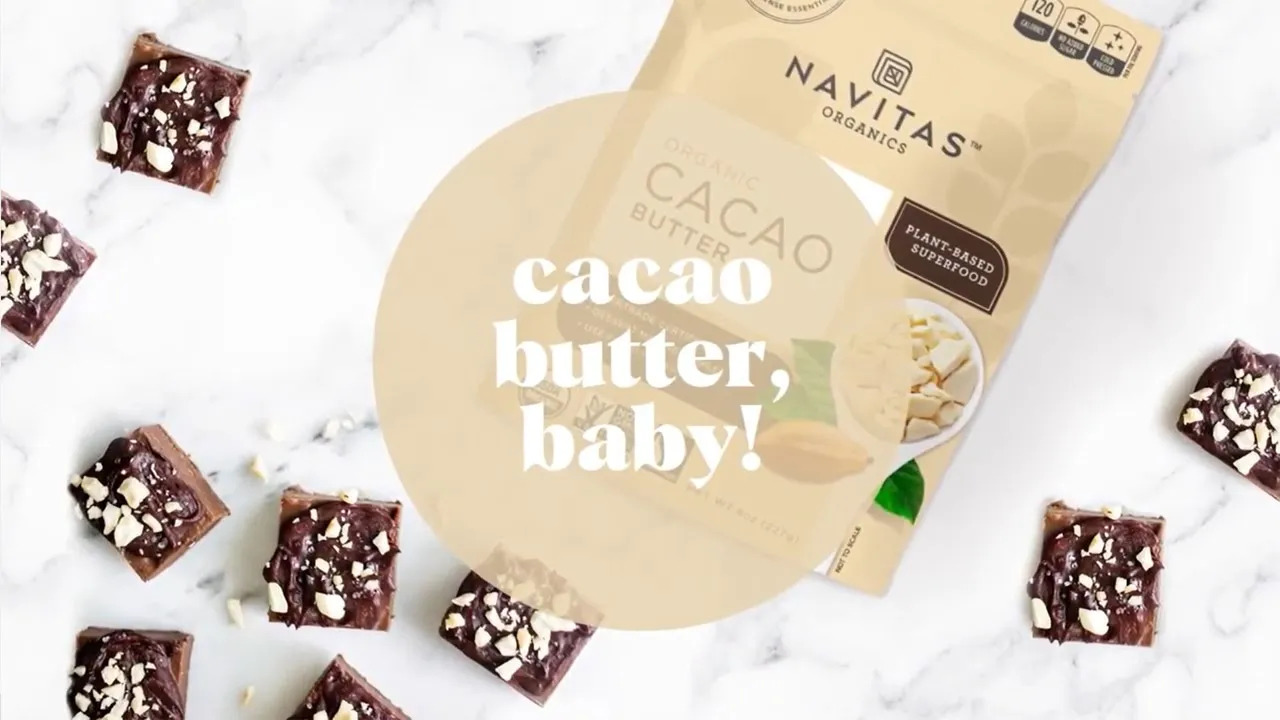 Click to play the video
CACAO NOURISHMENT INSIDE & OUT
Navitas Organics Cacao Butter is Fairtrade certified and sourced from single origin, organic cacao beans.
100% organic cacao butter
Cold-pressed & unrefined plant-based fat
Contains antioxidants and fat-soluble vitamins
Great for vegan, keto and Paleo diets
See FAQs
Nutrition Facts
Serving Size 1 tbsp (13g)
Serving Size about 17
Amount per Serving: 120 calories
% DV
Total Fat
13g
17%
Saturated Fat
8g
40%
Trans Fat
0g
Cholesterol
0mg
0%
Sodium
0mg
0%
Total Carbs
0g
0%
Dietary Fiber
0g
0%
Total Sugar
0g
Includes Added Sugar
0g
0%
Protein
0g
Vitamin D
0mcg
0%
Calcium
0mg
0%
Iron
0mg
0%
Potassium
0mg
0%
Ingredients
Certified organic cacao butter (Theobroma cacao).
How to Use
A chocolate making essential, use Navitas Organics Cacao Butter for superfood chocolate, baked goods, DIY skincare & more.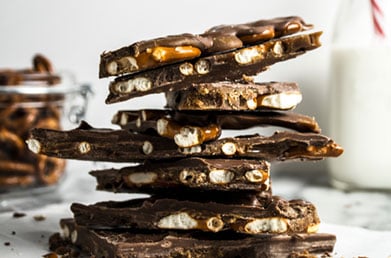 TRY IT IN
Homemade Chocolate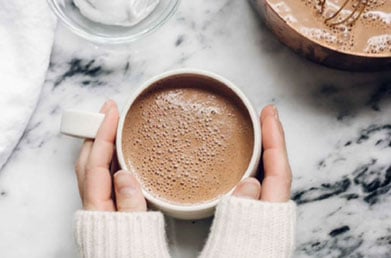 TRY IT IN
Hot Cocoa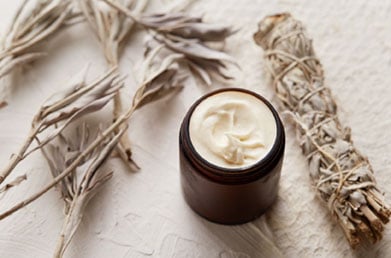 TRY IT IN
DIY Skincare
Our Sourcing Sets us Apart
Our Cacao Butter comes from cacao beans sourced from Sierra Leone, where we're proud to invest in cacao co-ops, farmer field schools, reforestation planning, and just labor practices. It's Superfoods with Purpose, from bean to bag.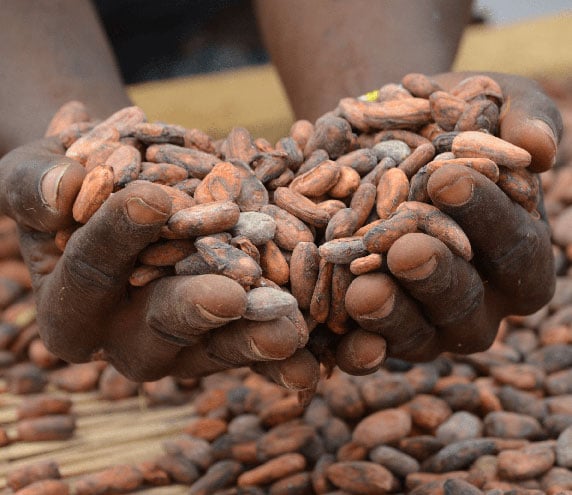 Featured Review
"I've been using the cacao butter in my Keto coffee for a couple weeks now and really like the flavor and mouth feel it gives. I just couldn't do butter in my coffee so this is a great alternative. Melts quickly and doesn't need to be frothed like butter. Even my husband likes it. I tried a different brand to start but the flavor of the Navitas brand is much better. I bought 6 bags to start and will need more soon!"
– Sandra S.
What are Cacao Butter Wafers?
The cacao bean is loaded with heart-healthy fats! When the bean is ground and cold-pressed under pressure, the fats separate from the solids, producing two separate end products: cacao butter and cacao powder. The cacao butter is solid at room temperature, mildly chocolate-scented, and delicious in baked goods, skin care products, chocolate candies and more. For more inspiration, visit our favorite recipes here.
Is there caffeine in your Cacao Butter Wafers?
No, cacao butter is naturally free of caffeine. During the cold-pressing process when the fats are separated from the solids, many nutrient compounds—including caffeine—are entrapped within the cacao bean fiber and removed from the butter. In addition to the heart-healthy fats that make up cacao butter, this product contains fat-soluble vitamins E and K, and bountiful antioxidants.
Does your packing facility handle allergens?
Yes, all of our superfoods are packaged in a facility that also handles common allergens. With the exception of cashews, our products do not share the same manufacturing lines as these allergens. However, we are unable to offer an allergen-free guarantee due to the shared facility. All of our products are inherently gluten-free and are tested to ensure less than 20 parts per million of gluten, in compliance with FDA labeling regulations.
Do you offer free shipping?
Yes! If your order is shipping within the contiguous US and your product total is over $49 after any discounts, free shipping will be automatically added to your cart. If your order is below $49, a flat rate of $8.95 will apply. For orders outside of the contiguous US, please see our
shipping terms and conditions
.