ORGANIC | FAIR TRADE
Bittersweet Cacao Wafers
Our Bittersweet Cacao Wafers will meet all your dark chocolate needs with their convenient shape and rich, velvety texture. 70% cacao perfect for baking, melting or snacking straight from the bag!
Click to play the video

A Better Way to Chip
Dark chocolate lightly sweetened with coconut sugar for a superfood indulgence you can feel good about.
70% cacao
Sweetened with unrefined coconut sugar
3g sugar and 2g fiber per serving
Dairy free & soy free
See FAQs
Nutrition Facts
Serving Size 8 wafers (13g)
Serving Size About 17
Amount per Serving: 80 Calories
% DV
Total Fat
5g
7%
Saturated Fat
3.5g
17%
Trans Fat
0g
Cholesterol
0mg
0%
Sodium
5mg
0%
Total Carbs
6g
2%
Dietary Fiber
2g
6%
Total Sugar
3g
Includes Added Sugar
3g
6%
Protein
1g
Vitamin D
0mg
0%
Calcium
17mg
2%
Iron
1mg
4%
Potassium
90mg
2%
Ingredients
Cacao wafers* (cacao liquor*, coconut palm sugar*, cacao butter*, cacao powder*).
*Organic ingredient.
Allergen Information: Contains tree nuts (coconut).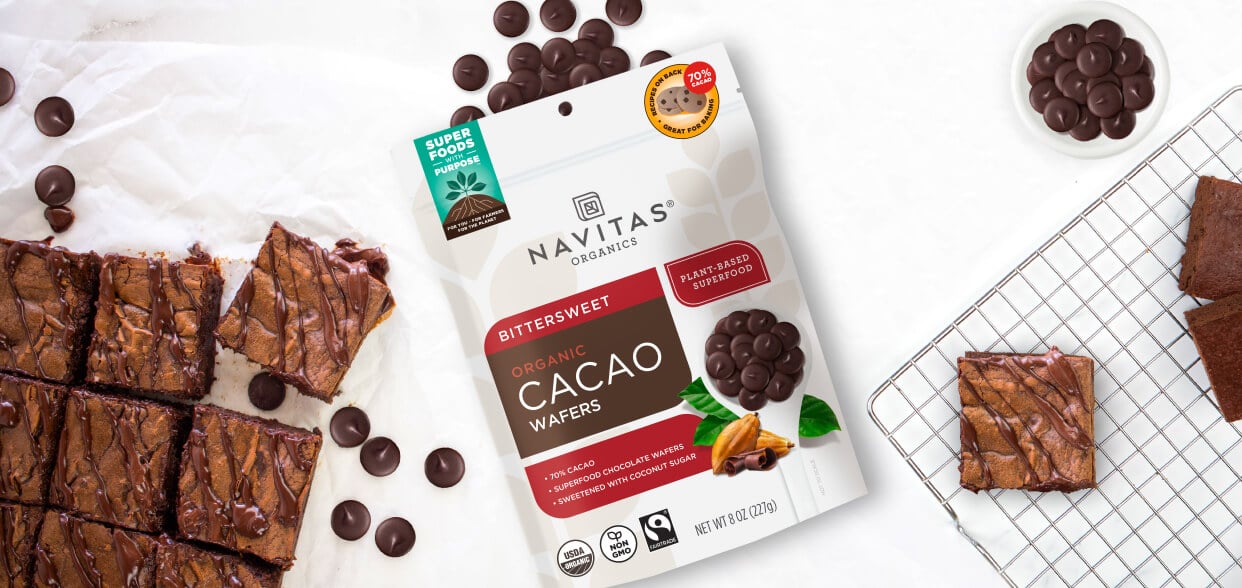 How to Use
Our versatile Bittersweet Cacao Wafers are perfectly sweetened and conveniently shaped for cookies & brownies, easy to melt for dipping & sauces, and always ready for your next dark chocolate fix.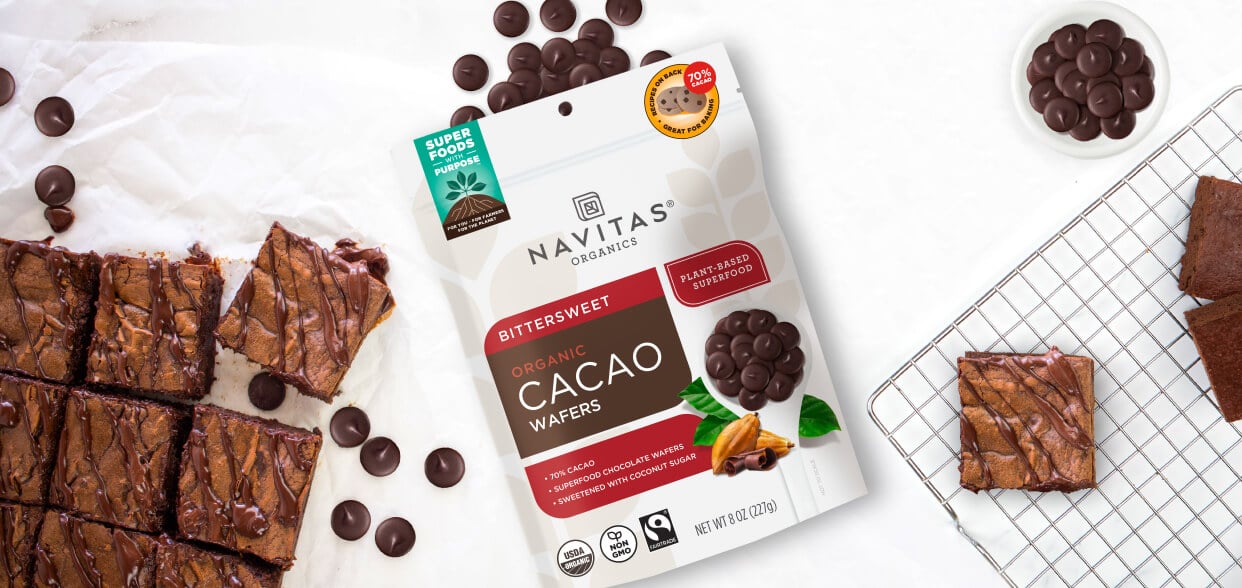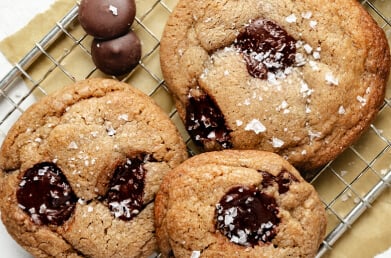 Try It In
Cookies & Brownies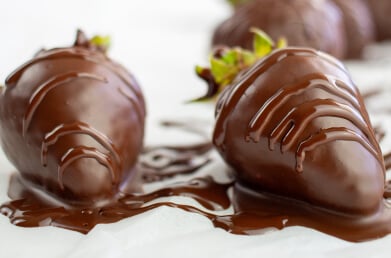 Try It In
Chocolate Dips & Sauces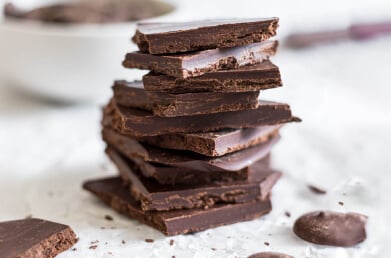 Try It In
Candies & Sweets
OUR QUALITY SETS US APART
We use premium processing techniques to create rich, velvety wafers without any emulsifers, flavoring agents, dairy derivatives or other common chocolate additives. Made with just two organic and Fairtrade certified ingredients, cacao and coconut sugar, you've never met a more responsible chocolate!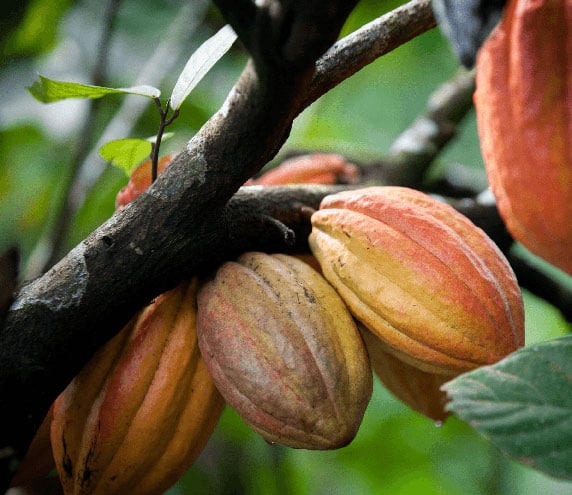 Featured Review
"I am seriously addicted to these wafers! They have the BEST dark chocolate flavor and are made with ingredients I can feel great about."
– Kylie D.
Bittersweet Cacao Wafers FAQs
What are Bittersweet Cacao Wafers?
Our Bittersweet Cacao Wafers are a premium quality dark chocolate that can be used just like chocolate chips in baking recipes, melted into delicious dips and sauces, or snacked on straight from the bag! They are made with just two ingredients—cacao and coconut sugar—that are both USDA Organic and Fairtrade certified.
Are your Bittersweet Cacao Wafers similar to dark chocolate bars?
Yes, our cacao wafers are essentially the same as your traditional dark chocolate bar in flavor, but they come in a unique, convenient wafer form. This makes them ideal for various confectionery applications like baking and melting.
What are the health benefits of dark chocolate?
Dark chocolate offers many health benefits, thanks to abundant micronutrients that are not always apparent from a quick glance at the nutrition facts panel! Abundant antioxidants help combat free radicals and fight inflammation; flavonoids support cognitive function and mood; and natural caffeine and theobromine support healthy energy. Additionally, dark chocolate contains fiber, many essential minerals and heart healthy fats.
Do your Bittersweet Cacao Wafers contain dairy?
No, unlike milk chocolate, our Bittersweet Cacao Wafers do not contain any dairy ingredients. They are made from two simple ingredients–cacao and coconut sugar–making them a perfect choice for dark chocolate lovers seeking dairy free options.
Do your Bittersweet Cacao Wafers contain soy?
No, we do not use soy ingredients in our cacao products. We use state-of-the-art processing techniques to create rich, velvety wafers without any additives or emulsifiers, such as soy lecithin.
Is there caffeine in your Bittersweet Cacao Wafers?
Yes, caffeine is naturally occurring in cacao (happily, so is calming magnesium and relaxing theobromine). You can expect approximately 18mg of caffeine per 13g serving.
Are your Bittersweet Cacao Wafers tested for heavy metals?
Yes, all of our products are tested by third party, independent labs for heavy metals, microbials, and nutritional values. Trace amounts of cadmium and lead are inherent to virtually all minimally processed cacao and we are confident in the quality and safety of our product. Please visit our Help Center for further details.
Why is there a warning label on my Bittersweet Cacao Wafers?
Some of our superfoods fall under CA's Prop 65 labeling requirements. This is due to trace amounts of heavy metals that are naturally occurring in the organic soils in which our superfoods grow. Please note that Prop 65 is a right-to-know law, and not a determination of a product's safety. For more information, please see our Help Center articles about Prop 65 here.
Why can't I order this product in the summer?
We are unable to ship any products that have a high cacao butter content in the summer because they are at risk of melting during transit. While it doesn't actually harm the product, it changes the form that the product arrives in and may impact usage options. We recommend purchasing this item from brick and mortar stores only during the summer months. For our store locator, please click here.
Why isn't this product available as a subscription item?
Due to this product's heat sensitivity, we are unable to ship it during the summer months. Unfortunately, this disqualifies it from subscription orders year round. Sorry for the inconvenience!
Does your packing facility handle allergens?
Yes, all of our superfoods are packaged in a facility that also handles common allergens. Our co-packers follow Good Manufacturing Practices, are HACCP certified, and thoroughly sanitize all equipment between every product run with organic, food-grade cleaners. All of our products are inherently gluten-free and are tested to ensure less than 20 parts per million of gluten, in compliance with FDA labeling regulations. We do not use soy, corn, or dairy derivatives in any of our products. Depending on the flavor, our Power Snacks may contain tree nuts and/or peanuts; see ingredient panels for more details.
Do you offer free shipping?
Yes! If your order is shipping within the contiguous U.S. and your product total is $49 or more, after any discounts are applied, a free ground shipping option will be available for you to select at checkout. If your order is below $49, a flat rate of $8.95 will apply for orders shipping within the contiguous U.S. For shipments to Alaska, Hawaii, Puerto Rico and U.S. Territories, please see our
shipping terms and conditions
.
Can I order your products outside of the US?
Sorry, no! At this point, we only ship directly within the U.S. Our products can be shipped internationally via
iHerb