Pantry Staples Bundle
Superfood staples for the well-stocked pantry
Stir
Bake
DIY
Perfect for the home cook, this bundle of Matcha Powder, Cacao Powder, Coconut Palm Sugar and Turmeric Powder —four of our most loved and easy to use superfoods—is key to any well-stocked pantry.

Save 20% when you purchase a bundle vs. individual items
Free Standard Shipping on all bundles
Makes a great gift for yourself or that home cook in your life!
If you want to have healthy superfoods in your diet, you first need them in your pantry. This box of basic pantry essentials makes it easy with four of our exceedingly versatile superfood staples. Always organic and grown and processed with the highest care, they are ready to help you fill your pantry with ingredients for healthy eating. 

With this bundle you'll get one each of:
Matcha Powder 3oz bag
Matcha green tea powder supports energy and alertness while simultaneously calming and balancing your body. Not only is ours perfect for preparing traditional Japanese Matcha Green Tea, but also for using in baking or ice cream recipes, adding to smoothies and stirring into yogurt or cereals.
Cacao Powder 16oz bag
Our best-selling product, Navitas Organics Cacao Powder is easy to use: simply substitute this healthy, antioxidant-packed natural cocao 1:1 into any recipe that calls for baking cocoa.
Coconut Palm Sugar 16oz bag
With about half the glycemic index of cane sugar and a lovely caramel flavor, coconut palm sugar can be used for baking or anywhere else you'd regularly use cane sugar, as in tea, coffee, desserts and cooking.

Turmeric Powder 8oz bag
Our premium quality turmeric powder is sourced specifically for high curcumin, its revered compound that helps balance and reduce inflammation. Used in many savory and sweet recipes, this is an ultimate versatile ingredient.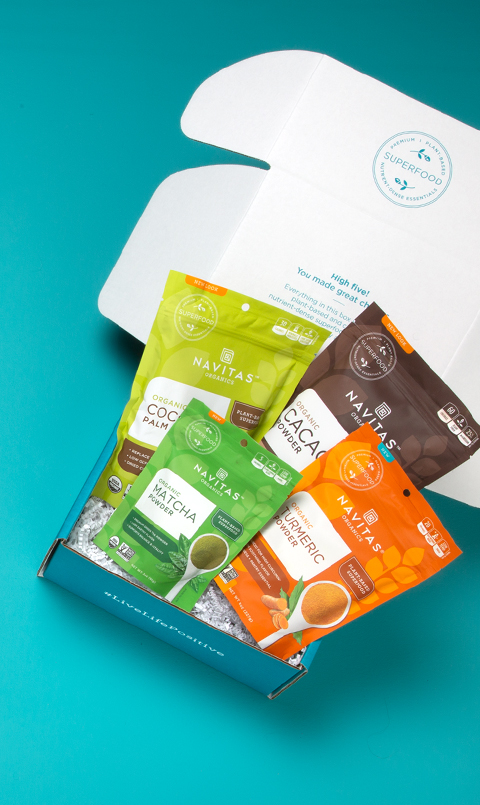 Pantry Staples Bundle Recipes
{"id":1618826985543,"title":"Pantry Staples Bundle","handle":"pantry-staples-bundle","description":"\u003cmeta charset=\"utf-8\"\u003e\u003cmeta charset=\"utf-8\"\u003e\n\u003cp\u003eIf you want to have healthy superfoods in your diet, you first need them in your pantry. This box of basic pantry essentials makes it easy with four of our exceedingly versatile superfood staples. Always organic and grown and processed with the highest care, they are ready to help you fill your pantry with ingredients for healthy eating. \u003c\/p\u003e\n\u003cp\u003e\u003cbr\u003eWith this bundle you'll get one each of:\u003c\/p\u003e\n\u003cp\u003e \u003c\/p\u003e\n\u003cp\u003e\u003cstrong\u003e\u003ca href=\"https:\/\/navitasorganics.com\/products\/matcha-powder\" title=\"Matcha Powder\"\u003e\u003cspan style=\"text-decoration: underline;\"\u003eMatcha Powder\u003c\/span\u003e\u003c\/a\u003e 3oz bag\u003c\/strong\u003e\u003cbr\u003eMatcha green tea powder supports energy and alertness while simultaneously calming and balancing your body. Not only is ours perfect for preparing traditional Japanese Matcha Green Tea, but also for using in baking or ice cream recipes, adding to smoothies and stirring into yogurt or cereals.\u003c\/p\u003e\n\u003cp\u003e\u003cstrong\u003e\u003ca href=\"https:\/\/navitasorganics.com\/products\/cacao-powder\" title=\"Cacao Powder\"\u003e\u003cspan style=\"text-decoration: underline;\"\u003eCacao Powder\u003c\/span\u003e\u003c\/a\u003e 16oz bag\u003c\/strong\u003e\u003cbr\u003eOur best-selling product, Navitas Organics Cacao Powder is easy to use: simply substitute this healthy, antioxidant-packed natural cocao 1:1 into any recipe that calls for baking cocoa.\u003c\/p\u003e\n\u003cp\u003e\u003cstrong\u003e\u003ca href=\"https:\/\/navitasorganics.com\/products\/coconut-palm-sugar\" title=\"Coconut Palm Sugar\"\u003e\u003cspan style=\"text-decoration: underline;\"\u003eCoconut Palm Sugar\u003c\/span\u003e\u003c\/a\u003e 16oz bag\u003c\/strong\u003e\u003cbr\u003eWith about half the glycemic index of cane sugar and a lovely caramel flavor, coconut palm sugar can be used for baking or anywhere else you'd regularly use cane sugar, as in tea, coffee, desserts and cooking. \u003cbr\u003e\u003cbr\u003e\u003cstrong\u003e\u003ca href=\"https:\/\/navitasorganics.com\/products\/turmeric-powder\" title=\"Turmeric Powder\"\u003e\u003cspan style=\"text-decoration: underline;\"\u003eTurmeric Powder\u003c\/span\u003e\u003c\/a\u003e 8oz bag\u003c\/strong\u003e\u003cbr\u003eOur premium quality turmeric powder is sourced specifically for high curcumin, its revered compound that helps balance and reduce inflammation. Used in many savory and sweet recipes, this is an ultimate versatile ingredient.\u003c\/p\u003e","published_at":"2019-02-21T14:59:17-08:00","created_at":"2019-02-08T16:00:25-08:00","vendor":"Navitas","type":"Bundles","tags":["how-to-use::bake","how-to-use::diy","how-to-use::stir","Plant Based\/Vegan","product-benefits::plant","product-icon::bcorp","product-icon::fairtrade","product-icon::glutenfree","product-icon::kosher","product-icon::nongmo","product-icon::organic","prop65"],"price":4797,"price_min":4797,"price_max":4797,"available":true,"price_varies":false,"compare_at_price":5996,"compare_at_price_min":5996,"compare_at_price_max":5996,"compare_at_price_varies":false,"variants":[{"id":16074221289543,"title":"Pantry Staples Bundle","option1":"Pantry Staples Bundle","option2":null,"option3":null,"sku":"WOB568","requires_shipping":true,"taxable":false,"featured_image":{"id":4674180448327,"product_id":1618826985543,"position":1,"created_at":"2019-02-08T16:04:50-08:00","updated_at":"2019-02-20T17:22:33-08:00","alt":null,"width":780,"height":633,"src":"https:\/\/cdn.shopify.com\/s\/files\/1\/0012\/0605\/9079\/products\/Navitas-Pantry-Staples-box.jpg?v=1550712153","variant_ids":[16074221289543]},"available":true,"name":"Pantry Staples Bundle - Pantry Staples Bundle","public_title":"Pantry Staples Bundle","options":["Pantry Staples Bundle"],"price":4797,"weight":0,"compare_at_price":5996,"inventory_management":"shopify","barcode":""}],"images":["\/\/cdn.shopify.com\/s\/files\/1\/0012\/0605\/9079\/products\/Navitas-Pantry-Staples-box.jpg?v=1550712153","\/\/cdn.shopify.com\/s\/files\/1\/0012\/0605\/9079\/products\/2017-matcha-3oz-fop-3d_38dd6bf5-6beb-448d-86d6-4d9f8543d570.png?v=1549925156","\/\/cdn.shopify.com\/s\/files\/1\/0012\/0605\/9079\/products\/2017-matcha-3oz-bop-3d_75109665-722a-4b27-b8cc-015afa638b93.png?v=1549925156","\/\/cdn.shopify.com\/s\/files\/1\/0012\/0605\/9079\/products\/19002Xv3_P65_CACAO_Powder-16OZ-FOP-3D.png?v=1549925156","\/\/cdn.shopify.com\/s\/files\/1\/0012\/0605\/9079\/products\/19002Xv3_P65_CACAO_Powder-16OZ-BOP-3D.png?v=1549925156","\/\/cdn.shopify.com\/s\/files\/1\/0012\/0605\/9079\/products\/39001v4_coconut_palm_sugar-16oz-fop-3d_e0365f8f-559b-4870-a953-938f97a4aae2.png?v=1549925156","\/\/cdn.shopify.com\/s\/files\/1\/0012\/0605\/9079\/products\/39001v4_coconut_palm_sugar-16oz-bop-3d_111dcf15-0c19-4483-a97f-56463574e6b0.png?v=1549925156","\/\/cdn.shopify.com\/s\/files\/1\/0012\/0605\/9079\/products\/2017-turmeric-powder_8oz_fop-11.01.17_fbc4d7b0-6a24-4b80-917d-b1ea90ee8f8f.png?v=1549925156","\/\/cdn.shopify.com\/s\/files\/1\/0012\/0605\/9079\/products\/56008xv3_turmeric_powder_8oz_3d-back_40be1ebe-3133-4c64-8136-35d868af5467.png?v=1549925156"],"featured_image":"\/\/cdn.shopify.com\/s\/files\/1\/0012\/0605\/9079\/products\/Navitas-Pantry-Staples-box.jpg?v=1550712153","options":["Best Selling Snacks Bundle"],"content":"\u003cmeta charset=\"utf-8\"\u003e\u003cmeta charset=\"utf-8\"\u003e\n\u003cp\u003eIf you want to have healthy superfoods in your diet, you first need them in your pantry. This box of basic pantry essentials makes it easy with four of our exceedingly versatile superfood staples. Always organic and grown and processed with the highest care, they are ready to help you fill your pantry with ingredients for healthy eating. \u003c\/p\u003e\n\u003cp\u003e\u003cbr\u003eWith this bundle you'll get one each of:\u003c\/p\u003e\n\u003cp\u003e \u003c\/p\u003e\n\u003cp\u003e\u003cstrong\u003e\u003ca href=\"https:\/\/navitasorganics.com\/products\/matcha-powder\" title=\"Matcha Powder\"\u003e\u003cspan style=\"text-decoration: underline;\"\u003eMatcha Powder\u003c\/span\u003e\u003c\/a\u003e 3oz bag\u003c\/strong\u003e\u003cbr\u003eMatcha green tea powder supports energy and alertness while simultaneously calming and balancing your body. Not only is ours perfect for preparing traditional Japanese Matcha Green Tea, but also for using in baking or ice cream recipes, adding to smoothies and stirring into yogurt or cereals.\u003c\/p\u003e\n\u003cp\u003e\u003cstrong\u003e\u003ca href=\"https:\/\/navitasorganics.com\/products\/cacao-powder\" title=\"Cacao Powder\"\u003e\u003cspan style=\"text-decoration: underline;\"\u003eCacao Powder\u003c\/span\u003e\u003c\/a\u003e 16oz bag\u003c\/strong\u003e\u003cbr\u003eOur best-selling product, Navitas Organics Cacao Powder is easy to use: simply substitute this healthy, antioxidant-packed natural cocao 1:1 into any recipe that calls for baking cocoa.\u003c\/p\u003e\n\u003cp\u003e\u003cstrong\u003e\u003ca href=\"https:\/\/navitasorganics.com\/products\/coconut-palm-sugar\" title=\"Coconut Palm Sugar\"\u003e\u003cspan style=\"text-decoration: underline;\"\u003eCoconut Palm Sugar\u003c\/span\u003e\u003c\/a\u003e 16oz bag\u003c\/strong\u003e\u003cbr\u003eWith about half the glycemic index of cane sugar and a lovely caramel flavor, coconut palm sugar can be used for baking or anywhere else you'd regularly use cane sugar, as in tea, coffee, desserts and cooking. \u003cbr\u003e\u003cbr\u003e\u003cstrong\u003e\u003ca href=\"https:\/\/navitasorganics.com\/products\/turmeric-powder\" title=\"Turmeric Powder\"\u003e\u003cspan style=\"text-decoration: underline;\"\u003eTurmeric Powder\u003c\/span\u003e\u003c\/a\u003e 8oz bag\u003c\/strong\u003e\u003cbr\u003eOur premium quality turmeric powder is sourced specifically for high curcumin, its revered compound that helps balance and reduce inflammation. Used in many savory and sweet recipes, this is an ultimate versatile ingredient.\u003c\/p\u003e"}