Chocolate Lovers Bundle
All the enjoyment. None of the guilt.
Snack
Stir
Bake
Feed your craving—and your body. Our organic, Fair Trade Certified heirloom cacao is selected from small-scale organic cacao farmers in the heart of Peru's forests—and then handled with delicate care to preserve maximum nutritional value.
Save 20% when you purchase a bundle vs. individual items
FREE Standard Shipping on bundles with code: BUNDLE
Makes a great gift for yourself or that chocoholic in your life!
Whether it's straight up Cacao Powder or added to our craveable chocolate-y superfood snacks, our cacao is always minimally-processed maintaining the most antioxidants and other health benefits versus lower-quality versions of chocolate out there. We want to make sure you're satisfying your cravings while reaping major superfood benefits!
With this bundle you'll get one each of:
Cacao Sweet Nibs 8oz bag
Small bits of unprocessed, organic cacao rolled in just the right amount of sugar, Navitas Organics Cacao Sweet Nibs are packed with antioxidants, fiber and vital minerals like magnesium and iron. Enjoy these satisfyingly crunchy little nibs straight from the bag or mixed into yogurt, hot cereal, trail mix and baked goods.
Cacao Powder 16oz bag
Our best-selling product, Navitas Organics Cacao Powder is easy to use and so versatile: simply substitute this healthy, antioxidant-packed cacao 1:1 into any recipe that calls for baking cocoa.


Cacao Hemp Almonds 4oz bag
These dark chocolate almonds are our delicious, nutrient-dense superfood version of the classic chocolate covered almond you might find in the candy isle. Boasting a rich, dark cacao flavor alongside healthy fats from hemp and unique antioxidants from cacao (plus no added cane sugar or glazes), this is a snack you'll feel great eating.

Chocolate Cacao Power Snacks 8oz bag
These decadent, fudge-like snacks are the perfect pick-me-up. Made of dates, nuts, seeds and superfoods—including cacao, maca root and chia seeds—they are a truly delicious, healthy snack that'll power you through the day.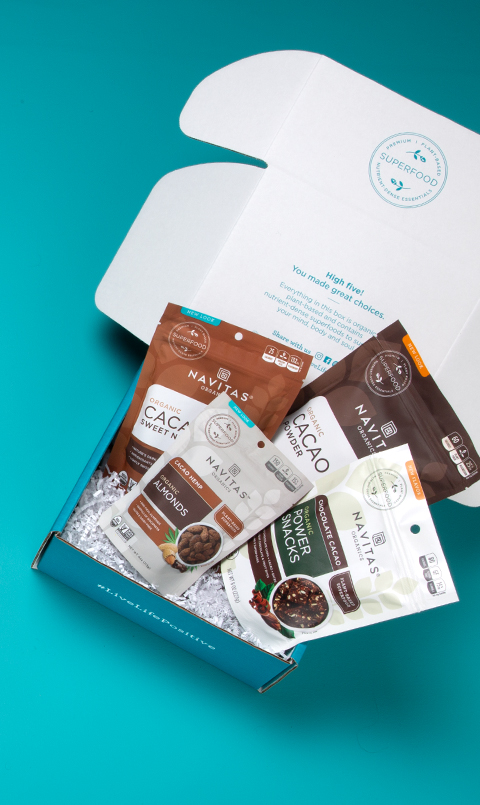 {"id":1620793557063,"title":"Chocolate Lovers Bundle","handle":"chocolate-lovers-bundle","description":"\u003cmeta charset=\"utf-8\"\u003e\u003cmeta charset=\"utf-8\"\u003e\n\u003cp\u003eWhether it's straight up Cacao Powder or added to our craveable chocolate-y superfood snacks, our cacao is always minimally-processed maintaining the most antioxidants and other health benefits versus lower-quality versions of chocolate out there. We want to make sure you're satisfying your cravings while reaping major superfood benefits!\u003c\/p\u003e\n\u003cp\u003e \u003c\/p\u003e\n\u003cp\u003eWith this bundle you'll get one each of:\u003c\/p\u003e\n\u003cp\u003e \u003c\/p\u003e\n\u003cp\u003e\u003cstrong\u003e\u003ca href=\"https:\/\/navitasorganics.com\/collections\/all\/products\/cacao-sweet-nibs\" title=\"Navitas Organics Cacao Sweet Nibs\"\u003e\u003cspan\u003eCacao Sweet Nibs\u003c\/span\u003e\u003c\/a\u003e 8oz bag\u003c\/strong\u003e\u003cbr\u003eSmall bits of unprocessed, organic cacao rolled in just the right amount of sugar, Navitas Organics Cacao Sweet Nibs are packed with antioxidants, fiber and vital minerals like magnesium and iron. Enjoy these satisfyingly crunchy little nibs straight from the bag or mixed into yogurt, hot cereal, trail mix and baked goods.\u003c\/p\u003e\n\u003cp\u003e \u003c\/p\u003e\n\u003cp\u003e\u003cstrong\u003e\u003ca href=\"https:\/\/navitasorganics.com\/collections\/all\/products\/cacao-powder\" title=\"Navitas Organics Cacao Powder\"\u003e\u003cspan style=\"text-decoration: underline;\"\u003eCacao Powder\u003c\/span\u003e\u003c\/a\u003e 16oz bag\u003c\/strong\u003e\u003cbr\u003eOur best-selling product, Navitas Organics Cacao Powder is easy to use and so versatile: simply substitute this healthy, antioxidant-packed cacao 1:1 into any recipe that calls for baking cocoa.\u003cbr\u003e\u003cbr\u003e\u003cbr\u003e\u003cstrong\u003e\u003ca href=\"https:\/\/navitasorganics.com\/collections\/all\/products\/superfood-cacao-hemp-almonds\" title=\"Navitas Organics Cacao Hemp Almonds healthy snack\"\u003e\u003cspan style=\"text-decoration: underline;\"\u003eCacao Hemp Almonds\u003c\/span\u003e\u003c\/a\u003e 4oz bag\u003c\/strong\u003e\u003cbr\u003eThese dark chocolate almonds are our delicious, nutrient-dense superfood version of the classic chocolate covered almond you might find in the candy isle. Boasting a rich, dark cacao flavor alongside healthy fats from hemp and unique antioxidants from cacao (plus no added cane sugar or glazes), this is a snack you'll feel great eating.\u003cbr\u003e\u003cbr\u003e\u003cstrong\u003e\u003ca href=\"https:\/\/navitasorganics.com\/products\/power-snacks-chocolate-cacao\"\u003e\u003cspan style=\"text-decoration: underline;\"\u003eChocolate Cacao Power Snacks\u003c\/span\u003e\u003c\/a\u003e 8oz bag\u003c\/strong\u003e\u003cbr\u003eThese decadent, fudge-like snacks are the perfect pick-me-up. Made of dates, nuts, seeds and superfoods—including cacao, maca root and chia seeds—they are a truly delicious, healthy snack that'll power you through the day. \u003c\/p\u003e","published_at":"2019-03-14T16:50:01-07:00","created_at":"2019-02-11T16:45:41-08:00","vendor":"Navitas","type":"Bundles","tags":["how-to-use::bake","how-to-use::snack","how-to-use::stir","Paleo Friendly","Plant Based\/Vegan","product-benefits::plant","product-icon::bcorp","product-icon::fairtrade","product-icon::glutenfree","product-icon::kosher","product-icon::nongmo","product-icon::organic","prop65"],"price":3917,"price_min":3917,"price_max":3917,"available":false,"price_varies":false,"compare_at_price":4896,"compare_at_price_min":4896,"compare_at_price_max":4896,"compare_at_price_varies":false,"variants":[{"id":16093370646599,"title":"Chocolate Lovers Bundle","option1":"Chocolate Lovers Bundle","option2":null,"option3":null,"sku":"WOB199","requires_shipping":true,"taxable":false,"featured_image":null,"available":false,"name":"Chocolate Lovers Bundle - Chocolate Lovers Bundle","public_title":"Chocolate Lovers Bundle","options":["Chocolate Lovers Bundle"],"price":3917,"weight":0,"compare_at_price":4896,"inventory_management":"shopify","barcode":""}],"images":["\/\/cdn.shopify.com\/s\/files\/1\/0012\/0605\/9079\/products\/Navitas-chocolate-lovers-box.jpg?v=1553108714","\/\/cdn.shopify.com\/s\/files\/1\/0012\/0605\/9079\/products\/2017-cacao-sweet-nibs-4oz-fop-3d_2_5f4c1036-fc46-4d6d-ba5b-b022cec089b4.png?v=1553108714","\/\/cdn.shopify.com\/s\/files\/1\/0012\/0605\/9079\/products\/2017-cacao-sweet-nibs-4oz-bop-3d_2_6da37383-f220-41cb-8643-9baca1adf1d2.png?v=1553108714","\/\/cdn.shopify.com\/s\/files\/1\/0012\/0605\/9079\/products\/19002Xv3_P65_CACAO_Powder-16OZ-FOP-3D_9def5af0-9ca9-454d-90ae-470dcb3625cb.png?v=1553108714","\/\/cdn.shopify.com\/s\/files\/1\/0012\/0605\/9079\/products\/19002Xv3_P65_CACAO_Powder-16OZ-BOP-3D_f330183d-38ac-41bd-8d44-96c9b92b8ca2.png?v=1553108714","\/\/cdn.shopify.com\/s\/files\/1\/0012\/0605\/9079\/products\/PS-ChocCacao-8oz-US-60502v1-3D-FT-780x633_e9e32c4f-e4a9-48c7-8207-0521fb23b0a2.jpg?v=1553108714","\/\/cdn.shopify.com\/s\/files\/1\/0012\/0605\/9079\/products\/PS-ChocCacao-8oz-US-60502v1-3D-BK-780x633_943e7f6b-5881-41e1-bfd0-5ab355687125.jpg?v=1553108714","\/\/cdn.shopify.com\/s\/files\/1\/0012\/0605\/9079\/products\/2017-cacao-hemp-almonds-4oz-fop-3d_1_1_2cfd9125-9381-41c3-a346-0a505abb6a9e.png?v=1553108740","\/\/cdn.shopify.com\/s\/files\/1\/0012\/0605\/9079\/products\/2017-cacao-hemp-almonds-4oz-bop-3d_1_1_cc748fc4-3dc7-41d0-a0c3-9ab89fcb452c.png?v=1553108749"],"featured_image":"\/\/cdn.shopify.com\/s\/files\/1\/0012\/0605\/9079\/products\/Navitas-chocolate-lovers-box.jpg?v=1553108714","options":["Chocolate Lovers Bundle"],"media":[{"alt":null,"id":885939667015,"position":1,"preview_image":{"aspect_ratio":1.232,"height":633,"width":780,"src":"https:\/\/cdn.shopify.com\/s\/files\/1\/0012\/0605\/9079\/products\/Navitas-chocolate-lovers-box.jpg?v=1569090255"},"aspect_ratio":1.232,"height":633,"media_type":"image","src":"https:\/\/cdn.shopify.com\/s\/files\/1\/0012\/0605\/9079\/products\/Navitas-chocolate-lovers-box.jpg?v=1569090255","width":780},{"alt":null,"id":1074013438023,"position":2,"preview_image":{"aspect_ratio":1.0,"height":1200,"width":1200,"src":"https:\/\/cdn.shopify.com\/s\/files\/1\/0012\/0605\/9079\/products\/2017-cacao-sweet-nibs-4oz-fop-3d_2_5f4c1036-fc46-4d6d-ba5b-b022cec089b4.png?v=1569133955"},"aspect_ratio":1.0,"height":1200,"media_type":"image","src":"https:\/\/cdn.shopify.com\/s\/files\/1\/0012\/0605\/9079\/products\/2017-cacao-sweet-nibs-4oz-fop-3d_2_5f4c1036-fc46-4d6d-ba5b-b022cec089b4.png?v=1569133955","width":1200},{"alt":null,"id":1074011144263,"position":3,"preview_image":{"aspect_ratio":1.0,"height":1200,"width":1200,"src":"https:\/\/cdn.shopify.com\/s\/files\/1\/0012\/0605\/9079\/products\/2017-cacao-sweet-nibs-4oz-bop-3d_2_6da37383-f220-41cb-8643-9baca1adf1d2.png?v=1569133955"},"aspect_ratio":1.0,"height":1200,"media_type":"image","src":"https:\/\/cdn.shopify.com\/s\/files\/1\/0012\/0605\/9079\/products\/2017-cacao-sweet-nibs-4oz-bop-3d_2_6da37383-f220-41cb-8643-9baca1adf1d2.png?v=1569133955","width":1200},{"alt":null,"id":1074015305799,"position":4,"preview_image":{"aspect_ratio":1.0,"height":2400,"width":2400,"src":"https:\/\/cdn.shopify.com\/s\/files\/1\/0012\/0605\/9079\/products\/19002Xv3_P65_CACAO_Powder-16OZ-FOP-3D_9def5af0-9ca9-454d-90ae-470dcb3625cb.png?v=1569133956"},"aspect_ratio":1.0,"height":2400,"media_type":"image","src":"https:\/\/cdn.shopify.com\/s\/files\/1\/0012\/0605\/9079\/products\/19002Xv3_P65_CACAO_Powder-16OZ-FOP-3D_9def5af0-9ca9-454d-90ae-470dcb3625cb.png?v=1569133956","width":2400},{"alt":null,"id":1074017271879,"position":5,"preview_image":{"aspect_ratio":1.0,"height":2400,"width":2400,"src":"https:\/\/cdn.shopify.com\/s\/files\/1\/0012\/0605\/9079\/products\/19002Xv3_P65_CACAO_Powder-16OZ-BOP-3D_f330183d-38ac-41bd-8d44-96c9b92b8ca2.png?v=1569133956"},"aspect_ratio":1.0,"height":2400,"media_type":"image","src":"https:\/\/cdn.shopify.com\/s\/files\/1\/0012\/0605\/9079\/products\/19002Xv3_P65_CACAO_Powder-16OZ-BOP-3D_f330183d-38ac-41bd-8d44-96c9b92b8ca2.png?v=1569133956","width":2400},{"alt":null,"id":1052173533255,"position":6,"preview_image":{"aspect_ratio":0.812,"height":780,"width":633,"src":"https:\/\/cdn.shopify.com\/s\/files\/1\/0012\/0605\/9079\/products\/PS-ChocCacao-8oz-US-60502v1-3D-FT-780x633_e9e32c4f-e4a9-48c7-8207-0521fb23b0a2.jpg?v=1569126905"},"aspect_ratio":0.812,"height":780,"media_type":"image","src":"https:\/\/cdn.shopify.com\/s\/files\/1\/0012\/0605\/9079\/products\/PS-ChocCacao-8oz-US-60502v1-3D-FT-780x633_e9e32c4f-e4a9-48c7-8207-0521fb23b0a2.jpg?v=1569126905","width":633},{"alt":null,"id":1074004820039,"position":7,"preview_image":{"aspect_ratio":0.812,"height":780,"width":633,"src":"https:\/\/cdn.shopify.com\/s\/files\/1\/0012\/0605\/9079\/products\/PS-ChocCacao-8oz-US-60502v1-3D-BK-780x633_943e7f6b-5881-41e1-bfd0-5ab355687125.jpg?v=1569133954"},"aspect_ratio":0.812,"height":780,"media_type":"image","src":"https:\/\/cdn.shopify.com\/s\/files\/1\/0012\/0605\/9079\/products\/PS-ChocCacao-8oz-US-60502v1-3D-BK-780x633_943e7f6b-5881-41e1-bfd0-5ab355687125.jpg?v=1569133954","width":633},{"alt":null,"id":1074019369031,"position":8,"preview_image":{"aspect_ratio":1.0,"height":1200,"width":1200,"src":"https:\/\/cdn.shopify.com\/s\/files\/1\/0012\/0605\/9079\/products\/2017-cacao-hemp-almonds-4oz-fop-3d_1_1_2cfd9125-9381-41c3-a346-0a505abb6a9e.png?v=1569133956"},"aspect_ratio":1.0,"height":1200,"media_type":"image","src":"https:\/\/cdn.shopify.com\/s\/files\/1\/0012\/0605\/9079\/products\/2017-cacao-hemp-almonds-4oz-fop-3d_1_1_2cfd9125-9381-41c3-a346-0a505abb6a9e.png?v=1569133956","width":1200},{"alt":null,"id":1074020122695,"position":9,"preview_image":{"aspect_ratio":1.0,"height":1200,"width":1200,"src":"https:\/\/cdn.shopify.com\/s\/files\/1\/0012\/0605\/9079\/products\/2017-cacao-hemp-almonds-4oz-bop-3d_1_1_cc748fc4-3dc7-41d0-a0c3-9ab89fcb452c.png?v=1569133956"},"aspect_ratio":1.0,"height":1200,"media_type":"image","src":"https:\/\/cdn.shopify.com\/s\/files\/1\/0012\/0605\/9079\/products\/2017-cacao-hemp-almonds-4oz-bop-3d_1_1_cc748fc4-3dc7-41d0-a0c3-9ab89fcb452c.png?v=1569133956","width":1200}],"content":"\u003cmeta charset=\"utf-8\"\u003e\u003cmeta charset=\"utf-8\"\u003e\n\u003cp\u003eWhether it's straight up Cacao Powder or added to our craveable chocolate-y superfood snacks, our cacao is always minimally-processed maintaining the most antioxidants and other health benefits versus lower-quality versions of chocolate out there. We want to make sure you're satisfying your cravings while reaping major superfood benefits!\u003c\/p\u003e\n\u003cp\u003e \u003c\/p\u003e\n\u003cp\u003eWith this bundle you'll get one each of:\u003c\/p\u003e\n\u003cp\u003e \u003c\/p\u003e\n\u003cp\u003e\u003cstrong\u003e\u003ca href=\"https:\/\/navitasorganics.com\/collections\/all\/products\/cacao-sweet-nibs\" title=\"Navitas Organics Cacao Sweet Nibs\"\u003e\u003cspan\u003eCacao Sweet Nibs\u003c\/span\u003e\u003c\/a\u003e 8oz bag\u003c\/strong\u003e\u003cbr\u003eSmall bits of unprocessed, organic cacao rolled in just the right amount of sugar, Navitas Organics Cacao Sweet Nibs are packed with antioxidants, fiber and vital minerals like magnesium and iron. Enjoy these satisfyingly crunchy little nibs straight from the bag or mixed into yogurt, hot cereal, trail mix and baked goods.\u003c\/p\u003e\n\u003cp\u003e \u003c\/p\u003e\n\u003cp\u003e\u003cstrong\u003e\u003ca href=\"https:\/\/navitasorganics.com\/collections\/all\/products\/cacao-powder\" title=\"Navitas Organics Cacao Powder\"\u003e\u003cspan style=\"text-decoration: underline;\"\u003eCacao Powder\u003c\/span\u003e\u003c\/a\u003e 16oz bag\u003c\/strong\u003e\u003cbr\u003eOur best-selling product, Navitas Organics Cacao Powder is easy to use and so versatile: simply substitute this healthy, antioxidant-packed cacao 1:1 into any recipe that calls for baking cocoa.\u003cbr\u003e\u003cbr\u003e\u003cbr\u003e\u003cstrong\u003e\u003ca href=\"https:\/\/navitasorganics.com\/collections\/all\/products\/superfood-cacao-hemp-almonds\" title=\"Navitas Organics Cacao Hemp Almonds healthy snack\"\u003e\u003cspan style=\"text-decoration: underline;\"\u003eCacao Hemp Almonds\u003c\/span\u003e\u003c\/a\u003e 4oz bag\u003c\/strong\u003e\u003cbr\u003eThese dark chocolate almonds are our delicious, nutrient-dense superfood version of the classic chocolate covered almond you might find in the candy isle. Boasting a rich, dark cacao flavor alongside healthy fats from hemp and unique antioxidants from cacao (plus no added cane sugar or glazes), this is a snack you'll feel great eating.\u003cbr\u003e\u003cbr\u003e\u003cstrong\u003e\u003ca href=\"https:\/\/navitasorganics.com\/products\/power-snacks-chocolate-cacao\"\u003e\u003cspan style=\"text-decoration: underline;\"\u003eChocolate Cacao Power Snacks\u003c\/span\u003e\u003c\/a\u003e 8oz bag\u003c\/strong\u003e\u003cbr\u003eThese decadent, fudge-like snacks are the perfect pick-me-up. Made of dates, nuts, seeds and superfoods—including cacao, maca root and chia seeds—they are a truly delicious, healthy snack that'll power you through the day. \u003c\/p\u003e"}