Best-Selling Snacks Bundle
Open. Eat. Repeat.
Snack
On The Go
Never wander snackless again! Stock your kitchen, office, car, gym bag and school lunches with these deliciously guilt-free snacks. With all the elements of superior snacking — great taste, satisfying crunch, grab-and-go — and the added bonus of superfood benefits, this healthy snack box made up of four customer favorites is sure to delight.

Save 20% when you purchase a bundle vs. individual items
FREE Standard Shipping on all bundles
Makes a great gift for yourself or that snack fanatic in your life!
With this bundle you'll get one each of:
Maca Maple Cashews 4oz bag
The stress-fighting adaptogens of the Peruvian maca root + creamy cashews + a hint of coconut palm sugar make these one outrageously delicious healthy and satisfying snack. Perfect straight out of the bag or added to trail mix, granola, yogurt, ice cream and cereal.
Cacao Goji Power Snacks 8oz bag
Both goji berries and cacao are packed with antioxidants, fiber and other beneficial nutrients. These chocolatey bite-sized snacks—made of dates, nuts, seeds and superfoods—will give you the lasting energy you need whenever you need it.

Turmeric Tamari Almonds 4oz bag
These craveable almonds are a fantastic way to enjoy the benefits of turmeric, which supports overall health by reducing inflammation in the body. Pairing organic almonds with a savory seasoning of organic turmeric powder, tamari and sea salt, this is one snack you'll reach for again and again.

Hemp Peanut Superfood+ Bars box of 12
The classic taste of peanut butter is complemented by five of the most nutrient-dense superfoods, including hemp seeds, cashews, almonds, sunflower seeds and quinoa.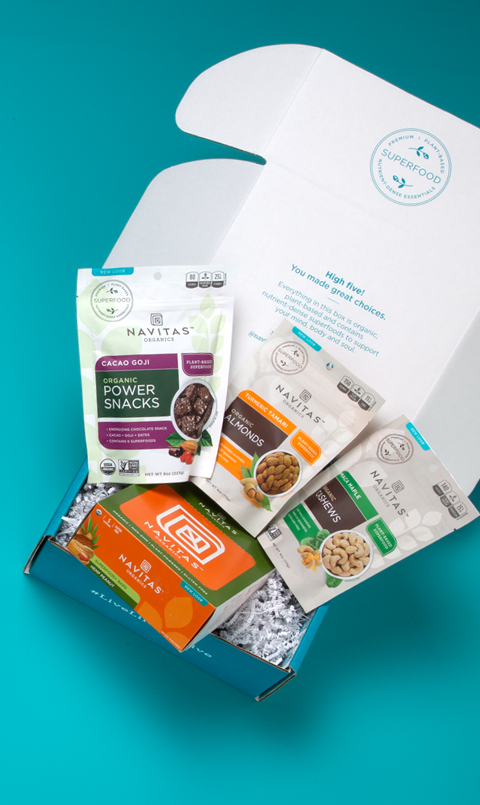 {"id":1618631852103,"title":"Best-Selling Snacks Bundle","handle":"best-selling-snacks-bundle","description":"\u003cmeta charset=\"utf-8\"\u003e\n\u003cp\u003eWith this bundle you'll get one each of:\u003c\/p\u003e\n\u003cbr\u003e\n\u003cp\u003e\u003cstrong\u003e\u003cspan style=\"text-decoration: underline;\"\u003e\u003ca href=\"https:\/\/navitasorganics.com\/products\/superfood-maple-maca-cashews\" title=\"Maca Maple Cashews\"\u003eMaca Maple Cashews\u003c\/a\u003e\u003c\/span\u003e 4oz bag\u003cbr\u003e\u003c\/strong\u003eThe stress-fighting adaptogens of the Peruvian maca root + creamy cashews + a hint of coconut palm sugar make these one outrageously delicious healthy and satisfying snack. Perfect straight out of the bag or added to trail mix, granola, yogurt, ice cream and cereal.\u003c\/p\u003e\n\u003cp\u003e\u003cstrong\u003e\u003cspan style=\"text-decoration: underline;\"\u003e\u003ca href=\"https:\/\/navitasorganics.com\/products\/cacao-goji-power-snack\" title=\"Cacao Goji Power Snacks\"\u003eCacao Goji Power Snacks\u003c\/a\u003e\u003c\/span\u003e 8oz bag\u003c\/strong\u003e\u003cbr\u003eBoth goji berries and cacao are packed with antioxidants, fiber and other beneficial nutrients. These chocolatey bite-sized snacks—made of dates, nuts, seeds and superfoods—will give you the lasting energy you need whenever you need it.\u003cbr\u003e\u003cbr\u003e\u003cstrong\u003e\u003ca href=\"https:\/\/navitasorganics.com\/products\/superfood-turmeric-tamari-almonds\" title=\"Turmeric Tamari Almonds\"\u003e\u003cspan style=\"text-decoration: underline;\"\u003eTurmeric Tamari Almonds\u003c\/span\u003e\u003c\/a\u003e 4oz bag\u003c\/strong\u003e\u003cbr\u003eThese craveable almonds are a fantastic way to enjoy the benefits of turmeric, which supports overall health by reducing inflammation in the body. Pairing organic almonds with a savory seasoning of organic turmeric powder, tamari and sea salt, this is one snack you'll reach for again and again.\u003cbr\u003e\u003cbr\u003e\u003cstrong\u003e\u003ca href=\"https:\/\/navitasorganics.com\/products\/superfood-peanut-hemp-bar\" title=\"Hemp Peanut Superfood Bars\"\u003e\u003cspan style=\"text-decoration: underline;\"\u003eHemp Peanut Superfood+ Bars\u003c\/span\u003e\u003c\/a\u003e box of 12\u003c\/strong\u003e\u003cbr\u003eThe classic taste of peanut butter is complemented by five of the most nutrient-dense superfoods, including hemp seeds, cashews, almonds, sunflower seeds and quinoa.\u003c\/p\u003e","published_at":"2019-02-21T14:58:53-08:00","created_at":"2019-02-08T11:53:18-08:00","vendor":"Navitas","type":"Bundles","tags":["how-to-use::grabgo","how-to-use::snack","product-benefits::plant","product-icon::bcorp","product-icon::glutenfree","product-icon::kosher","product-icon::nongmo","product-icon::organic"],"price":3277,"price_min":3277,"price_max":3277,"available":false,"price_varies":false,"compare_at_price":4096,"compare_at_price_min":4096,"compare_at_price_max":4096,"compare_at_price_varies":false,"variants":[{"id":16073067200583,"title":"Best-Selling Snacks Bundle","option1":"Best-Selling Snacks Bundle","option2":null,"option3":null,"sku":"WOB731","requires_shipping":true,"taxable":false,"featured_image":{"id":4672811532359,"product_id":1618631852103,"position":1,"created_at":"2019-02-08T12:13:05-08:00","updated_at":"2019-05-02T11:09:51-07:00","alt":"Navitas Organics Best Selling Snacks Bundle - FREE Shipping \u0026 Save!","width":780,"height":633,"src":"https:\/\/cdn.shopify.com\/s\/files\/1\/0012\/0605\/9079\/products\/Navitas-Best-selling-snacks-box.jpg?v=1556820591","variant_ids":[16073067200583]},"available":false,"name":"Best-Selling Snacks Bundle - Best-Selling Snacks Bundle","public_title":"Best-Selling Snacks Bundle","options":["Best-Selling Snacks Bundle"],"price":3277,"weight":0,"compare_at_price":4096,"inventory_management":"shopify","barcode":""}],"images":["\/\/cdn.shopify.com\/s\/files\/1\/0012\/0605\/9079\/products\/Navitas-Best-selling-snacks-box.jpg?v=1556820591","\/\/cdn.shopify.com\/s\/files\/1\/0012\/0605\/9079\/products\/2017-maca-maple-cashew-4oz-fop-3d_1_8870248a-7fd5-48c0-96b4-5b402950227d.png?v=1549656821","\/\/cdn.shopify.com\/s\/files\/1\/0012\/0605\/9079\/products\/2017-maca-maple-cashew-4oz-bop-3d_1_01df1d49-d0b0-4c0d-96a1-61283fb60015.png?v=1549656836","\/\/cdn.shopify.com\/s\/files\/1\/0012\/0605\/9079\/products\/2017-cacao-goji-ps-8oz-fop-3d_2_db5ec4c4-6ece-4d69-b999-d8816120413d.png?v=1549656853","\/\/cdn.shopify.com\/s\/files\/1\/0012\/0605\/9079\/products\/60002xv3_cacaogoji_ps_8oz-_3d-back_e8b9b2b4-b302-4bf1-b74d-67327c1a6949.png?v=1549656862","\/\/cdn.shopify.com\/s\/files\/1\/0012\/0605\/9079\/products\/2017-turmeric-tamari-almonds-4oz-fop-3d_1_75b3e576-708f-4277-8869-4448cd9b3db7.png?v=1549656874","\/\/cdn.shopify.com\/s\/files\/1\/0012\/0605\/9079\/products\/2017-turmeric-tamari-almonds-4oz-bop-3d_1_6234bdf0-1827-496c-8029-f1f00229702f.png?v=1549656885","\/\/cdn.shopify.com\/s\/files\/1\/0012\/0605\/9079\/products\/hemp_peanut_us_rebrand_2400_2430d5cd-c79f-4c83-b1a0-f84d01f26b01.png?v=1549656896","\/\/cdn.shopify.com\/s\/files\/1\/0012\/0605\/9079\/products\/hemp_peanut_us_3039c25c-de4c-4c7b-a113-be4a83af0aec.png?v=1549656904"],"featured_image":"\/\/cdn.shopify.com\/s\/files\/1\/0012\/0605\/9079\/products\/Navitas-Best-selling-snacks-box.jpg?v=1556820591","options":["Best Selling Snacks Bundle"],"content":"\u003cmeta charset=\"utf-8\"\u003e\n\u003cp\u003eWith this bundle you'll get one each of:\u003c\/p\u003e\n\u003cbr\u003e\n\u003cp\u003e\u003cstrong\u003e\u003cspan style=\"text-decoration: underline;\"\u003e\u003ca href=\"https:\/\/navitasorganics.com\/products\/superfood-maple-maca-cashews\" title=\"Maca Maple Cashews\"\u003eMaca Maple Cashews\u003c\/a\u003e\u003c\/span\u003e 4oz bag\u003cbr\u003e\u003c\/strong\u003eThe stress-fighting adaptogens of the Peruvian maca root + creamy cashews + a hint of coconut palm sugar make these one outrageously delicious healthy and satisfying snack. Perfect straight out of the bag or added to trail mix, granola, yogurt, ice cream and cereal.\u003c\/p\u003e\n\u003cp\u003e\u003cstrong\u003e\u003cspan style=\"text-decoration: underline;\"\u003e\u003ca href=\"https:\/\/navitasorganics.com\/products\/cacao-goji-power-snack\" title=\"Cacao Goji Power Snacks\"\u003eCacao Goji Power Snacks\u003c\/a\u003e\u003c\/span\u003e 8oz bag\u003c\/strong\u003e\u003cbr\u003eBoth goji berries and cacao are packed with antioxidants, fiber and other beneficial nutrients. These chocolatey bite-sized snacks—made of dates, nuts, seeds and superfoods—will give you the lasting energy you need whenever you need it.\u003cbr\u003e\u003cbr\u003e\u003cstrong\u003e\u003ca href=\"https:\/\/navitasorganics.com\/products\/superfood-turmeric-tamari-almonds\" title=\"Turmeric Tamari Almonds\"\u003e\u003cspan style=\"text-decoration: underline;\"\u003eTurmeric Tamari Almonds\u003c\/span\u003e\u003c\/a\u003e 4oz bag\u003c\/strong\u003e\u003cbr\u003eThese craveable almonds are a fantastic way to enjoy the benefits of turmeric, which supports overall health by reducing inflammation in the body. Pairing organic almonds with a savory seasoning of organic turmeric powder, tamari and sea salt, this is one snack you'll reach for again and again.\u003cbr\u003e\u003cbr\u003e\u003cstrong\u003e\u003ca href=\"https:\/\/navitasorganics.com\/products\/superfood-peanut-hemp-bar\" title=\"Hemp Peanut Superfood Bars\"\u003e\u003cspan style=\"text-decoration: underline;\"\u003eHemp Peanut Superfood+ Bars\u003c\/span\u003e\u003c\/a\u003e box of 12\u003c\/strong\u003e\u003cbr\u003eThe classic taste of peanut butter is complemented by five of the most nutrient-dense superfoods, including hemp seeds, cashews, almonds, sunflower seeds and quinoa.\u003c\/p\u003e"}