ORGANIC | FAIR TRADE
Power Snacks Chocolate Cacao
Navitas Organics Chocolate Cacao Power Snacks are your ticket to nutritious yet decadent snacking! Made of the perfect mix of superfoods–cacao, dates, nuts and seeds–plus dark chocolate chips, they're one deliciously energizing snack.
DELICIOUS GRAB-AND-GO NUTRITION
Navitas Organics Chocolate Cacao Power Snacks provide stable energy from clean, organic superfoods & nutritious ingredients.
Chocolatey & rich bite-sized superfood snacks
Made from dates + seeds + superfoods + dark chocolate chips
Contains nine superfoods
Good source of vitamin C, fiber, & iron
Dairy- & gluten-free
See FAQs
Nutrition Facts
Serving Size about 2 pieces (20g)
Serving Size 1 pack (30g)
Servings per Container about 11
Servings per Container 1
Amount per Serving: 80 Calories
Amount per Serving: 120 Calories
% DV
Total Fat
Saturated Fat
Trans Fat
0g
Cholesterol
0mg
0%
Sodium
2%
Total Carbs
Dietary Fiber
Total Sugar
Includes Added Sugar
1g
2%
Protein
Vitamin D
0mcg
0%
Calcium
2%
Iron
1mg
6%
Potassium
4%
Vitamin C
Ingredients
Date paste*, dark chocolate chip* (cane sugar*, cocoa liquor*, cocoa butter*), sorghum*, chia seed*, cacao powder*, pumpkin seed*, sunflower seed*, almond butter*, lucuma powder*, natural flavor*, goji powder*, maca powder*, sea salt, acerola cherry powder*.
*Organic ingredient.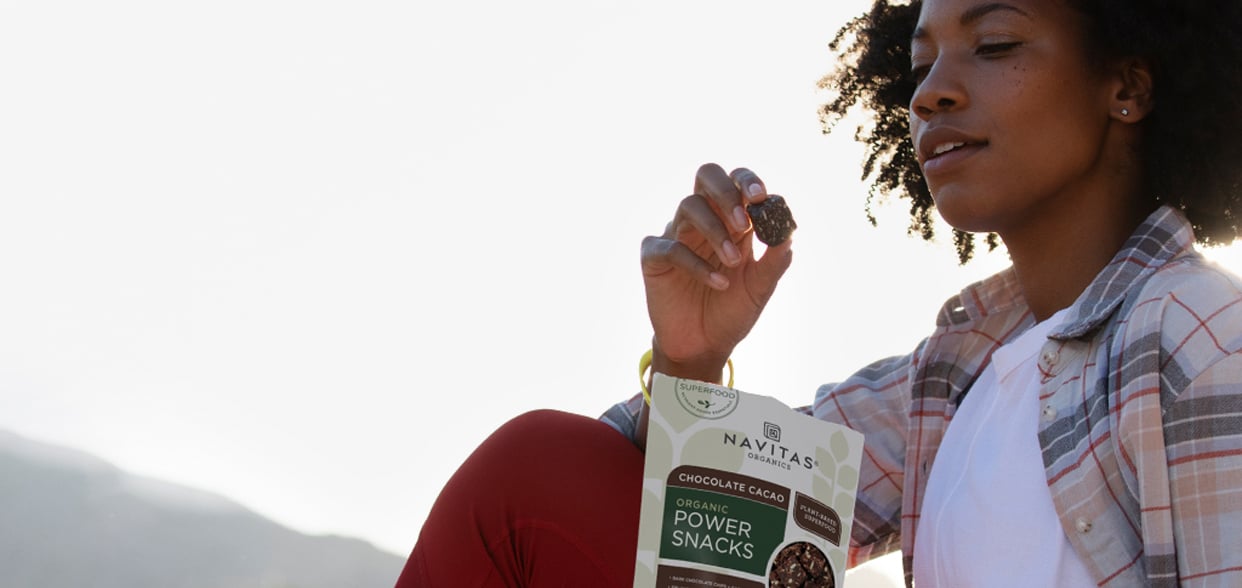 How to Use
Enjoy these convenient, chocolatey superfood snacks any time of day. Great for outdoor adventures, lunch boxes, travel and desk drawers—whenever and wherever you need an easy pick-me-up!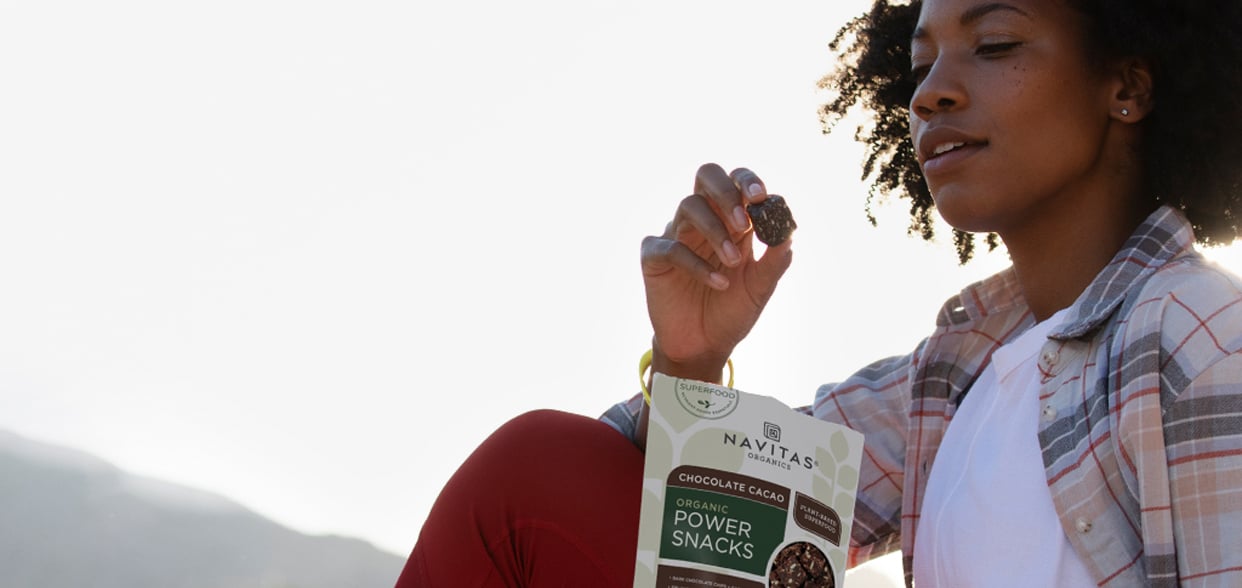 Featured Review
"Power Indeed. I have been enjoying these snacks for many years — first as part of a busy, grab-and-go NORCAL lifestyle and now as my go-to power snack on the hiking trails of the Great Smoky Mountains. Incredibly satisfying; easy to enjoy on the trail; and ever so satisfying. Buying them off the shelf or direct order — I ensure I always have them in the pantry. Oh yum."
– David B.
Power Snacks Chocolate Cacao FAQs
What are the natural flavors in the ingredient list?
Our natural flavors are extracts from whole, organic foods, like chocolate, vanilla, raspberries and blueberries. Due to FDA regulations we must label them as "natural flavors " on our ingredient panel. All our natural flavors are gluten-free, non-GMO, MSG-free, and are never treated with any chemical processes.
Where does the sugar come from in the Power Snacks?
Our energizing Power Snacks start with organic dates, one of nature's most delicious fruits! High in slow-burning fruit sugar, dates are a perfect, whole-food binder for our powders, resulting in a nutrient-dense, energy-dense, superfood snack. Some of our Power Snacks also contain chocolate chips made with just three organic ingredients—cacao butter, cacao liquor and cane sugar—which add 1 gram of sugar per serving to our Chocolate Cacao and Cacao Goji flavors.
Does your packing facility handle allergens?
Yes, all of our superfoods are packaged in a facility that also handles common allergens. With the exception of cashews, our products do not share the same manufacturing lines as these allergens. However, we are unable to offer an allergen-free guarantee due to the shared facility. All of our products are inherently gluten-free and are tested to ensure less than 20 parts per million of gluten, in compliance with FDA labeling regulations.
Do you offer free shipping?
Yes! If your order is shipping within the contiguous U.S. and your product total is $49 or more, after any discounts are applied, a free ground shipping option will be available for you to select at checkout. If your order is below $49, a flat rate of $8.95 will apply for orders shipping within the contiguous U.S. For shipments to Alaska, Hawaii, Puerto Rico and U.S. Territories, please see our
shipping terms and conditions
.
Can I order your products outside of the US?
Sorry, no! At this point, we only ship directly within the U.S. Our products can be shipped internationally via
iHerb