Judy's Power Greens Drink
Green Power
Enjoy this healthy and delicious green blend!
INGREDIENTS

1 Tbsp Navitas Organics Wheatgrass Powder
3 Tbsp Navitas Organics Hemp Protein Powder
2 Tbsp Navitas Organics Chia Seeds
1 Tbsp Navitas Organics Lucuma Powder (optional)
4 Fresh Kiwi (peeled & halved)
3 Lemons (peeled & halved)
2 inch piece of Ginger Root (sliced)
1 inch piece of Turmeric Root or 1/2 tsp. Turmeric Powder
1 cup Kombucha Tonic or 2 tsp. Probiotic Powder (optional)
1 tsp unrefined Sea Salt
1 tsp each dried spice: Fennel, Cardamom, Celery & Fenugreek (seeds)
4 stalks of Celery (chopped)
1 handful Parlsey
1 handful Cilantro
3 sprigs Fresh Mint (optional)

DIRECTIONS

Add ingredients in layered order; fruits/roots, powders & then fresh green veggies.

Once ingredients are in Vitamix blender, add water to halfway mark. Then blend using additional water as needed.

Fill storage containers (stainless steel jugs or glass jars) HALF full then top up with filtered water.

Refrigerate and consume within 3-5 days

Makes: 8 cups

Submitted by: Judy Chambers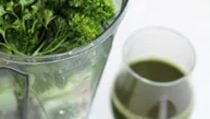 Green Power
Enjoy this healthy and delicious green blend!
Ingredients
1 Tbsp Navitas Organics Wheatgrass Powder
3 Tbsp Navitas Organics Hemp Protein Powder
2 Tbsp Navitas Organics Chia Seeds
1 Tbsp Navitas Organics Lucuma Powder (optional)
4 Fresh Kiwi (peeled & halved)
3 Lemons (peeled & halved)
2 inch piece of Ginger Root (sliced)
1 inch piece of Turmeric Root or 1/2 tsp. Turmeric Powder
1 cup Kombucha Tonic or 2 tsp. Probiotic Powder (optional)
1 tsp unrefined Sea Salt
1 tsp each dried spice: Fennel, Cardamom, Celery & Fenugreek (seeds)
4 stalks of Celery (chopped)
1 handful Parlsey
1 handful Cilantro
3 sprigs Fresh Mint (optional)
Directions
Add ingredients in layered order; fruits/roots, powders & then fresh green veggies.
Once ingredients are in Vitamix blender, add water to halfway mark. Then blend using additional water as needed.
Fill storage containers (stainless steel jugs or glass jars) HALF full then top up with filtered water.
Refrigerate and consume within 3-5 days