Empty the Pantry Granola
Homemade is best
The buckwheat grouts and millet added an awesome crunch and the mesquite and lucuma add a really satisfying flavor (as well adding a boost of nutrition!)


INGREDIENTS

½ Cup Navitas Organics Chia Seeds
½ Cup dry Millet
½ Cup dry Buckwheat Oats
¼ Cup Maple Syrup
⅛ Cup Oil
1 optional Tbsp Mesquite Powder
1 optional Tbsp Navitas Organics Lucuma Powder
2 Cup Oats
1 Tbsp Cinnamon
1 Tbsp Vanilla

DIRECTIONS

Preheat the oven to 350 degrees.

Mix all ingredients in a large bowl.

Put mixture on a baking sheet. Bake for 10 minutes. After 10 minutes flip granola and pop back into oven.

Watch the granola so it doesn't burn. After about 5 minutes - turn off the oven and just let the granola sit in the hot oven for a couple hours.

Makes: 6 to 7

Submitted by: Dairy Free Betty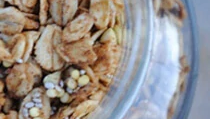 Homemade is best
The buckwheat grouts and millet added an awesome crunch and the mesquite and lucuma add a really satisfying flavor (as well adding a boost of nutrition!)
Ingredients
½ Cup Navitas Organics Chia Seeds
½ Cup dry Millet
½ Cup dry Buckwheat Oats
¼ Cup Maple Syrup
⅛ Cup Oil
1 optional Tbsp Mesquite Powder
1 optional Tbsp Navitas Organics Lucuma Powder
2 Cup Oats
1 Tbsp Cinnamon
1 Tbsp Vanilla
Directions
Preheat the oven to 350 degrees.
Mix all ingredients in a large bowl.
Put mixture on a baking sheet. Bake for 10 minutes. After 10 minutes flip granola and pop back into oven.
Watch the granola so it doesn't burn. After about 5 minutes - turn off the oven and just let the granola sit in the hot oven for a couple hours.