Chia Bean Burgers
Veggie BBQ Fare


INGREDIENTS 

½ tsp dried Oregano
½ Cup Yellow Onion, minced
¼ Cup Navitas Organics Chia Powder
1¼ Cup cooked Brown Rice
¼ Cup Nutritional Yeast
1 tsp Navitas Organics Coconut Palm Sugar
2 Tbsp Wakame Flakes
15 oz cooked black beans, unsalted
4 oz firm tofu, minced or crumbled fine
1 minced stalk Celery
1 minced Carrot
3 Tbsp organic Soy Sauce or Nama Shoyu

DIRECTIONS

Soak the wakame flakes in ½ cup warm water for about 20 minutes or until soft. Drain and set aside.

With a potato masher or the back of a fork, mash the black beans in a large bowl into a chunky puree. Mix in the remaining ingredients one at a time. (Alternately, pulse ingredients together in a food processor).

Form into 8-10 patties and refrigerate for about an hour.

Patties may be brushed with oil (coconut oil works well) and placed on a grill or placed in a well-greased frying pan and cooked over low heat for several minutes on each side.

Makes 8-10 burgers

 

Submitted by Jill S. Morgyn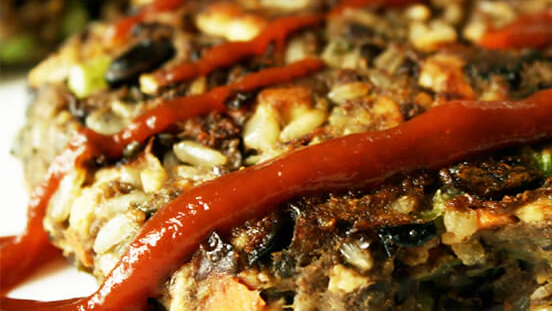 Ingredients
½ tsp dried Oregano
½ Cup Yellow Onion, minced
¼ Cup Navitas Organics Chia Powder
1¼ Cup cooked Brown Rice
¼ Cup Nutritional Yeast
1 tsp Navitas Organics Coconut Palm Sugar
2 Tbsp Wakame Flakes
15 oz cooked black beans, unsalted
4 oz firm tofu, minced or crumbled fine
1 minced stalk Celery
1 minced Carrot
3 Tbsp organic Soy Sauce or Nama Shoyu
Directions
Soak the wakame flakes in ½ cup warm water for about 20 minutes or until soft. Drain and set aside.
With a potato masher or the back of a fork, mash the black beans in a large bowl into a chunky puree. Mix in the remaining ingredients one at a time. (Alternately, pulse ingredients together in a food processor).
Form into 8-10 patties and refrigerate for about an hour.
Patties may be brushed with oil (coconut oil works well) and placed on a grill or placed in a well-greased frying pan and cooked over low heat for several minutes on each side.