Buckwheat Graham Crackers
Fiber-rich Treat
This recipe can easily be doubled' as it stores well.
INGREDIENTS

½ Cup Navitas Organics Coconut Palm Sugar (or date sugar or sucanat)
⅓ Cup unsweetened Almond Milk
¼ Cup Mesquite Powder
¼ Cup Ground Flax Seeds
¼ Cup Coconut Oil
¼ Cup Maple Syrup (grade b, if possible)
2 Cup Buckwheat Flour
1 tsp Baking Soda
1 tsp Sea Salt
2 Tbsp Vanilla Extract

DIRECTIONS 

In a food processor, pulse all the dry ingredients together, including the sugar, until combined. Add in the remaining wet ingredients, and process until a dough has formed. If dough is too dry, add additional almond milk, one tsp at a time. Dough will be firm and slightly sticky. Divide in half and refrigerate for 1 hour.

Preheat the oven to 325 degrees F. Place one chilled dough half on a large piece of floured parchment paper (use additional buckwheat flour or preferred kind). Place a second piece of parchment paper on top, and use a rolling pin to roll very flat – about 1/8 inch thick. Place on a baking sheet, and carefully remove top layer of parchment. Using a pizza cutter or ravioli roller (or simply a knife), cut the dough into squares. Use a fork to score the crackers with decorative dots. Repeat with second dough half and place on a second baking sheet. Bake crackers for 22-28 minutes or until dried out but not burned.

Remove from oven and let cool for 5 minutes, then place crackers on a wire rack to finish cooling and become crisper. Makes about 5 dozen 2" crackers, and keep in an airtight container for about 2 weeks.

*You can mix all of this by hand, but it's infinitely easier with a food processor

Makes: 5 dozen

Submitted by: Julie Morris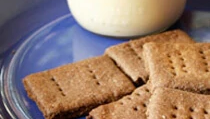 Fiber-rich Treat
This recipe can easily be doubled' as it stores well.
Ingredients
½ Cup Navitas Organics Coconut Palm Sugar (or date sugar or sucanat)
⅓ Cup unsweetened Almond Milk
¼ Cup Mesquite Powder
¼ Cup Ground Flax Seeds
¼ Cup Coconut Oil
¼ Cup Maple Syrup (grade b, if possible)
2 Cup Buckwheat Flour
1 tsp Baking Soda
1 tsp Sea Salt
2 Tbsp Vanilla Extract
Directions
In a food processor, pulse all the dry ingredients together, including the sugar, until combined. Add in the remaining wet ingredients, and process until a dough has formed. If dough is too dry, add additional almond milk, one tsp at a time. Dough will be firm and slightly sticky. Divide in half and refrigerate for 1 hour.
Preheat the oven to 325 degrees F. Place one chilled dough half on a large piece of floured parchment paper (use additional buckwheat flour or preferred kind). Place a second piece of parchment paper on top, and use a rolling pin to roll very flat – about 1/8 inch thick. Place on a baking sheet, and carefully remove top layer of parchment. Using a pizza cutter or ravioli roller (or simply a knife), cut the dough into squares. Use a fork to score the crackers with decorative dots. Repeat with second dough half and place on a second baking sheet. Bake crackers for 22-28 minutes or until dried out but not burned.
Remove from oven and let cool for 5 minutes, then place crackers on a wire rack to finish cooling and become crisper. Makes about 5 dozen 2" crackers, and keep in an airtight container for about 2 weeks.
*You can mix all of this by hand, but it's infinitely easier with a food processor